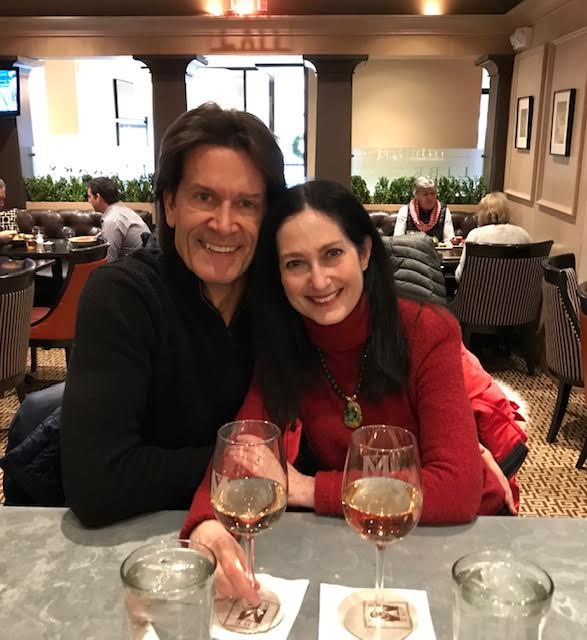 This morning (March 23) I awoke to a wisp; it was there, just out beyond my reach, on the outer limits of my brain. I want to write it down before I forget it. Dreams rarely make sense, but they can give some insight into what's on my mind.
In this one, I was going from store to store (something I now can't do, as the stores are shuttered due to the Coronavirus). These were lovely high-end boutiques. Laid out for the customers to see were a series of flimsy outfits, all the same in each store. Some high-end brand was staging a promotion and women could try each piece on and walk away with whatever she liked. They seemed to be "cruise-wear" as we used to call the fashion during the winter when the wealthy would get away and go south to escape winter. The outfits weren't really meant for the beach, more to lie around some pool at a fancy resort. They were in animal print patterns, or leafy designs, in shades of teal, brown, orange. The items included a flowing beach cover-up that didn't cover much, a bikini, some lingerie. All this was laid out, each piece side by side on the cushions of changing rooms for anyone to try on and just take; no charge. I didn't understand that in the first two stores I entered.
Finally, I went to the store managed by my dear friend Michael, seen in the Featured photo. We met in 1993. He worked at Armani on Newbury St, the fanciest shopping district in Boston. He sold Dan a few items, then switched to the woman's section of the store, sold me two jackets, but we became life-long friends; the kind you can tell anything to and so we have shared everything with each other. He appeared in my movie "The Strangler's Wife" as a drawing student in the art class. We went to see "Angels in America, Part II, Perestroika" together. His birthday is 9 days after mine and we always celebrate together. We are true friends. He went from Armani to Akris, where I did buy a lot of clothing before the 2008 crash. He opened the Chanel Boutique more than six years ago, and recently opened the Bruno Cucinelli Boutique in December, before the plague hit. I hope he can survive this period.
Here we are 20 years ago, celebrating his birthday at my home.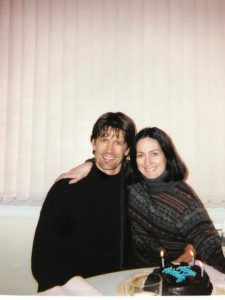 In my dream, I found Michael in his store, also with all those fancy, diaphanous items of clothing laid out, like in the stores before. He explained to me that this was a product launch, all items were free, I should try them on and take whatever I liked (truly a dream come true). I rued the day that over the past few years, my stringent dieting had slipped and, though I was still exercising, I bulged in ways I didn't a few years ago. I demurred, but Michael, who knows me well and has seen me in every way, shape and form through the years, insisted that I try. If anything, trying on those flimsy items made me double down on my resolutions to get back to a better, healthier diet (MUCH less bread and sugar) so the lovely clothing would look good on me. I took them (they were free anyway) and parted ways with me dear friend. Dream over.
As I wrote that out, I think I know what it's about. Guilt is a pretty strong motivator. Getting to our summer house may be delayed, but I still want to look my best. Eating better is back on the menu. Hoping Michael's new venture works out has also been on my mind. And with social distancing, one wouldn't think of trying on clothing touched by someone else these days. Ah, longing for the days before COVID-19, even in my dreams.
March 28; I had several more dreams last night, increasingly anxiety-filled, but one funny one stood out: Kevin Cullen, a wonderful columnist for the Boston Globe, had become a regular writer for Retrospect (wishful thinking) and his story today (this is Saturday and the prompt today is "nicknames") regaled us with funny stories from his visits to Ireland and coarse names he was given there. In real life, he usually writes human interest columns about regular Boston people, frequently  bringing me close to tears, but in my dream, he made me laugh. My psyche needed that!
Here are a selection of other dreams through the years.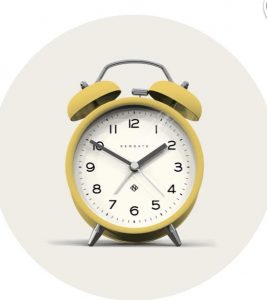 One of my best friends, met at camp when we were teens, gave me the above alarm clock before I went off to Brandeis. I had it on the shelf covering the radiator next to my bed in my freshman dorm. I had all early morning classes. My clever roommate (see Carol) set her schedule so she didn't have to get up early; the clanging of that bell drove her nuts. At one point, though she claimed to still be sleeping, sat straight up in bed and said, "Who do you think you are? The fucking ice cream man?" Another time, she sat up and said, "Hello, goodbye, no exit". She was reading Sartre.
Probably 45 years ago I had a dream that still stays with me. In it I said, "Today is the Ides of March. Julius Caesar and Aristotle Onassis died today". I may not be Cassandra, but my statement was true. I came into work and told my colleague. She didn't know what to make of that one. Her life got very complicated and she left the company shortly thereafter, so perhaps I did foretell disaster for her.
Here's hoping we all have more pleasant dreams in the future. As my father and another friend said recently, let's keep a PMA (positive mental attitude). The Eurythmics said it well: "Sweet dreams are made of this, Who am I to disagree?"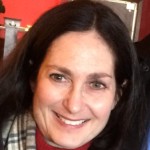 Betsy Pfau
Retired from software sales long ago, two grown children. Theater major in college. Singer still, arts lover, involved in art museums locally (Greater Boston area). Originally from Detroit area.
Tags: freshman roommate, will 'o wisp, just before waking, guilt, motivator, Michael
Characterizations: funny