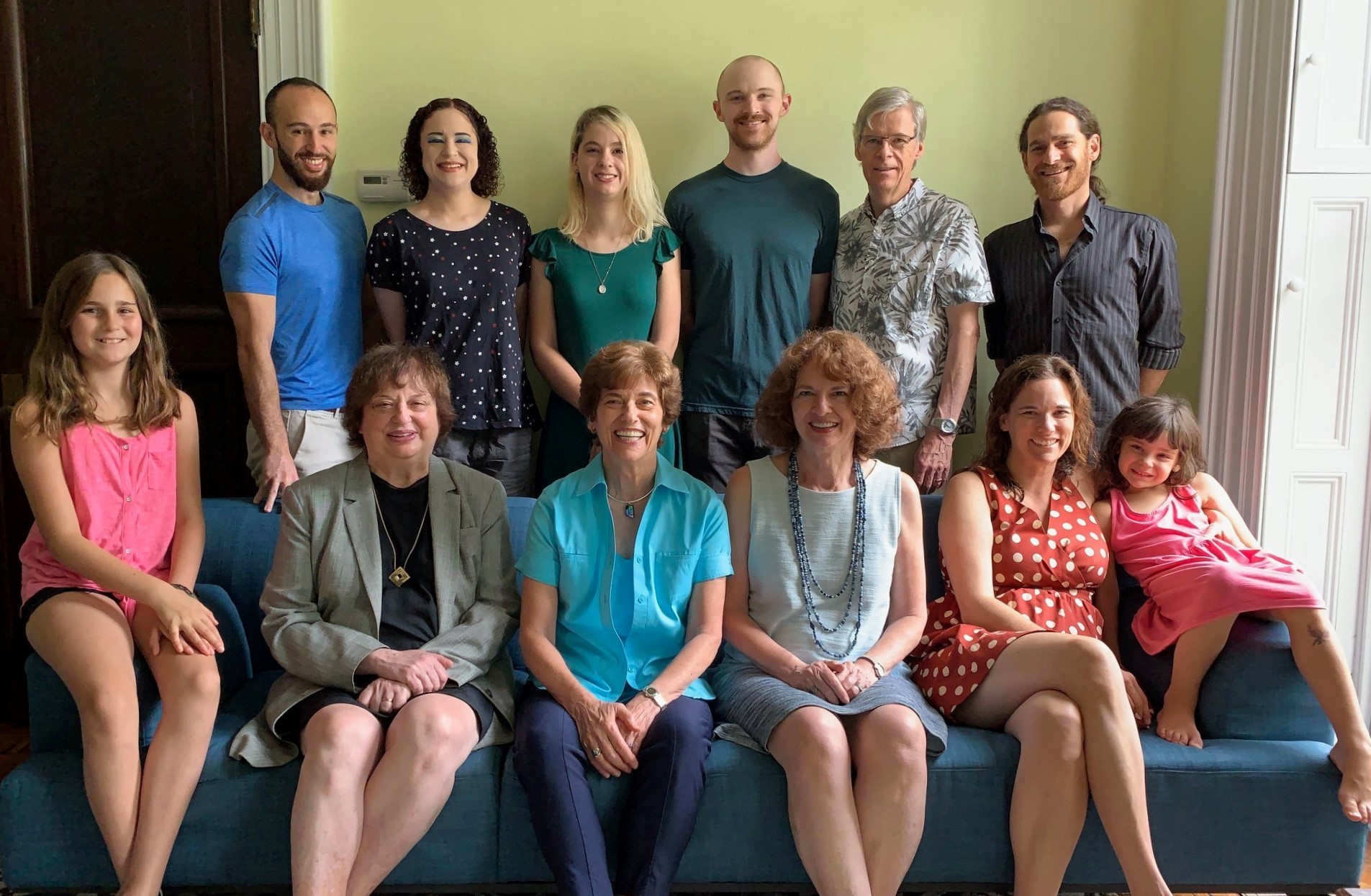 This week's prompt says it used to be common to take group photos but that now the trend is to more candid shots, and it asks if we regret not taking group photos in recent years. However, in my experience group photos continue to be taken all the time. Every year when we have a family reunion, we have at least one group photo session, with endless time spent arranging everyone, and, if we are indoors, moving furniture, taking art off the walls, and making other adjustments to make the picture perfect. It was tempting to put up dozens of these photos, but I have limited myself to the top ten. Also, when I get together with a group of any kind, we take a group photo, so I have included a few recent non-family pictures at the end.
I do not relate to the idea that group photos are no longer in vogue. For me they are a constant in my life!
This is the oldest group photo of my family that I have been able to find, and it might have been our first official reunion. It was 1986, my nephew had just been born (he is not in the picture), my daughter Sabrina (on my lap) is 1½ years old, and we are somewhere on the Cape. The little girl in the back row is my niece, age 9.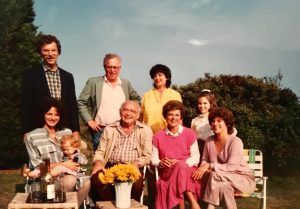 This next one is from 1997, more than a decade later, in Santa Fe, and I have another baby on my lap, Molly, who is one year old and doesn't want to be in the picture. Sabrina, now 12½ years old, is in the middle of the back row, with my nephew (just born at time of pic above) and my son (still two years from being born in pic above) on either side of her. On the far right in the back row is my niece, who was 9 in the previous picture and is 20 here.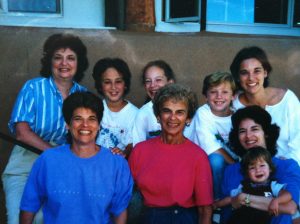 Even when we went to an amusement park, we had to stop outside to take a group photo. This is from a reunion in 1999 in northern San Diego County. Once again, Molly, now age three, didn't want to be in the picture.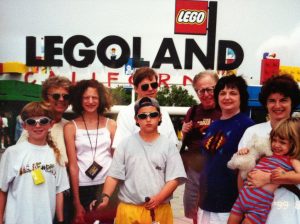 This might be the only photo I have of the entire extended family, including my aunt and my cousins. We were all together that Thanksgiving because my nephew's bar mitzvah was the following Saturday. Here Molly is not resisting, but I am holding onto her (back row) just in case she decides to bolt.
The next picture was taken when our family went on a cruise in December 2005, something we will probably never want to do again, thanks to covid. Molly is no longer the youngest, because the Italian branch of our family came with us, my step-niece and her husband (far left of both rows) and their two small sons (in front of Molly).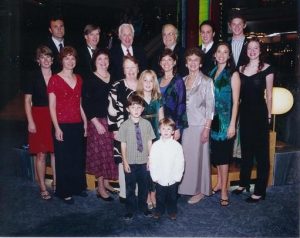 We stopped outside the front door of my house to take a group photo before walking to the synagogue for Shabbat services on the night before Molly's bat mitzvah in 2009.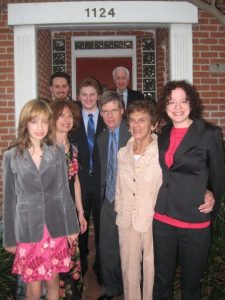 This very green photo was taken at a family reunion in 2013 at Mohonk Mountain House in New Paltz, New York. Over the years we held many family gatherings at Mohonk, but that year they gave reunioning families matching green t-shirts, with the option of having them personalized with a family slogan. We declined to get them personalized, but decided that it would be funny if we all wore them to dinner one night and took a picture.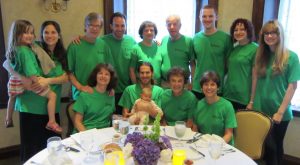 Our family reunion in 2015 was one of the last ones with my mother. That year and the next we gathered in Florida in July, despite the dreadful heat and humidity, because that's where my mother was living and it was too hard for her to travel anywhere else. I'm including this picture rather than the one from 2016, which was her last reunion, because Sabrina is in this one, and she didn't make the trip from Spain the next year. Of course if we had had any idea that my mother wouldn't be around in 2017, I would have insisted that Sabrina come, but my mother seemed perfectly healthy until three weeks before she died.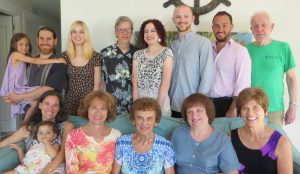 The picture from our 2019 reunion is the featured image, the last time we were all together, although of course with the notable absence of my mother.
There was no reunion in 2020, but when we gathered again in 2021, Sabrina was unable to join us because of covid-related restrictions on international travel. However, we added Emily, Ben's fiancée, to the picture (next to me). And you will note that the little girl in her father's arms in the picture above is almost as tall as he is in the picture below.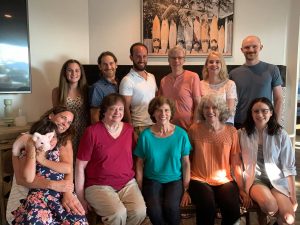 In addition to family group photos, I have group photos from many other events I have attended in recent years, of which I will include only three. This is a picture of almost everyone in my high school class, at a reunion in 2006. That was 38 years after we graduated, not the usual interval for a reunion, but it was part of an all-school reunion organized by someone from an earlier class. Since that time, two members of the class have died, so I'm glad we got together when we did.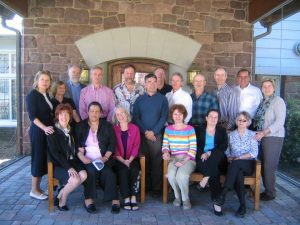 This was the members of the Board of my temple Sisterhood when we went to a convention in San Diego in 2018. Of course we had to pose for a group photo!
Finally, here is a 2018 gathering of some of my college classmates in New York, which I organized, to attend a performance of the show Desperate Measures in which our classmate Nick Wyman was one of the stars. While we were waiting for him to come out and greet us after the show, we took a group photo.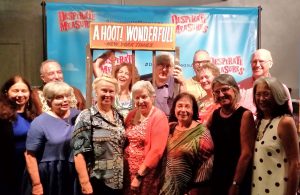 There are many more photos that I could include, but I fear that they would not be of interest to anyone but me. Suffice it to say that I do not relate to the idea that group photos are no longer in vogue. For me they are a constant in my life!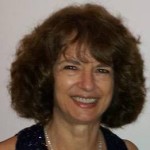 Suzy
Characterizations: been there, funny, moving, right on!, well written