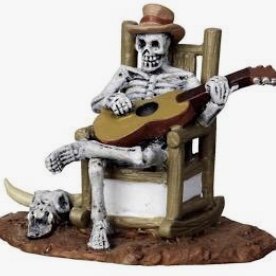 Every Halloween when my son was young he and the other kids in our 17 story apartment building would start on the top floor and work their way down ringing doorbells.
And for the kids who rang our bell,  we'd set up a spooky tableau with a floppy plastic skeleton we kept for years.  We'd sit Mr Skeleton in our big bentwood rocking chair and festoon him with spiderwebs.
We still have that lovely bentwood rocker,  but what ever happened to that floppy old skeleton?  And where is that freckle-faced little boy in the astronaut costume?
RetroFlash / 100 Words
– Dana Susan Lehrman
Dana Susan Lehrman
This retired librarian loves big city bustle and cozy country weekends, friends and family, good books and theatre, movies and jazz, travel, tennis, Yankee baseball, and writing about life as she sees it on her blog World Thru Brown Eyes!
www.WorldThruBrownEyes.com
Tags: Halloween
Characterizations: funny, moving