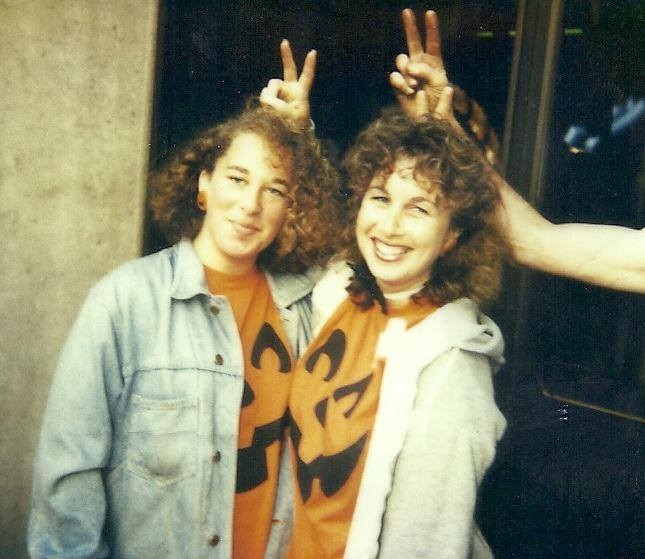 As kids, we started thinking about the next Halloween on November first. Over the next several months, ideas were floated, refined, discarded, and resurrected. These were the most important decisions a kid could make in those days.
As a parent, I had to wait patiently while my kids repeated this cycle of indecision, hoping that there wouldn't be a midnight sewing session involved on October 30th.
But I do love a good challenge. Want to be an aquarium for Halloween? I can do that. What about a 1950s style gum-cracking waitress. Easy peasy. A hippie? Still had stuff in my closet for this one: featuring my buttons and beads and a pair of dangly earrings that spelled out LO VE! (On the reverse of this sign: Trick or Treat!)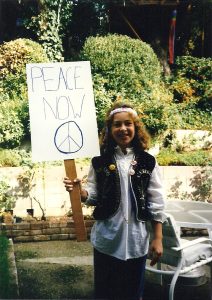 My older son was a big fan of the Amazing Mumford on Sesame Street, so one year I made him a cape and put his name in sequins on his top hat. Add one magic wand, and voila!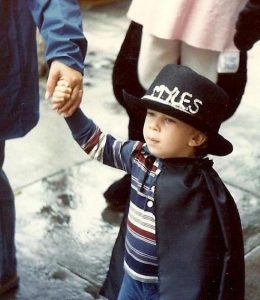 Dorothy from The Wizard of Oz? I even sacrificed a pair of my red shoes to make her ruby slippers!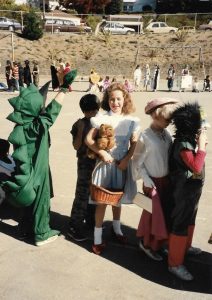 Ever since my three kids were old enough to dress up for Halloween, I dragged out the old sewing machine and made their costumes. Eventually, they got old enough to pull their own costumes together. I think the last kid to go trick-or-treating went out as a door-to-door encyclopedia salesman with a necktie and a briefcase. Instead of saying "trick or treat," he began with "Good evening, sir or madam," and went into his spiel. To make him stop, people would shower him with candy. Well done!
During the Jazzercise years, I was bold enough to answer the door in my SuperMom outfit (not shown: a pair of those Candies slides that were popular in the '80s.)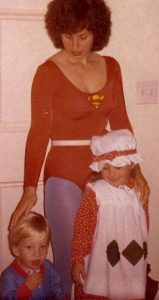 Featured alongside me are SuperBoy and Strawberry Shortcake. Nothing says the '80s like that perm, either.
During a trip to New York one year, I bought a Statue of Liberty crown for my daughter. Draped her in green fabric, made a flashlight torch, and she was good to go. Give me your tired, your poor…and your candy!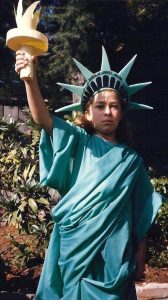 The pièce de résistance may have been the spaghetti and meatballs costume. This one really killed.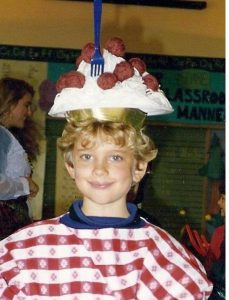 And one year I scared  my kids by dressing up like a vampire/zombie in my black Gunne Sax dress. The little devil here was very freaked out.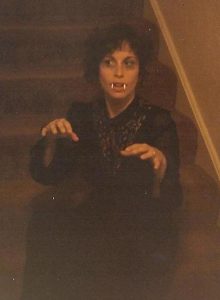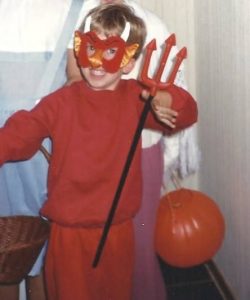 When I was a little girl, my dad was in charge of Halloween, both costumes and makeup. His training in theater made him highly qualified for the task. He would bring home his battered green makeup kit from his high school drama classroom and get to work on me and my sister. I don't know where he found some of those costumes, but one year my sister was a flapper girl and I was a chubby bunny, complete with wax buck teeth and a prop carrot. Another year I got to be Zorro in black leotard and tights, cape, mask and pencil-thin mustache. Instead of a sword, I carried a wooden cane from one of my tap dance routines. I think my dad had as much fun as we did getting ready for Halloween.
My costume designing days are long gone. Instead, I watch the parade at the elementary school across the street every year to see what's trending, who made an effort to create something fun and new, and who goes with the evergreen witch/angel/football player/zombie options. Watching the kids brings back special memories of magicians, hippies, and meatballs.
Featured image is of me and my daughter at a UCSF ICU reunion. She was too old (and too cool) to wear a costume, but we ended up going in these matching jack-o'-lantern t-shirts. It's one of my favorite pictures of us.
Risa Nye
Characterizations: been there, funny, right on!, well written