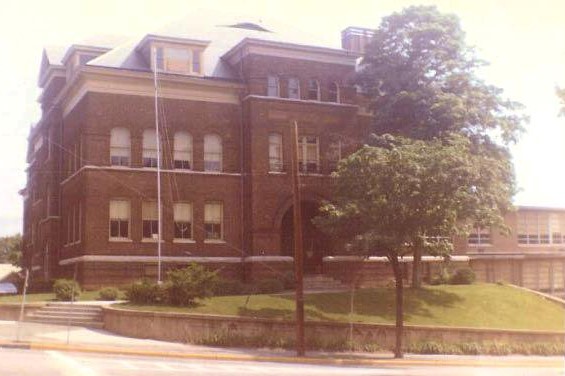 Happy Fourth of July! When I think of July Fourth celebrations, I think of the neighborhood in Sacramento, California, where I have lived for the past twenty-eight years. Until recently, there was a block party every year, with a parade of kids on bikes in the morning, a jump house and water slide in the afternoon, a potluck barbecue and a margarita station, and then after it got dark, a few of the guys setting off safe and sane fireworks in the middle of the street. Even though Sacramento is a big city, we had a small-town Fourth.
What was the best thing about Belleville? That it was only 13 miles from Manhattan.
I grew up in the small town of Belleville, New Jersey, just north of Newark and a 13-mile drive from Manhattan through the Lincoln Tunnel. What was the best thing about Belleville? That it was only 13 miles from Manhattan. When I was in high school, I could take the bus to Port Authority by myself, then get together with friends who lived in the City. It made me feel very grown-up.
I don't know if there were fireworks in Belleville on the Fourth of July, because there was only one year of my life that I was in Belleville in July. This was 1958, the summer I turned seven. Before that year, dating back to before I was born, my family always rented a summer house at Lake Hopatcong. After that year I went away every summer, but I did spend that one summer at home in Belleville with my parents (my sisters were at camp), and my mother and I went to a swim club every day. I have no memory of a Fourth of July celebration, although there probably was one.
My sisters and I did not like living in Belleville. My sisters were always bugging my parents to move someplace else. I didn't support that idea because I didn't want to leave our house, which I loved. So then my sisters suggested the idea of buying a lot in another town and moving the house. Needless to say, that didn't happen. But we all got out of Belleville as soon as we could.
Aside from its location a short drive or bus ride from Manhattan, the other nice feature about Belleville was the cherry blossoms. Belleville calls itself the Cherry Blossom Capital of America, and even has that title on the town seal. Some people think that this honor belongs to Washington, D.C. but in fact, Branch Brook Park has approximately 5,000 cherry trees, the highest concentration of them anywhere in the country. These pictures were taken in Belleville in March of this year during cherry blossom season, which only lasts about two weeks.
The Cherry Blossom Festival is a big deal in Belleville, and includes a beauty pageant. Entering the pageant at the urging of her little sister, my middle sister was crowned Cherry Blossom Queen of 1964. From there she went to the Miss Essex County pageant, and if she had won that (she was first runner-up), the next step would have been Miss New Jersey. But that is her story, not mine.
How big was my little town? I remember in fifth grade, when we studied New Jersey in social studies, I had to memorize the population of Belleville, which was 35,005 in the 1960 census. I wondered about that five. Why wasn't it just rounded to 35,000? (Of course I know now that they want the exact number, not a rounded one.) But did that five refer to the five members of my family? I liked the idea that we were specifically mentioned by the census.
The 2010 census shows 35,926, so basically the same size as when I was growing up. In my childhood the population was predominantly Italian Catholic, and I don't know if that is still true today, but apparently Belleville appears in several episodes of The Sopranos, which suggests that the Italian influence is still there. Also, the famous people who grew up in Belleville and make the locals proud are all Italian: Connie Francis, Tommy DeVito of the Four Seasons, and Joe Pesci. If you have seen the musical Jersey Boys, you will know that it was Joe Pesci who got the Four Seasons together, because he was friends with both Frankie Valli and Tommy DeVito.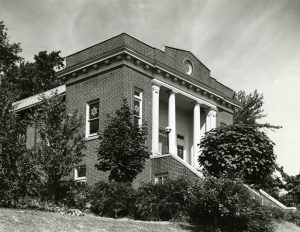 Being Jewish, my family was part of a very small minority in a Catholic world. This beautiful old synagogue, just down the street from my house, was the only one in town. We belonged to it, but for the most part only attended on the High Holy Days. My sisters went through Hebrew School, but when I said I didn't want to go any more, my parents said okay. Around 1960, the congregation sold this building and moved a few blocks away where they could build a sprawling modern campus. It had much more space, but none of the charm.
I never experienced discrimination, but there were challenges to being Jewish at school. We had a Bible reading and recited the Lord's Prayer every morning along with the flag salute. Each day, at least in the higher grades, a different student did the Bible reading. I don't know what version of the Bible the school had, but I remember when it was my turn, I had trouble finding a reading that didn't have Jesus in it. I generally had no idea what any of the passages were even about! Then there was the mystery of kids coming to school on a certain Wednesday in the spring with ashes on their foreheads. I wondered if everybody had forgotten to wash their faces that day. There was also the memorable experience of going to a friend's house for the first time, and on the wall was an enormous picture of a kindly-looking old man in an ornate frame. "Is that your grandfather?" I asked. "My grandfather?" she responded in a shocked tone, "No, it's the Pope!" When I went home, I had to ask my mother what that meant, because I had never heard of a pope before.
The school system consisted of 9 elementary schools that were K-8, and one high school. I went to Number Three School, imaginatively named because it was the third school built. It was a wonderful old building with three floors, plus a basement which was also a fallout shelter. (See Featured Image.) The third floor was condemned and we were not allowed to go up there, but I did anyway in my unsupervised wanderings when I was carrying notes from my teacher to other teachers. The expectation level at this school, and all the Belleville schools, was not terribly high, but the school administration did recognize that I was not being challenged enough and so they accelerated me in second grade, moving me up to third partway through the year. (See What Did You Learn in School Today? for a description of that process.) Also, whenever there were notes to be sent around, the teachers had me do it because they knew it wouldn't matter if I missed some class time.
In the early Sixties Belleville High School lost its accreditation because it was so overcrowded. This was during the time that my sisters were there. To gain back accreditation, they built a new high school in a different part of town that was just grades 10-12, and turned the old high school into a junior high school for grades 7-9. However, even with the overcrowding problem solved, my sisters urged my parents not to send me through the Belleville schools, wanting me to get a better education than they did. (And a safer one. My sister once had a switchblade pulled on her . . . in the girls' locker room!) My parents listened, and investigated private and public schools in other towns. Starting in seventh grade I attended College High School, a six-year selective public school in Montclair. Once I left Number Three, and shortly afterwards dropped out of my Girl Scout troop, I had no further contact with any of my Belleville friends. Ever.
In my current city of Sacramento, I have met many, many people who grew up here, went away for varying periods of time, and ended up coming back to raise their families here. Sacramento is that kind of place. Belleville is not that kind of place. Even if I had to move to New Jersey for some reason, I would not consider Belleville.
---
Note on my pictures: To get the pictures for this story, I joined two different facebook groups, "Growing Up in Belleville NJ" and "Belleville NJ 07109 Memories" from which I downloaded a lot of wonderful photos. I hope the people who posted them don't mind. An added bonus from joining those groups was that I got this message from my best friend in first and second grades: "I remember you as Susan. We were in classes together and you skipped a grade. You would help the teacher with other kids in class." It was nice to be remembered!
Note on my title song: Paul Simon stated that it was not autobiographical, but was about anyone "who hates the town he grew up in. Somebody happy to get out." That seems appropriate.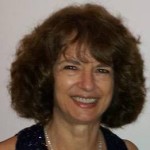 Suzy
Characterizations: been there, funny, moving, well written