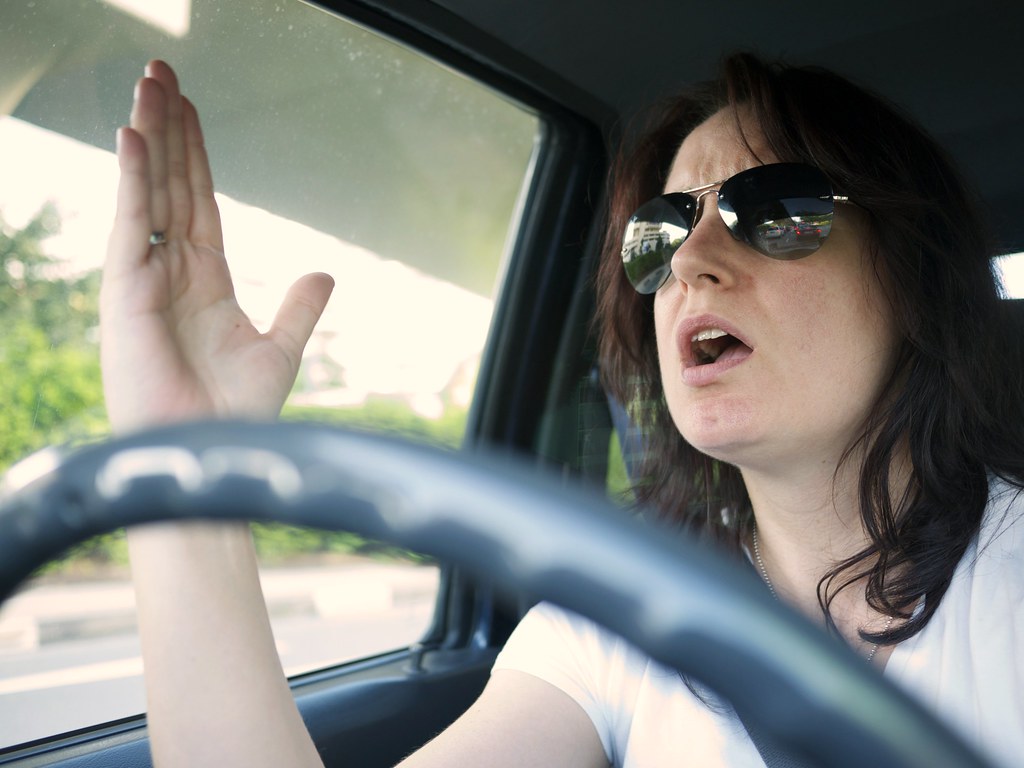 When I think of road rage, I picture my father leaning on the horn and swearing at drivers who were too slow or who cut him off. And my mild-mannered husband, who expresses his rage more subtly by creeping up too close for my comfort to the rear bumper of drivers who exhibit the same behaviors. Perhaps that's more of a guy thing, because my version of road rage is more like a slow boil I feel most days when I'm behind the wheel. I suspect that, like many women, my road rage is a micro one, more directed to my gut than to another driver.
September is National Courtesy Month, so I am making an extra effort to stay calm and be a polite driver. Just wish others would do the same.
I have lived in the pretty urban suburb of Evanston, Illinois, home to Northwestern University, for 45 years. In that time, navigating the streets has become increasingly like an obstacle course. In addition to increasing traffic brought on by adding so many high rises to the area, bikes are a big thing here. We have tons of bike lanes, which is a good thing except for the danger of needing to make a right turn just where the bike lane seems to vanish. I suspect the biker should not speed through those intersections, but that's usually what happens. I've learned to be careful but that's not what drives me to feel angry and stressed behind the wheel.
Rather, it's the bikers who travel with me on roads with no bike lanes. Two bikes traveling side-by-side so their riders can chat on a two-lane street means I have to travel fifteen miles per hour until I find a safe place to pass them. Of course, because they do not obey stop signs and traffic signals, these bikers continue to overtake me, and we are once again playing cat and mouse. I have never yelled at them or honked my horn, but my internal rage grows. I'm sure my father would have (his choice of words) "let them have it."
It's not only bikers who inspire my micro-rage. Delivery trucks, cabs, ubers, lyfts, and inconsiderate folks picking up friends block side streets so I can't pass. Apparently, if their flashers are on, that's fine. What is particularly annoying is that generally there is a spot to pull over somewhere on the block, but it may mean someone has to walk a few houses to deliver the goods or pick up the rider. Today, I had to back out of such a street and take an alternate route just to get to the drug store. When I returned ten minutes later, the same flashing car was still there, minus the delivery truck. At least I could get by and shoot him a dirty look, which I'm sure he didn't see.
Don't get me started on road construction season, which starts in the Spring and ends when the snow starts to fall. I'm a never-late person, so I leave a good five minutes before when my GPS tells me to go. This summer, so many of my usual routes are reduced in places to one lane, with a flag person deciding when I should get a turn. As I wait, I can feel that anger churning in my gut. Surely, the oncoming lane of traffic is getting much more time than mine. I may even hit the steering wheel with my hand or swear to myself. Never out loud like my father. Never showing my frustration if I have a grandkid in the car.
What I think is my passive-aggressive style of road rage does not discriminate. Much to my husband's chagrin, I almost flipped off (subtly, I would argue) a police officer. In my opinion, it was well deserved. An unmarked car zoomed onto the highway, almost hitting my side of the car while simultaneously turning on its flashing light. I put my hand up on my window, part reflex and part to show him how close he came. He proceeded to weave in and out of lanes until he pulled over a car that was apparently speeding. Maybe the driver of that car was doing something worse, but car chases often lead to terrible accidents. This one could have, so I felt entitled to what I still contend was a mild expression of my fear and rage.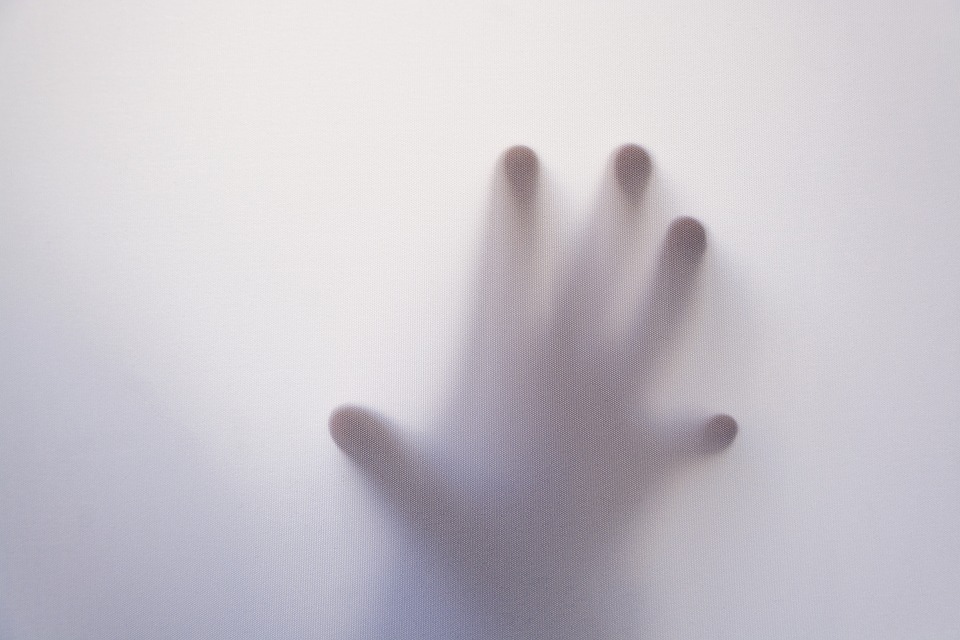 Here's another micro-rage situation that makes me an angry driver on a daily basis. This is a side street near my house that I use several times a day. Notice how trucks and a dumpster are parked on both sides of the street. This means I generally have to pull over to the curb to allow vehicles who turn onto the street to get by.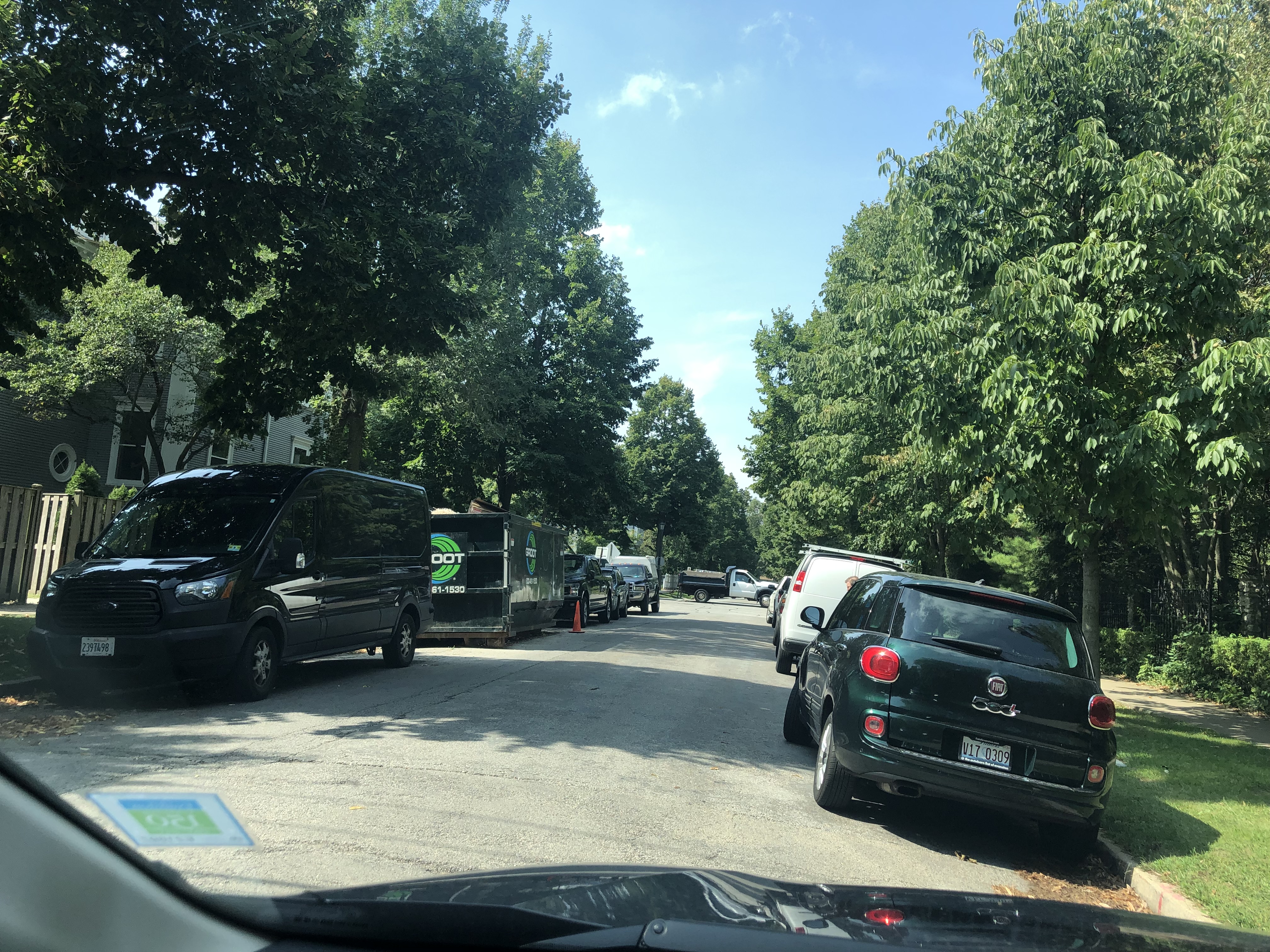 Because I am aware of the situation, I drive down the street cautiously, thus being the one who has to make room for the other car to pass. This has been going on for two years since there was a fire in the corner house. Whoever bought the house (probably a flipper) feels entitled to use this street as a personal parking lot.
The fact is, there are too many cars on our roads and most areas are badly in need of infrastructure projects to remedy traffic congestion. Ironically, September is National Courtesy Month, so I am making an extra effort to stay calm and be a polite driver. Just wish others would do the same.
I invite you to read my book Terribly Strange and Wonderfully Real and join my Facebook community.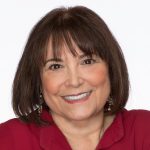 Laurie Levy
Boomer. Educator. Advocate. Eclectic topics: grandkids, special needs, values, aging, loss, & whatever. Author: Terribly Strange and Wonderfully Real.
Characterizations: been there, right on!, well written