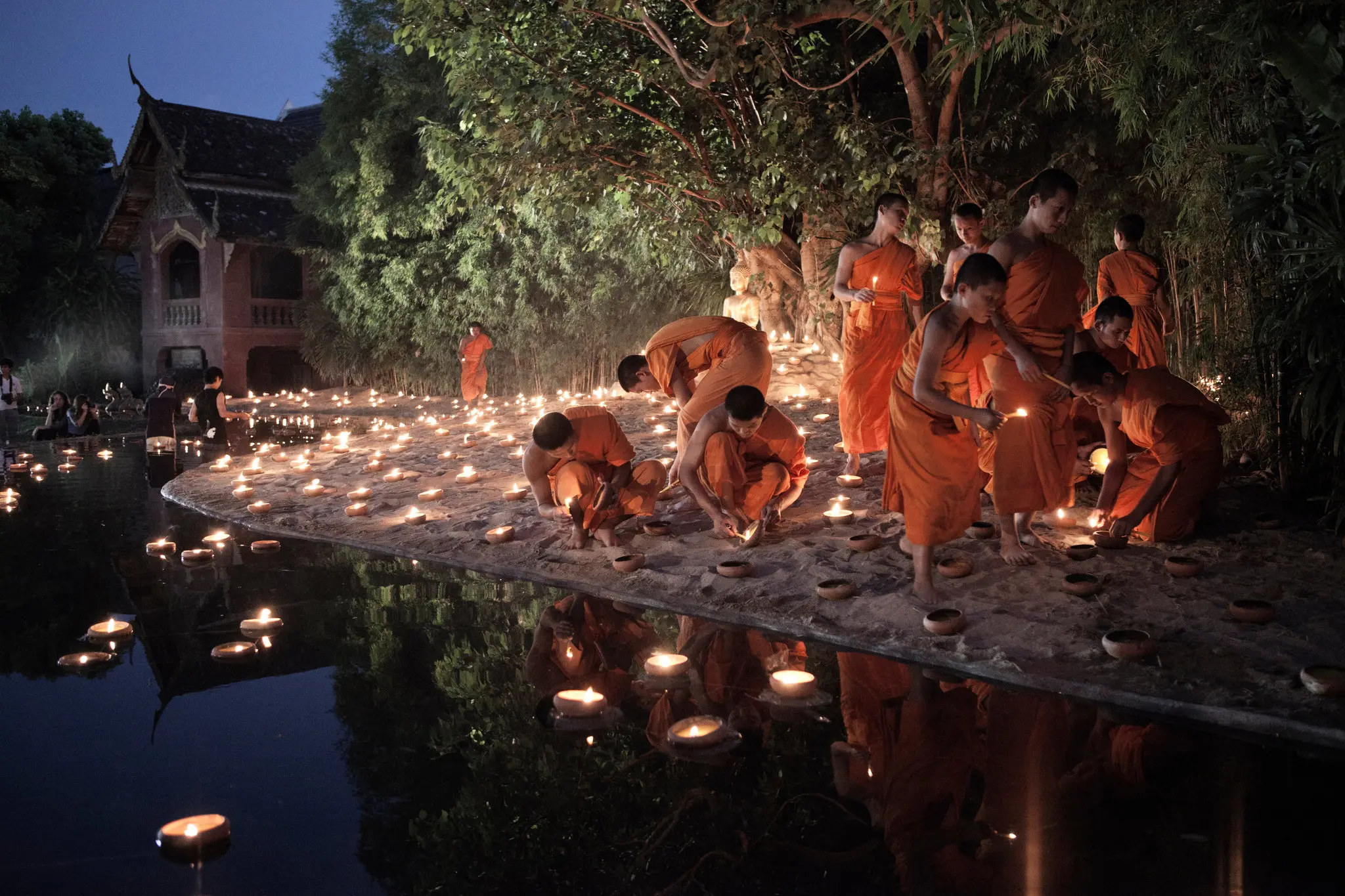 I sat up straight in bed as I awoke in the middle of the night in my room on the sixth floor of a low-budget hotel in Bangkok. This was my second night in this room, following my first full day in the city—my first experience in any country in Asia. It flashed through my mind that I was out thousands of dollars and didn't even have a job that would allow me to earn it back. I had conceived this trip as a way of celebrating my transition, at age 42, from employed professional to graduate student. This was November 1991, and I would be starting my Ph.D. program in January at the University of Illinois. But instead of adding a bit of a cushion to my savings in advance of this transition, as I had thought I was doing yesterday, I realized with a shudder that I had just given a good chunk of my savings away.  I had been seriously conned.
Had someone drugged the soft drink they served me, at the offices of the mining company where my newfound friends needed to make a stop? Was I influenced by the sultry thirty-something woman who insisted that I receive my first lesson in appraising sapphires?
Was this all because I have a bad sense of direction? I had been so grateful when two Thai men approached me and offered to be my guides and companions around the city for the day.
Other possible explanations for my bad decision making galloped through my mind. ,Had someone drugged the soft drink they served me, at the offices of the mining company where my newfound friends needed to make a stop?  It's true that even after I declined the offer—I was here to enjoy Thai foods and beverages, not American Coca-Cola–they served it to me anyway. Was I influenced by the sultry thirty-something woman who spoke British-accented English, and insisted that so long as I was waiting for my companions to finish their transaction, I might as well sit across from her at a desk and receive my first lesson in appraising sapphires? The main technique she demonstrated was to plunge a sapphire into a glass of water, gripping it in a tiny set of silver tongs. She pointed out how, magnified by the water, you could observe the way the color is infused in a stone, In a good sapphire, the color is a deep blue and uniformly distributed; in a fake, the color is not as deep and not as uniformly dispersed. You can even find gaps without any color. She congratulated me when I was able to tell a good one from a fake, and I wondered, as I sipped just a little of the Coke on ice, "Is she out of her mind? Surely, she doesn't think that after this stupid ten-minute lesson, I'm going to be buying sapphires!"  Twice, she told me to remember her name and to remember that "I like chocolate."  That was in case I decided out of gratitude later that I wanted to buy her a gift. I chalked it up to a combination of crass salesmanship and cultural differences.
My senses as well as my cultural lenses had been a bit overwhelmed on this first day in Bangkok. I had arrived the previous evening, taken a taxi from the airport, and checked into my inexpensive hotel, just above hostel-grade. It was the only lodging I had booked in advance. I wasn't sure how many nights I would stay in Bangkok or where I would go next, but I was confident that with my guidebooks I could figure that out.
Just deducing how to take a shower had proved a challenge during my first morning: instead of a separate stall, the shower head was on the wall above the toilet. The whole bathroom got soaked as I turned on the spigot. There was a drain in the white tile floor, but the floor did not look like it was going to dry any time soon.
Exiting my lodging, the worst pollution I ever breathed greeted my lungs. The heavy smell of exhaust seemed to come mostly from the hundreds of small motorbikes, whose numbers were about equal to the cars on the streets. Whenever a traffic light would turn red, the drivers of the motorbikes would come around or through the line of cars, so that there might be 20 of them in front of the cars, idling cacophonously and waiting for the light to turn green. Police directing traffic were suited up in gas masks.
Getting away from the pollution and the noise, I stepped into a darkened, semi-enclosed outdoor market, located underneath an elevated roadway, where I could recognize almost nothing for sale. Were the dark red strips of raw meat from a mammal (which mammal?), or from a large bird?  Were the earrings decorated with the actual wings of butterflies?
Outside the market, the proprietors of food-carts were serving combinations of vegetables, noodles, and meat In plastic bowls. By observing for a few minutes, I determined that there were no menus. Nobody placed an order; the customers simply formed a queue, and arriving at the front of the line, he or she received a portion of whatever the proprietor was offering.  A few feet away, the proprietors squatted by the curb to hose down the bowls taken from customers who had already finished.  Those bowls went into the pile to be served to the next in line.
My travel to Thailand had not been long in the planning. I would be moving from Boston to Champaign-Urbana around Christmas time and starting a Ph.D. program a week after that. That left only a few weeks to close out nearly 20 years of post-collegiate life in the Boston area.  I had given up my income as a research associate at Wellesley College just before this trip. I anticipated that the frugal lifestyle I had adhered to over the years in Boston was about to become a downright penurious lifestyle in in my new location. I decided to splurge for a nice vacation while I still had some cash in the bank and a good amount of Frequent Flyer miles.
My initial plan was to go to Europe, but that notion hit the rocks when I looked at weather forecasts. I wanted to be somewhere warm, and I discovered that even the most southern regions of Italy would be quite cold by the last week of November and the first week of December. I then got another idea and called a friend who had been to Japan multiple times. He advised that Japan too would be frosty at that season of the year, and moreover: did I realize how expensive it was to travel in Japan?  He proposed that I consider Thailand; it would be much more temperate, far less expensive, and I could see a decent amount of the country in the ten to 12 days I had set aside. A few words were all it took to convince me: I checked the flights available from Logan Airport and, using one of my mileage plans, booked a flight to Bangkok with a change of planes in Tokyo. I then went to a bookstore and bought two paperback travel books to read on the plane; there wouldn't be time to study them much beforehand, as I was departing in three days!
It was early on that first afternoon. I had not yet eaten. I was scrutinizing a tourist map with the popular sites marked and considering my next moves when my saviors arrived. Two men around age 30 and 40 approached and, pointing to my map, asked if I was thinking of visiting the Emerald Buddha. As a matter of fact, I was. Or at least, I had noticed it on a list of recommended sites, and if these guys were suggesting it, I was now definitely on board. "Yes. Is it nearby?"  "It's right through the courtyard over there. We can show you the way.  We are going there to pray for safe travels. Join us if you like."
Their invitation was music to my ears. To join actual Thai Buddhists while they were praying: what a wonderful cultural adventure! It wasn't just that it was hard to be alone in an unfamiliar landscape. It was also that I have had a miserable sense of direction as far back as I can remember–even getting lost a couple times in the corridors of my own midwestern high school. At age 16, I was confused about how to get back to the home of my French family on the first day home from school in a small city called St. Brieuc in Bretagne.  I mentioned the address and someone kindly told me to go just past the "feu rouge" (red light). Malheureusement, I heard it as "fleurs rouges," so I walked along, several blocks out of my way, on the lookout for a yard full of red flowers.
I acquired this directional deficit honestly through my family lineage. Dad would sometimes forget where he parked his car, and in one case drove off in someone else's white Toyota Corolla. (It turns out that Toyota only made about nine different ignition keys for the Corolla at that time. The car he absent-mindedly selected at the end of a day at the law office was the same model and color as his, and apparently had been manufactured with the identical key. How he eventually determined it was someone else's car, and how he worked out the swap with the other driver is a story for another day.)
Because of my navigational impairment, I have always appreciated the generosity of strangers who step forward to offer help in an unfamiliar environment—especially when they do it without my asking.  Once I was on the A Train in New York City, hanging on to a strap and staring at the subway map. A guy got up and asked me where I was going. I told him and he began pointing at the map and telling me where to transfer. Then another man stood up and began remonstrating with the first guy, claiming he could put me onto a more efficient route. After the men engaged in considerable boisterous repartee and gesturing with the arms and hands, I said, "OK, I've got it, thanks so much!" I decided to follow the advice of the one who had me getting off first. That way, I wouldn't have to stay on the train and face the guy whose suggestion I was rejecting.  When I got home to Boston, I let folks know that New York City, contrary to popular stereotypes, was the most compassionate place in the world: guys will practically get into fisticuffs just trying to help a stranger.
I happily accepted the invitation of my two new friends; they gave me their names, and I repeated them back but promptly forgot. Everything I had read about Thai people (in the tour books I studied on the plane) described them as eminently polite, cheerful, and friendly, and the encounter with these men seemed to be solid evidence of that. "May I inquire, what kind of trip are you going on?" I asked, as we headed to the campus housing the shrine of the Emerald Buddha and a few other buildings. The younger one pointed to his older friend, "He is the one traveling. He's a lecturer at the university." (He mentioned the name of a specific university and said it was in a remote, rural area, distant from the capital.) "He's flying to Australia tomorrow for an international meeting."
That got my attention. Suddenly, this very foreign environment had disgorged someone who seemed a lot like me. I had been working for seven years in an academic setting. I had attended numerous state, regional, and national conferences, helped to organize a few, and had even been invited as a keynote speaker to such meetings upon occasion.  The world of professional and academic conferences seemed very homey and comforting, in contrast to showers spurting across an entire bathroom, food vendors washing their plates in the street, and urban air that was barely breathable. I quickly intuited that a scholar or professional in a developing nation like Thailand who wanted to stay abreast of their field would need to travel well beyond the national boundaries. Australia: That was a long way off to me, and perhaps equally or more so for someone from rural Thailand. Certainly, a good reason for prayer. As we headed over to pay respects to the Buddha, they also mentioned that perhaps we could have lunch together and then take in a couple of other tourist sites. The lecturer enjoyed doing some tourism on his rare visits to the capital. Wow, was this my luckiest day ever? I was beaming.
As we approached the building in which the Emerald Buddha was ensconced, the younger man told me he had done his service here– in the school on these grounds– as a monk. I had read in the travel guide on the plane that nearly all young men in Thailand submit to mandatory service as monks, some for a year or two after they turn 20, or sometimes for shorter terms of three to six months.  As we entered the atrium, we all removed our shoes. I became very conscious of the position of my feet, as I had read something in the guidebooks about it being improper to ever point one's toes towards a representation of the Buddha. I watched my companions take a sitting position with their feet aimed away from the Buddha, and I did the same.
After three or four minutes of quiet contemplation, we retrieved our shoes. There had been no audible prayers; just this brief visit. One of the men asked if I were hungry and I agreed I would love to have lunch together. I pinched myself, thinking that for once, it was my lack of a sense of direction that had brought me to this pleasing turn of events.
They hailed a tuk-tuk for us (a three-wheeled car with a front windshield but open on the sides, sometimes thought of as a motorized rickshaw) and gave the driver directions. This brought us to a restaurant that was one floor up from street level. They each ordered a noodle dish, and I had coconut soup with chicken (Tom ka gai), one of the few dishes whose name I had previously learned how to say properly, back in the States. I knew enough not to ask for chopsticks: a Thai waiter in Cambridge had schooled me years ago that Chinese people eat with chopsticks, but Thai people eat with "fork and spoon."
As we finished our meal, they apologized that they would have to stop by the office of a mining company before continuing with our tourism. Would I mind coming with them? It wouldn't take long. I readily obliged.
We took another tuk-tuk, and on the way, they explained why we were making this stop. The university where the lecturer worked did not have funds to cover all the travel and lodging and conference expenses; people like him associated with state-run universities financed their trips by purchasing sapphires and reselling them in foreign countries. This, as he explained, was a way for the mining industry to cultivate good relations with the people and with the central government, and it was also good marketing for them, as it brought even greater worldwide awareness about the quality of Thai sapphires.  I was intrigued. "Are you already aware of specific dealers in Australia that will buy the sapphires from you, after you purchase them here?" Yes, he responded. "And at a much higher price than I am paying. At least double, maybe triple." "Have you done this before, to finance other conference travel?" "Yes." He mentioned the destination of a previous trip.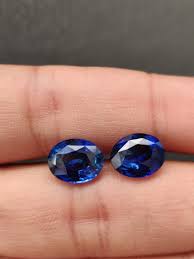 The "mining company" offices were small and cramped and on two floors of a building in a commercial district. Insider, there were a few small display cases of finished jewelry, but nobody staffing that area, and there were no other customers or patrons in evidence. A male manager greeted my two companions and indicated they should meet somewhere in the back. They said they would see me in about fifteen minutes. They pointed to seats where I could sit and wait for them and apologized for having to take time away from our tourism. I said, "No, take your time; I understand why you have to take care of this. See you soon" That's when the stylish woman who, I would soon learn, "liked chocolate," approached and suggested we look at some sapphires together, since I would be waiting around anyway. She led me to an upstairs office and had someone deliver, over my "no, thank-you,", a tall glass of Coca-Cola with ice cubes and a straw.
About the time she was commending me for my rapidly acquired competency in evaluating gems, I was asking her if my friends might be free by now, so that we could proceed with our other plans. She left to check on them, came back, and said they still needed another ten minutes. At that point, she began to ask me how many sapphires I would like to buy. It was not so much about how much money I would I like to spend; it was more about how much I would like to make. What did she mean? "If you want to make $1000, you could buy maybe $300 or $400 from us. If you want to make $3000, you could buy about $1000."  It reminded me of the training I received the summer I sold sets of Encyclopedia Britannica back in Indianapolis. "Never ask them if they want to buy," the head of sales had warned us. "Ask them, 'In the event you aren't home at the time of delivery, do you prefer we leave the shipment with the neighbors on your left or your right?'  Or ask them if they prefer the red binding or the beige binding. You never ask if they want to buy."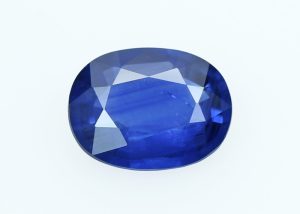 "I don't understand," I replied.  "You would sell sapphires to me for a low price like my friends are getting?"
"Yes. We give you a wholesale price and ship them to USA and you resell for probably three times the price."
"I know you offer this kind of deal to people who work for state universities, like my friend. But why do you give me this deal? I don't understand."  She told me her manager could explain it better. She got him on the phone, spoke to him in Thai, and told me he would be here in a minute.
The manager was the tallest Thai man I saw on my trip (about 6 feet). He was dressed impeccably in Western suit and tie and stood erect as she and I sat on opposite sides of a desk, with sapphire samples and a glass of water between us. He asked if I had a question about the transaction into which, he implied, I was about to enter.  I repeated the question I had just asked, elaborating a bit further. I understood the benefit to his company of helping a scholar or professional. But I didn't understand why they would want to help me, or any random foreigner, in the same way.
The manager smiled as if he had heard this question before. He told me it was a very thoughtful and honest question. "Unfortunately," he sighed, "many people around the world, when they think of Thailand, think of the Golden Triangle—they think of the heroin trade." He looked to me and I nodded. "We want to do our part to change that. We want them to think of the beautiful Thai sapphires. So it's worth it to us to offer someone like you this opportunity."
It doesn't sound so convincing as I type this story now, but at the time, I found the manager's answer surprised me with its candor. He sounded forthright, and authentic. After he left the room, I told the woman that his answer satisfied me. However, I still had no interested in getting involved in this whole resale scheme.  As much as I might need the money, the United States, I said, was a gigantic country. Maybe they had contacts with some American jewelers; for instance, in California, where there were a lot of Asians doing business. But that wouldn't help me. I was at the opposite end of the country. Unless by chance they had a contact close to my home, it would be absurd to contemplate this scheme any further. "Oh, which American city is closest to you?" "Boston."
She rang for an assistant to come and take a note from her. "I will let you know in a few minutes if we have contacts in Boston," she said. "Well," I thought," let's see what they come up with." But I was really thinking, "that's the end of that."
The assistant came back in less than five minutes with a printed list of about eight or ten shops—their "contacts" in and around Boston. I noticed immediately that two of them were at 333 Washington Street, Boston. I recognized that address. It was the location of a "Jewelers Building" containing numerous gold, silver, and jewelry shops. At a few of the shops at that easily remembered address, my ex-wife and I had shopped for a wedding ring ten years earlier. These people had contacts in Boston! The assumptions guarding me from getting involved in this venture were falling. "Here, you keep this list," she said, "so you can make the contacts when you're ready to sell the sapphires."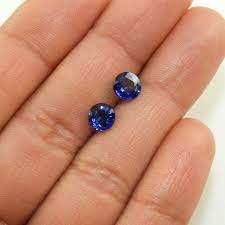 I allowed myself to imagine what a big difference a few thousand dollars would make. And now I had a very concrete picture myself doing the transaction—just walk five minutes from my apartment in Jamaica Plain to Green Street Station on the Orange Line. Take that to Downtown Crossing and I would be right there at Washington Street.  This simple transaction would restore all I was spending to take this trip, plus more. My meeting a young Thai faculty member had been a godsend! Perhaps it was good karma, a reward for my taking the chance to travel so far all on my own.
All right, I said. If I am going to do this, it would be great if I could make ten thousand dollars. I was prepared to spend four to five thousand in order to achieve that goal.  I had only one condition: I wasn't used to making such a big financial commitment on the spur of the moment and in a sleep-deprived state, I needed to know I could cancel the sale the next day if I woke up thinking it was a bad decision. She called the manager back to the office and he assured me that was always their practice. Of course. All I had to do was come back the next day to cancel. They would not bring my shipment to the post office until the close of business the next day. He handed me his business card and circled the address.
She asked me to choose the sapphires I wanted. But what difference did it make to me? In my mind, I was never "purchasing sapphires."  I was the conduit or middleman in their sapphire-resale scheme. I instructed her to pick out the sapphires to be shipped to me in Boston. She then weighed them to determine the price. She sealed them in an envelope and asked me to write my signature across the seal of the envelope; if anyone unsealed the envelope, they would not be able to reseal it without messing up the signature.  As for the destination, that would not be my home address, but rather they would mail to me in care of the "GPO or General Post Office, Boston." The latter had to do with the greater likelihood of theft once the gems left the main post office. I didn't really understand, but they shipped these gems around the world, so I didn't quibble.
My credit cards did not carry very high limits, so it turned out I would need to use two different cards to arrive at the total I had agreed to pay. The shop turned me over at this point to two young and glamorous looking girls in miniskirts, barely 19 or 20.  Their job was, literally, to take me for a ride. The mining company would not run my credit cards; the girls were to accompany me to another store in a different section of the city, where I would complete the sale. They hailed a taxicab and sat on either side of me in the backseat, making small talk as we were stuck for at least a half hour in heavy traffic.  I guess their role was to keep me engaged and enjoying their attention. They must have played the role well because I don't recall even thinking for a moment about whether I might want to back out of the deal.
I don't recall specifically becoming aware at some point that I was not going to get back together with the two men who brought me to the mining shop. But when the two girls suggested during the taxi ride that we should meet up in the evening to attend a "traditional Thai dance" performance, one that was presented in a dinner-theater environment, and one that no tourist should miss, I took them up on it. The place we went to run my credit cards was a small jewelry shop, similar to shops I have entered in the United States, with a single show room full of cases of rings, earrings, bracelets, and necklaces. There were other patrons, and there was a cashier. The girls spoke with her in Thai, and she ran my two credit cards for the agreed-upon totals. We then said good-bye, each to go change clothes and meet up for the dinner plans.
Only one of the two showed up to meet me at the designated location. But it turned out to be a wonderful series of performances and a good dinner. Good thing it was of high quality, since I was paying for two rather expensive tickets. One thing I learned that evening, which would be of value on the remainder of the trip, was the proper use of those two utensils: the fork and the spoon. She showed me that I should use the former for moving food onto my plate from a platter, while the latter—a large size like a soup spoon—was for doing the eating.
My companion excused herself several times over the course of our two hours together, saying she had to make a phone call.  In retrospect, I could only imagine that she was reassuring her boss. "No, he hasn't said a thing about the sapphires. Nothing to worry about." And it was true. I had compartmentalized that escapade and was just trying to get the most of my time in Thailand.
Until I woke up with a start and sat up in bed.
I turned on a lamp. The list of jewelry shops in Boston included telephone numbers: great! Thailand was 12 hours ahead so at 4 pm the day before, it was still business hours. I reached the second shop I tried at 333 Washington St., and described the situation somewhat generically. "Someone at a sapphire shop told me if I brought sapphires home to Boston, you would offer me a really good price for them."  No, they did sometimes acquire Thai sapphires, but they had dealers who worked with them. They would not even be interested in looking at mine. "Do you think any other jewelers would likely be interested?"  He told me sincerely that he doubted the quality of the stones—since I had acknowledged I knew nothing about gemsl or sapphires before this trip. He could not imagine any jeweler in Boston being interested.  I thanked him.
I began fumbling through my guidebooks. I had read something about calling the police. Yes, here it was: Thailand has a separate department for tourists who have an incident to report. It was called the "Tourist Police." When I read that on the plane, I had thought, why would they even have something like that? How peculiar!  Perhaps no need to wonder anymore.
I figured someone would speak English at the Tourist Police, so I phoned them, even though it was not yet five in the morning. I was right. They advised me to come to their offices any time after eight in the morning to make an official report.
It's hard to remember in what order everything happened after that. I called my brother Leon in North Carolina, told him I had been a complete fool. He didn't judge or scold me. He took down the information to try to cancel both of the credit cards I had used.
In a couple of hours, I was dressed and out on the street. The shower that covered the whole bathroom with water was no longer one of my major concerns. I had the address on the business card from the mining company. I now believed they were part of an organized criminal conspiracy. (It took me a few more days to face the fact that the two "friends" who brought me to the shop were also part of the criminal operation; we had such a nice time visiting the Buddha and going out to lunch and all), but I still hoped I could go there and make a loud scene and perhaps get them to cancel the sale before reporting to the police. I managed to hitch a ride from a guy on a motor scooter; he looked at the address and brought me there and didn't even want a tip but I gave him one anyway.
I once got hotel and meal vouchers from an airline that wasn't giving them to anyone else just by acting as though I was about to have an angry breakdown. I figured this was the time to pull that act again. Wait till I told the woman what I thought about her taste for "chocolate" or told the man what I thought about his smooth explanation about introducing the world to the beauty of Thai sapphires.  The door was locked. I pounded on it really loudly. I walked around, came back after 30 minutes, waiting till after 10 o'clock in the morning.  The sign on the door didn't say it was closed, but it was locked with all the lights off. I pounded again, to no avail.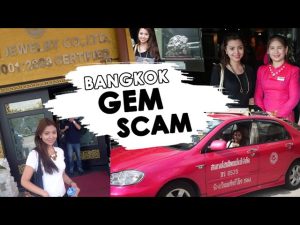 I went to the Tourist Police. There were some French guys, a Swiss man, some Australians, a Canadian couple, and an American woman. In informal chatter, I found that every one of them was there to report having been sold sapphires! A French guy walked out of the door with his sapphires (rather than having them shipped). He grew curious and had them appraised locally and learned that they were only worth a fraction of what he paid. He went back into the shop and tried to sell them back the very same day, and they refused. Curiously, he said, a uniformed policeman was inside the shop, watching the whole deal transpire and was also there when he tried to return the gems. He said and did nothing to intervene. The Tourist Police told him there was no law broken.
I would soon learn the same thing: In all likelihood, they had sold me real sapphires; that's how this scam works. They just set a price a lot higher than they were worth. If they sold me fakes, the Tourist Police said that would be a crime. But that's not how these operators work, and in any case, I would only have an actionable situation after I had returned home and retrieved the items I had purchased.
I went to the American Embassy. Prominent on the walls of the waiting room were notices and news articles about avoiding the local "sapphire scam."  I also noticed what seemed to be a lot of tension in the air at the Embassy. There were officials and guards walking around with walkie-talkies, some of them armed. Such vigilance did not seem warranted by anything taking place there.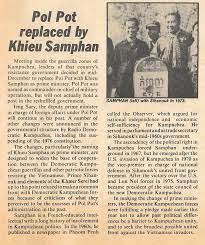 When I returned to my hotel, I saw a headline in an English-language newspaper: the Khmer Rouge leader, Khieu Samphan, one of the top associates of the murderous Pol Pot, had just arrived in Bangkok, after fleeing from a crowd of Cambodians who tried to attack him physically in their capital city. To this day, I have thought it likely that this war criminal was hiding out somewhere in the Embassy until things cooled down. (The United States policy under multiple Presidents was to support the Khmer Rouge over their rivals, the Vietnamese. The latter had in 1979 invaded and overturned their government and ended their genocidal rule.) Thinking about the Cambodian people, I realized that losing a few thousand dollars, as horrible as it was for me at that moment, was not on the same level of pain and oppression as other people were facing.
I got out of Bangkok the next day and only returned to fly home. I spent time in a lovely city called Chiang Mai, in the North, and then in a small beach town in the South along the Andaman Sea, called Ao Nang. A tuk-tuk driver in Chiang Mai taught me a handful of words in Thai. When I wanted to break for lunch, he insisted on waiting for me and taking me to more places in the afternoon. I protested, saying I might take a long time for lunch. He would miss out on other customers. He said it didn't matter. Well, how much would he charge for the afternoon, plus for the waiting time? "You tell me," he said. I explained again that I was asking for the price. We had agreed on a price for the morning. How much in addition. He had not been confused. "You tell me. Not now. When I take you to your hotel, after." Could this be another scam that I was too dense to see through? But I couldn't argue anymore; I accepted. He waited for me and then he suggested numerous fun and interesting places to see that afternoon, including a wedding reception on the grounds of a temple. It wasn't a scam, He even taught me how to say "I love you."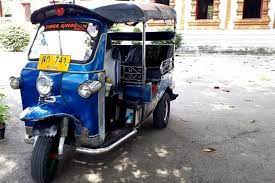 When I got back to Boston, I picked up my envelope from the downtown post office.  My signature was intact; nobody had tampered with it. I was burning with curiosity to know the value and authenticity of the stones I had bought, but I chose not to open the envelope for a while.  I wanted to correspond with the two credit card companies and didn't want to tamper with the evidence.
I was lucky! One of the banks backing my credit card would not rescind the transaction or recognize it as illegitimate, but the other one was issued by a credit union rather than a traditional bank. They asked for a full and comprehensive account of how I had come to make the purchase, and in the end, they ruled that the transaction met their definition of "fraudulent." They removed the charge of around $2000 and charged it back to the jeweler in Bangkok.  But there was one condition: I would send them by registered mail the unopened envelope. The property, whatever its value, would belong to them.
I was conducting all this correspondence from my apartment in Champaign, Illinois, in between my Ph.D. classes, my workouts, my biking to the post office, my Statistics study group. It was annoying to have to be reminded so often, for a number of months, about my incompetence, my gullibility, my being an "easy mark."  But I also came to appreciate that these people were not amateurs. Not just some guy in Times Square picking your pocket. They were professionals, each one of them schooled, well-trained, and practiced as part of an organized criminal enterprise. I imagined some of them trying to prove just how talented they were, looking for raises and promotions. I pictured the workshops where they conducted role-plays. "OK, suppose he says this? What will you say next?"  In recognizing their level of mastery, I was able, eventually, to stop putting myself down, to rebuild my sense of self, to regain confidence in my ability to judge others.
At the edge of the grounds where the tuk-tuk driver in Chiang Mai showed me there was a wedding celebration going on, some women vendors were selling pigeons from a wooden cage. You paid them, not to become an owner of a pigeon but for them to open the cage and set one pigeon free. My driver told me it would bring me luck if I set a bird free. I paid for them to release one of the pigeons and watched it fly away when they released it.
I am still assimilating all the good fortune that act has brought me. But if I want to look at a map, I make sure to do it in a private place, where no one can see that I need help with directions.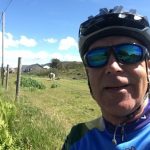 Dale Borman Fink
Dale Borman Fink retired in 2020 from Massachusetts College of Liberal Arts in North Adams, MA, where he taught courses related to research methods, early childhood education, special education, and children's literature. Prior to that he was involved in childcare, after-school care, and support for the families of children with disabilities. Among his books are Making a Place for Kids with Disabilities (2000) Control the Climate, Not the Children: Discipline in School Age Care (1995), and a children's book, Mr. Silver and Mrs. Gold (1980). In 2018, he edited a volume of his father's recollections, called SHOPKEEPER'S SON.
Characterizations: funny, moving, well written