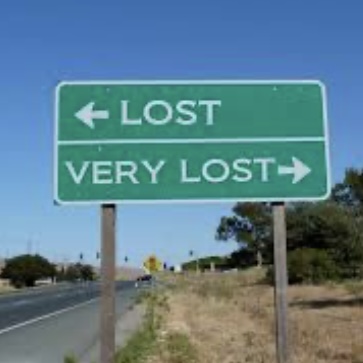 I must admit I have a poor sense of direction,  but luckily my husband has a very good one,  and he seldom gets us lost.   And on the rare occasions we do get lost,  he's willing to stop and ask directions,  unlike my rather stubborn father.  (See 17 Gas Stations)
But I remember a time,  well before GPS,   when we got lost with no gas station or any sign of civilization in sight,  and our glove box full of road maps no help as we didn't know where we were.
Our son was very young then and was strapped in his car seat in the back while up front my husband and I were having a marital dispute.  I was accusing him of having made the wrong turn that got us lost in the first place,
Then we heard the kid pipe up from the back.
"How can we be lost?",   he asked,  "We're all together!"
Dana Susan Lehrman
Dana Susan Lehrman
This retired librarian loves big city bustle and cozy country weekends, friends and family, good books and theatre, movies and jazz, travel, tennis, Yankee baseball, and writing about life as she sees it on her blog World Thru Brown Eyes!
www.WorldThruBrownEyes.com
Characterizations: funny, moving, well written