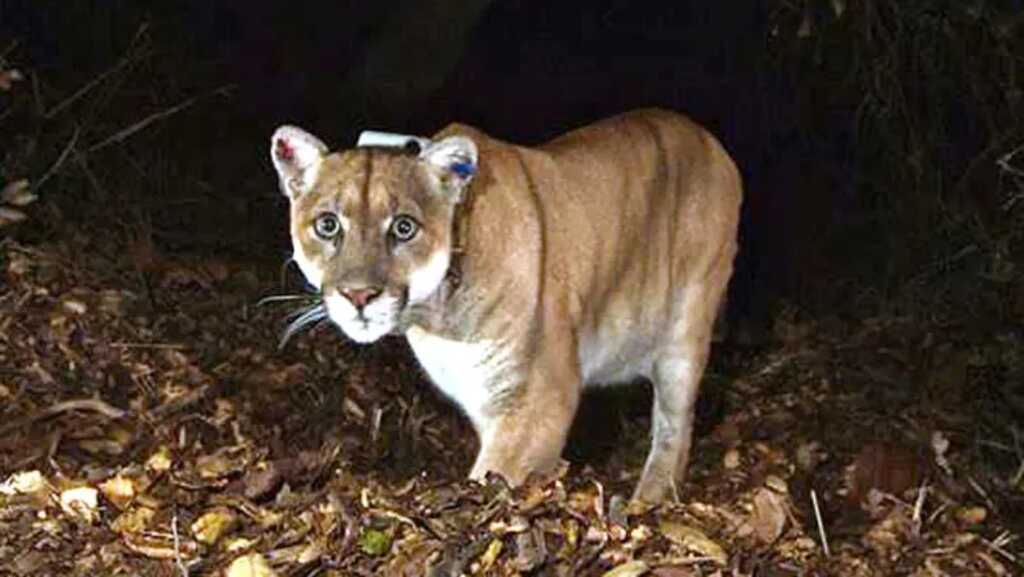 As with most mountain lions in our region, P-22 was born in the Santa Monica mountains, probably in 2010. As of 2016, the National Park Service had caught, collared, and released 12 pumas, male and female. They roam in the relatively wild areas of the Santa Monica Mountain National Recreation Area. There, protected by law, P-22's puma colleagues male and female, live their lives as wild creatures in a natural habitat bounded by the Pacific Ocean to the south and the overdeveloped flats of the San Fernando Valley to the north. Life is good for pumas in this area, But not for P-22!
No, P-22 was different. As a young lion, still almost a cub, he left his birthplace and headed east. Was he directionally challenged? Driven by curiosity or banished by a bigger male? Simply lost?  Whatever drove him, the young puma crossed both major north-south Angeleno freeways, the 405 and the 101. He continued eastward along Mulholland ridge to Beverly Hills and the Hollywood hills where he reached a small circle of wilderness known as Griffith Park.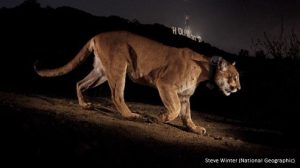 Along its ridges and arroyos, the park is home to deer, bobcats, rabbits, and coyotes, all good eating for a hungry young puma. But Griffith Park has many inroads that have crept up the hills from Hollywood. A busy horse stable sits at the top of Beachwood Canyon, nestled under the HOLLYWOOD sign. The Greek Theater, an outdoor amphitheater rocks with concerts, fans, and cars from May to October. The Griffith Park Observatory and Planetarium sit on a ridge top in the middle of P-22's range, looking out over LA's ceaseless whoosh of traffic and the endless day of a well-lit metropolitan sprawl.
Perhaps most telling, P-22's home range is an island, small and isolated. So P-22 has roamed his home alone, living on wildlife and interacting with civilization's hillside communities that have been built up the canyons since the 1920s. With a range so small, it's remarkable that P-22 never turned to domesticated animals for food. When he was periodically tranquilized and brought into the Fish and Wildlife clinic for checkups, veterinarians could easily surmise that P-22 had cadged no pugs, no dachshunds, no cats. Wild he was, and wildlife was his sustenance.
P-22 settled in. His range was small, but he grew strong. As always, most wild animals are gone before you know they're there. But P-22 was often sighted by hikers and horse riders in the hills. Security cams on garages and front yards picked him up during his nocturnal wanderings. He sauntered across pool patios as easily as he ranged the brush of the Park's arroyos.
People in the area lived in a state of wonder. He brought wildness and nobility to the overbuilt terrain. He was a beautiful animal. Any P-22 appearance went viral on YouTube and electronic neighborhood gazettes.  P-22 sightings became café talk. He brought us together with his effortless celebrity. He was big, beautiful, and wild and he excited us all with his solitary appearances.*
Lately, his loving fans began to notice he was lingering longer, closer to human habitats. He tried to capture a few loosely tended dogs. He had already survived a poison attack, had dodged cars on the narrow hillside roads. He had been rescued when he became stuck in a hillside crawlspace. And days later, after 10 years of gracing Griffith Park and its compromised ecosystem, P-22 took a hit from a car twisting around a hillside bend.
California Fish and Game brought P-22 in for a thorough medical checkup. He'd lost 35 pounds, had skin parasites, a hernia, arthritis, and the vehicle impact had fractured his skull. Sadly, after much consideration, the Fish and Game authorities decided to put P-22 down.
We will all miss his wild presence, his casual travels along back garden walls, down concrete driveways, and even along Sunset Boulevard. Every night, he roamed unseen across the precious but lonely palisades of Griffith Park. He crossed the sites of that once hosted the pre-Columbian dwellings of Maaw'nga, a village of the Tongva Chumash tribe.
During P-22's 10-year tenure, we all lived here together, struggling to find our humanity and our wilderness in the concrete and asphalt jungles of Los Angeles. Although his domain was small, P-22 made the best of his world, a wild and princely creature who brought us all together, flora and fauna enduring the summer sun and heat, cooling beneath Hollywood's unseen stars.
P-22 may have been directionally challenged, but he followed his wild will to become our neighbor, our companion, our hero. He bestowed upon us an assurance that nature still held sway in this over torqued world. companion. We will miss him terribly.
#  #  #
*The etymological derivation of wild comes from Old Saxon wildi, Old Norse villr, meaning 'willed.' How perfect.
Charles Degelman
Writer, editor, and educator based in Los Angeles. He's also played a lot of music. Degelman teaches writing at California State University, Los Angeles. 
Degelman lives in the hills of Hollywood with his companion on the road of life, four cats, assorted dogs, and a coterie of communard brothers and sisters.
Characterizations: moving, right on!, well written