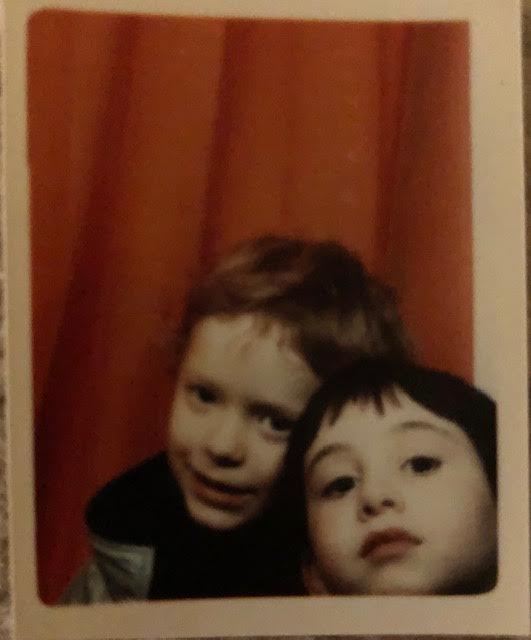 David was a very shy youngster, so shy that his nursery school teachers wanted him to do a transition year. We thought that was not in the best interests of a child who was already interested in reading and math, so instead, we found a small private school for his kindergarten year. There, his best friend was Ollie Murphy.
Ollie lived with his mom, Juliet (she explained that her mother was reading the Shakespeare play when she was born; an immediate connection for me) in a South End condo. They commuted out to Chestnut Hill by the MBTA each day. The stop was a block from the school. Juliet was herself in school to finish her degree. Ollie's father worked in broadcasting for the Christian Science Monitor, which was also close by and lived a few blocks away. They had parted amicably just after Ollie was born.
Ollie, too, was shy and he and David became fast friends. He frequently came back to our house after school, or I'd drive over to the South End and visit with Juliet while the boys played. I noticed posters for various high-profile play productions in the hallway along the entrance of the condo. It was a one bedroom condo and Juliet showed David the futon she pulled out to sleep on so that Ollie could have the huge bed. David loved playing with Ollie.
Jeffrey was a little boy at the time; sometimes Dan took care of him, but often Jeffrey would come too. Since Juliet didn't have a car, I'd take them all when we went to various places around greater Boston to play…out to the Old Grist Mill in Sudbury (near Longfellow's Wayside Inn) to run around, or take in the Children's Museum. Or play make believe at our house. Clearly at one of these venues (probably the Children's Museum), there was a photo booth and David and Ollie crammed in together to have a souvenir of their deep friendship and time together. David barely made it into the photo. Ollie must have the other snap shot.
David spent one year at the school, then came out to our public school. Ollie remained in the area for one more year, but it was less easy for them to get together. When Juliet finished her degree, she took an offer from her mother to teach at the American School in Vienna, where her mother was Head of School. David was bereft to lose such a close friend. We tried writing, but Juliet wasn't a good correspondent. They came to visit once or twice. Below is a snap shot of one of those visits, in August, 1993. You can see how happy David was to be with his friend again.
As a gift for David, Juliet brought a little flag stand with a French, American and Austrian flag standing in salute. I no longer remember the relevance of the French flag, but David was delighted and kept it on top of his bureau, where it remains to this day.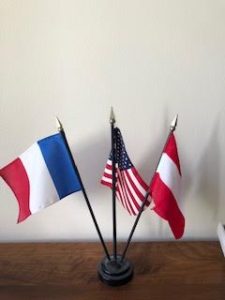 During the year that David was in kindergarten with Ollie, they slept over at each other's homes a few times. Juliet and I became close as well. She finally confided in me how she was able to afford such a fine condo in the South End (even before it became the hottest location in Boston) and why there were those theatrical posters, hanging in the hallway. The condo belonged to her brother – Harvard grad and former theatrical "wunderkind" Peter Sellars, who had moved to California, but kept the condo, as he still worked often enough in Boston to make it worth his while to have the place when he came back. He now worked mostly directing operas. This was an interesting revelation, which I kept to myself. I tried to not be over-awed. As a theater person, of course I knew of him, but it had nothing to do with how I related to Juliet or Ollie.
We missed them very much when then left. We haven't heard from them in years.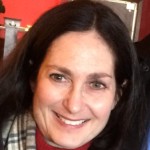 Betsy Pfau
Retired from software sales long ago, two grown children. Theater major in college. Singer still, arts lover, involved in art museums locally (Greater Boston area). Originally from Detroit area.
Characterizations: been there, moving, well written