Nude on Blue Rug  1970
One weekend many years ago Danny and I visited friends in Pittsburgh and they took us to a local art gallery.
We had no intention of buying anything but one lithograph  – Nude on Blue Rug – caught our eye,  perhaps partly because we had a very similar rug in our bedroom!   The price wasn't exorbitant for an artwork – $3,000 – but we were younger then with a smaller bank account,  yet we couldn't resist the image and we bought it.
That day the artist – Philip Pearlstein –  was unknown to us,  but since then we've been following his rising career and he's now a critically acclaimed painter known for his Modernist Realism nudes.
Born in 1924,  Pearlstein is a Pittsburgh native who studied as a child at the Carnegie Museum of Art,  and later at the Carnegie Institute of Technology's art school.  Then in 1943 he was drafted by the US Army and stationed in Italy where he took in as much Renaissance art as possible.
After the war Pearlstein continued his art education at Carnegie on the GI Bill,  and after graduating left for New York with his fellow aspiring Pittsburgh artist Andy Warhol.
The two roomed together for awhile and during that time Pearlstein painted Warhol's portrait,  now held by New York's Whitney Museum.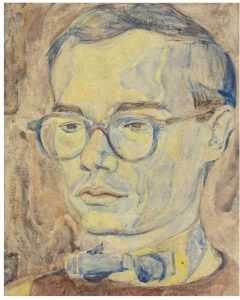 Portrait of Andy Warhol  circa 1948
The prolific Pearlstein has won many awards,  held art professorships at Pratt Institute and Yale University,  and is represented in the collections of over 70 art museums.
Now living in New York,  at age 98 Philip Pearlstein is still painting!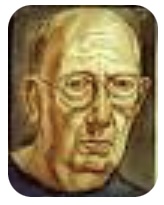 Self Portrait  2000
Dana Susan Lehrman
Dana Susan Lehrman
This retired librarian loves big city bustle and cozy country weekends, friends and family, good books and theatre, movies and jazz, travel, tennis, Yankee baseball, and writing about life as she sees it on her blog World Thru Brown Eyes!
www.WorldThruBrownEyes.com
Tags: Philip Pearlstein, Artists, Andy Warhol
Characterizations: moving, right on!, well written