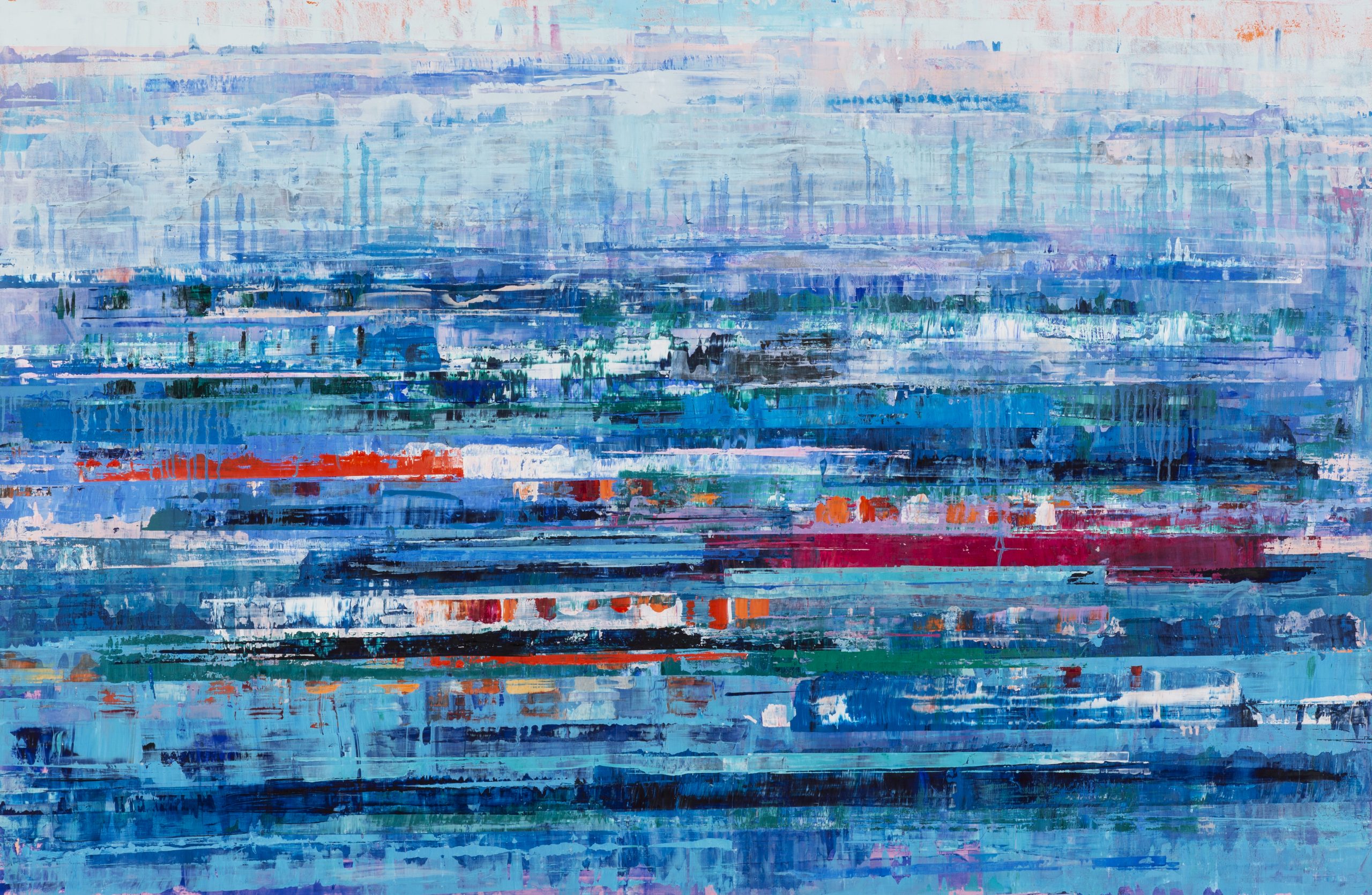 Houses and cars, cars and houses. That's all that comes immediately to mind when I think about pricey purchases. I have bought four houses and six cars in my lifetime, and nothing else I have ever bought even comes close to the prices of those. . . .
This painting, called High Jinx, would have been a dramatic centerpiece for our living room, which has light blue walls.
The featured image is a painting that I almost purchased last year. The artist, whose first name is also Suzy, is a relative by marriage – her husband and my husband are second cousins. She was going to give us the "cousins discount" of 20%, which would have made it affordable, but just barely. The painting, called High Jinx, was 38 inches high by 58 inches wide, and would have been a dramatic centerpiece for our living room, which has light blue walls.
We had seen High Jinx in her studio when we visited in October and I fell in love with it. After we got home, she sent us a photo so that we could keep looking at it and thinking about it. We had never spent that much on a piece of art, and were a little nervous about it, but the more we thought about it, the more we loved it. Suzy and her husband and daughter (who is one year younger than Molly) were going to be coming to our house for Thanksgiving dinner, and we decided that they should bring the painting with them so we could hang it and see how it looked before making a final decision. We cleared the space on the wall. We were very excited!
However, on their way to Sacramento from Berkeley, this happened: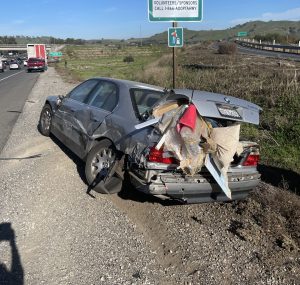 Their BMW was hit by a tractor-trailer and dragged 300 feet. They think the driver was changing lanes and just didn't see them. Nobody was hurt, thank heavens, but the car was totaled and the painting was crunched. Ironically, the pumpkin pie she had made for our Thanksgiving dinner survived the collision unscathed. Unfortunately, we didn't get to eat it, because they were pretty shaken up, and after the car was towed away, they went back to Berkeley in an Uber. They did send us a picture of the pie though, so we could see what we missed. As you can see, she's an artist on food as well as on canvas.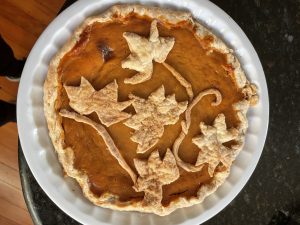 We may buy another painting from her, but we haven't yet. So I guess this story is about the priciest purchase we almost made.
---
Here is Paul Weller singing Shades of Blue, with daughter Leah harmonizing. He's been recording since 1972, originally with The Jam, then with The Style Council, and since 1990 as a solo artist. If you haven't heard of him, it's because "despite widespread critical recognition as a singer, lyricist, and guitarist, Weller has remained a national [UK], rather than international, star" –Wikipedia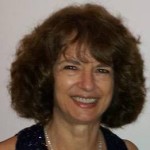 Suzy
Characterizations: funny, right on!, well written