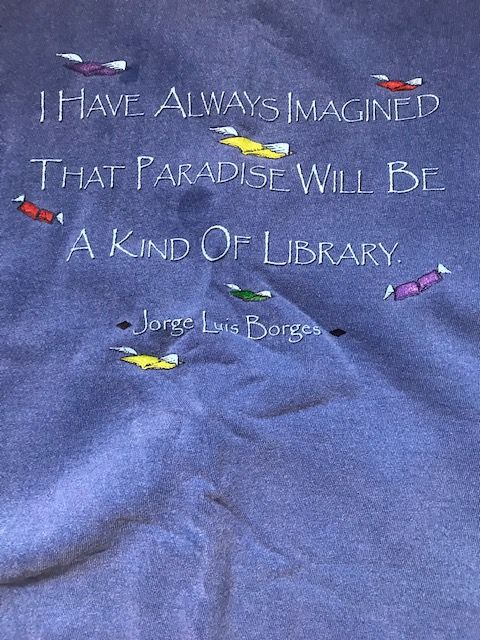 Jorge Luis Borges said, "I Have Always Imagined That Paradise Will Be A Kind Of Library".
"I Have Always Imagined That Paradise Will Be A Kind Of Library"
As a young child I loved nothing more than a quiet corner and a new book. Being able to read was a superpower that meant I could go anywhere and meet wondrous new people from all over the world. One of my relatives, a librarian I will call "East", always carefully picked out a well written, age- and ability-appropriate book for me each Christmas and birthday, that built my growing collection of the great classics of children's literature along with a few quality books signed by local authors. My own little library!
The local library was one room in the community center with floor to ceiling bookshelves full of more treasures. The one day a week it was open I stopped on my way home from school to find new books to read. I was disappointed when I started to run out of books in the relevant section of the room.
One day my mother and I stopped at the big city library where East worked. After seeing my wide eyes at the sight of room after room with walls of full bookshelves, East took me behind the scenes into the stacks where only staff members were allowed. There I was amazed to see a huge warehouse-like structure with full bookshelves as far as I could see. On the way home I enthusiastically described to my mother what I had seen and told her my new goal —I was going to read every book in that library. She told me there were too many books to do that. I said that I would spend all my free time and learn to read faster. She gave me an English major's explanation of the concept of infinity.
Fast forward to my high school years in the same city —with no public transportation to take home after school I usually had a few hours before I took a bus to my father's office to get my ride. On days when I did not have afterschool activities or a place to hang out with friends, I went to the same library and sought out the room that East presided over, Business/ Science/ Industry, to get started on homework. As I visited with East I would remember the awe I felt in those hidden stacks.
In college the dorms were far enough from the academic buildings that libraries were a welcome place to spend time when no other activities occupied free hours between classes. I discovered that there were ways to get into stacks or specialized libraries that were supposedly restricted to those with academic reasons to need the contents. My first blanket stack pass to Widener Library junior year gave me an oasis when I needed it that brought back the emotions of that little girl first seeing library stacks with East. Sometimes I would take down a random book and start reading with little idea of where it would take me.
In recent years I have seldom been in a library. Instead, with a few clicks on my laptop I can search online databases like PubMed or find books on iBooks or Amazon. It is so much faster and more convenient but I do miss the serendipity of browsing in the stacks. Whether it is physical or digital, I still imagine that paradise must contain a kind of library.
JeanZ
Characterizations: right on!