My pet peeves center on grammar and word-usage. I feel uncomfortable about them, yet I revel in them.  Many years ago I was chastened when criticized for laughing at someone's mispronunciation of a particular word.  I've long since forgotten the word, but  it was pointed out that those who mispronounce words often do so because they read, never having heard the word in spoken English. In the same vein, is recoiling in feigned horror or laughing at "improper" grammar or word usage equally elitist?
Or is it innate in my mental makeup?  Surely, it exercises the intellect – for example, when I'm attempting to determine whether someone's usage of "me" instead of "I" is correct, particularly in a convoluted or recursive sentence featuring one or more embedded phrases and clauses. I enjoy figuring out what is the subject, the object, and which verb is controlling. The same mental gymnastics are required when trying to figure out the meaning of "I couldn' fail to disagree less."
Having apologized for what can be termed misplaced elitism, if such a thing exists, here are three of my linguistic Pet Peeves:
"Exact same".  I claim ownership of this one, as I've not seen discussions of this term anywhere else. "Exact" and "same" are adjectives. I don't know what an "exact" thing is. Is it measured with a micrometer? Is there something precise about it? I understand "exactly the same thing," where "exactly" is the adverb it should be. I'm at a loss as to what an "exact same thing" is.  Recently, I reviewed a brief where the drafter made the point that a law firm had filed virtually the same brief in half a dozen cases, characterizing them as "near identical" briefs. I suggested changing the characterization to "nearly identical", observing that the brief was "near" only if he'd printed it out and held it close to his glasses. He wrote back generally agreeing, but cited several published California appellate cases where the courts, surely aided by crack law clerks with Order of the Coif credentials, had used the exact same phrase. (Whoops.) To humor me, the brief was filed using "nearly identical" to describe the similarities.
"Chaise Lounge".  This is a corruption of the correct "chaise longue", from French. When I see this, I think of "lounging" in an airport lounge waiting for a flight, rather than the reclining seat next to the pool at the resort I wish were the termination of my flight. Merriam-Webster online suggests that English speakers were more comfortable importing this French term for a "long chair" as "lounge" because they wanted a word with spelling they knew and unambiguous pronunciation. I dunno. I once pointed out to a newspaper columnist his error in a column he wrote. He, an adherent to the belief that proper English is that which the people speak, acknowledged the etymology of the word, but disputed that he'd made an error.
Finally, "Nonplussed." My favorite, because its common (incorrect?) meaning is the one almost universally used by current American writers, and it is used to convey the near opposite (whoops again) of the original meaning. I've never heard anyone say "nonplussed" in ordinary speech, but it comes up often in opinion columns and other popular writing. The original meaning, "Astonished to the point of being unable to speak", or loosely, "perplexed or unsure of what to say" also comes from  French, non plus or "nothing more." Now, in this country, at least, it signifies a state of being unimpressed, as in "I was nonplussed by the candidate's speech."
The nicely perverse consequence of pet peeves like this is that the more widespread the error, the more proper its usage becomes.  In France, I believe there's a commission that certifies acceptable words. English speakers, of course, wouldn't put up with nonsense like that. We'd be nonplussed by their suggestions.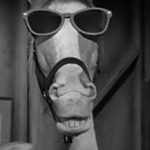 Mister Ed
Characterizations: funny, right on!