I don't have a voting story about me voting. Or about anyone else I know voting. But recent elections remind me of a certain part of my childhood.
My home town was home to a large, and now defunct, youth organization.
My home town was home to a large, and now defunct, youth organization. I was not in it, as I lacked certain essential skills. But I knew DOZENS of the members, and a couple of the adults who ran it. In my town, you really could not avoid this group or its members for long.
This group was part of a national and international circuit of similar groups. The groups held large competitions. Our group was nationally ranked, toured the region and country going from competition to competition, and won a fair number of them.
I soon noticed that EVERY TIME they failed to win, they claimed that they had somehow been cheated. The judges were biased, or the groups that beat them used illegal moves or equipment that no judge saw, or saw and did nothing because they were biased. Maybe bribed. But there was definitely a conspiracy to deprive them of the victory that was theirs by right. The competitions that they didn't win were all, somehow, fixed.
This belief was present both in the kids and in the adult leadership that I knew.
Even then, raised on a "don't be a sore loser" ethic, it seemed to me to be very poor sportsmanship, as well as a pile of ripe BS. In particular I thought that the adults were setting a very poor example with the constant whining about them being robbed.
So…anyone care to guess who they remind me of? And how these kids turned out (to the extent that I can find out) politically?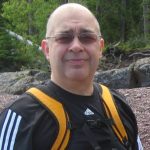 Dave Ventre
A hyper-annuated wannabee scientist with a lovely wife and a mountain biking problem.
Tags: competition, sportsmanship, losing, winning, election
Characterizations: right on!, well written