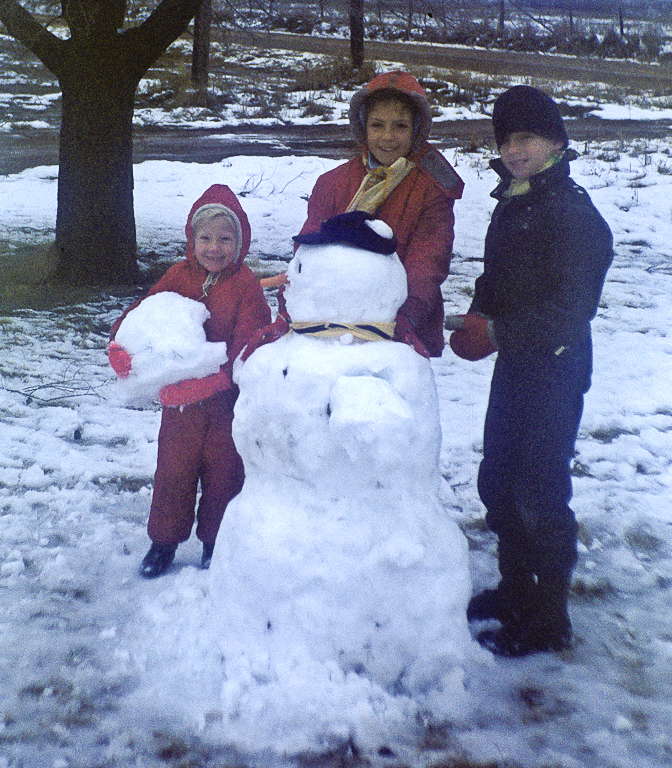 I've always loved snow, but in general, I prefer it to be located on ski slopes.  While I was growing up on the plains of Oklahoma, snow was not that common.  My siblings and I loved it when it happened, but on that flat terrain, there wasn't much to do with it except build snowmen or throw it at each other.  I had heard about kids in the hilly eastern part of the country going sledding, and I was very envious.  So one year when we had an unusually heavy snow, I was thrilled when Dad chained an old door behind the tractor and took us out on the road for a ride.  The door swerved back and forth and threw the three of us kids, laughing hysterically, into the ditch.  Good fun.
Snow didn't play much of a role in my life until I graduated from college and finally had enough money to go skiing.  My then boyfriend, now husband, and I learned how to ski in New Hampshire in brutally cold weather and icy conditions.  Knowing how to navigate on blue glare ice and how to avoid frostbite were useful skills at the time. Over the Christmas holidays during grad school, we flew to California to go skiing at Mammoth Mountain.  We couldn't understand why there was hardly anyone on the slopes during the holidays and asked a ski instructor why that was.  He looked surprised and replied, "Because the conditions are so bad!  It's icy!"  We were astonished because the snow, hard-packed powder, was the best we had ever experienced and there was no shiny ice to be seen.  After that we vowed we would never ski in the East again.  It's a promise we have kept.
In the early 1980s, we relocated from San Francisco to Incline Village, Nevada, on Lake Tahoe but drove back and forth to the Bay Area for business.  In order to do that, one must drive through Donner Pass on Interstate-80.  Not wanting to repeat the experience of the Donner Party, we kept rescue supplies in our four-wheel-drive vehicle – food, water, shovel, sleeping bags, boots and mittens, and cat litter for traction.  Our condo was equidistant from Squaw Valley (now Palisades Tahoe) and Heavenly Valley resorts and we skied as often as possible.  Over January 4th and 5th of 1982, the Tahoe area received 67 inches of snow in 24 hours!  (Some entrepreneur later printed up bumper stickers saying "What's for lunch – Donner Pass 1982".) Both I-80 and Highway 50 were closed during that time, cutting off travel from the Bay Area, so we locals had the slopes to ourselves.  There were no lift lines at Heavenly and it was snowing so hard that we skied untracked powder, then rode the lift back up and skied untracked powder again.  Over and over.  It was heavenly indeed.  
Sadly, in March of that year after several days of very heavy snow, an avalanche at Alpine Meadows, another resort we liked, killed seven people.  The total snowfall that year was so great that when we drove on Mount Rose Highway from Incline Village to Reno on July 4th, there was still ten feet of snow on each side of the highway.  Work required us to move back East in 1986, and since then, my snow experiences have been limited to the occasional trip to some ski slopes, which is where snow belongs
.
Snow belongs on ski slopes.
Cynthia Blanton
Walter Johnson HS, Harvard undergrad, Harvard MBA, corporate strategy consultant, bank VP, jewelry designer, photographer, retired. Lived on a farm in Oklahoma; Granada Hills, CA; Bethesda, MD; Cambridge and Boston area; San Francisco and Bay Area; Incline Village, NV at Lake Tahoe; Westport, CT; Pelham Manor, NY; Toronto and Oakville, Ontario, Canada, and now I live in San Miguel de Allende, Mexico! (Photo: at lunch on rooftop restaurant in 2021)
Tags: snow, skiing, avalanche, Donner Pass
Characterizations: been there, funny, right on!, well written