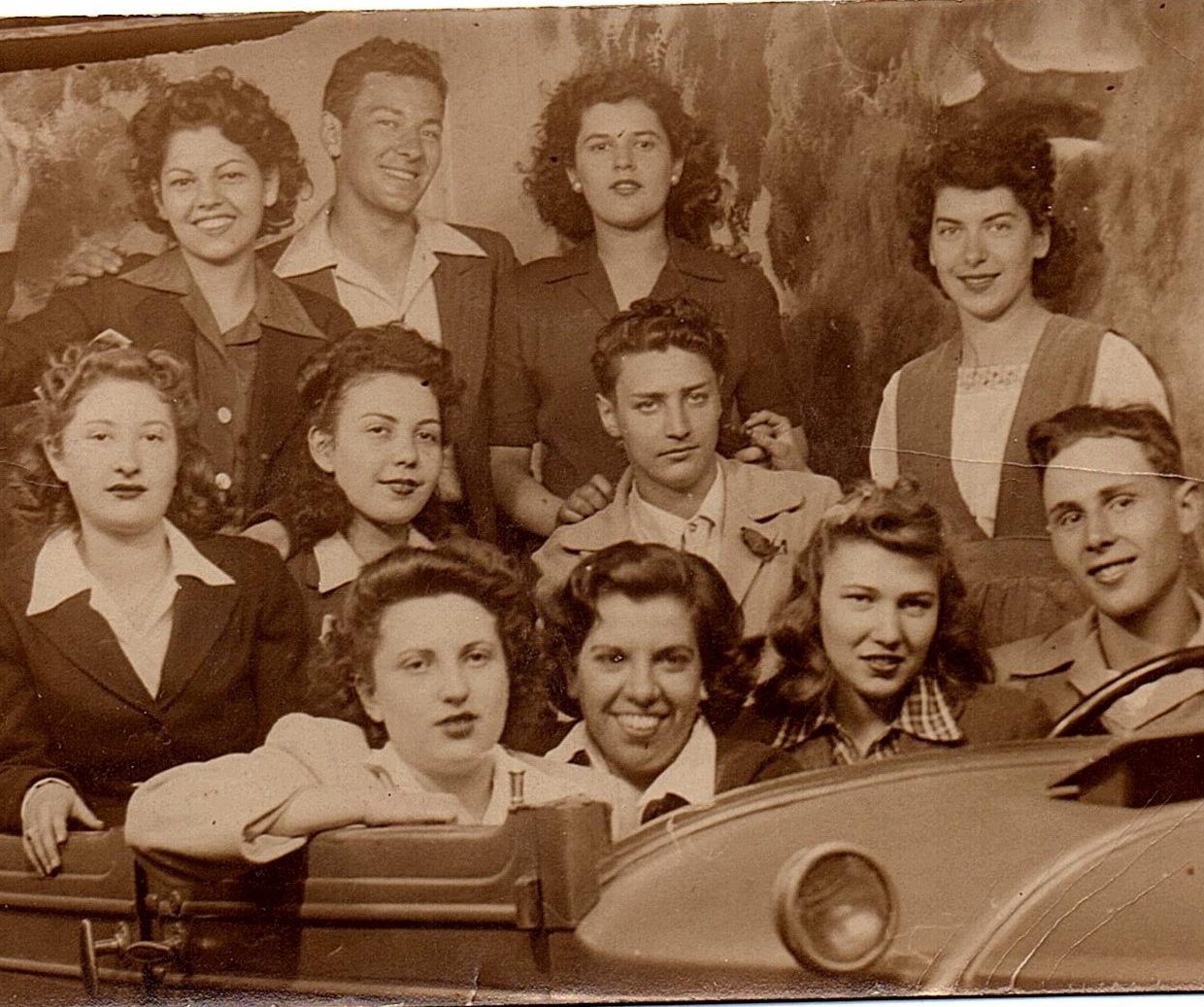 As I thought about this prompt, I took a random walk through boxes of old photos that ended up in my office closet because no one else had room for them. I'm very glad I did. It's easy to think of group photos as being stiff and stuffy, but many that I found radiated joy–and most of us could use some of that today.
I especially like this photo of my aunt because it captures her sweetness.
On the back of the featured image, in my mother's spidery, distinctive handwriting, is the phrase "Some bunch of kids, huh?" followed by the date and a list of the kids' names. There is no indication what the odd background is, or why they are posed in an automobile. Most of the "kids" are cousins or friends of cousins, the relationships too complex to explain here.
My mother, who is the third young woman to the right in the front row, would have been 16 and probably the youngest of the group. To her right is our cousin Joe, who I've written about in another story on Retrospect. In the back row on the far left is my aunt Rae, my mother's older sister, who would have been 19. I especially like this photo of her because it captures her sweetness.
The following photo of my father, nicknamed "Hank," and his college classmates came to me with the typed caption.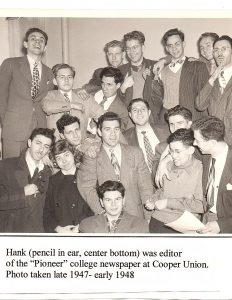 Most of the his class in engineering school were veterans of World War II and were a bit older than traditional college age. I love the exuberance and optimism of the group and remember stories from my dad about the fun they had.
Not all group photos need to be formally posed to be great. I found many candid shots in the boxes from different eras. One taken in 1970, of my mother's mother's side of the family, particularly makes me smile.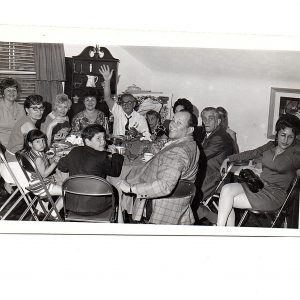 In this shot, taken in our house after my brother's bar mitzvah (it had rained and we set up tables in each room for the luncheon), the personalities of my relatives really come through, from disengaged, to shy, to friendly, to funny. My great uncle Saul, who had a knack for being outrageous all his life, is the man waving. My grandmother, to his right and very shy, almost tried to hide. My great uncle Max, the rightmost older man, tended to be on the serious side.
Finally, the last photo I'm including, from 1962, isn't strictly a group photo, I think, but I really like it because it's a rare shot where my grandmother wasn't trying to hide. She is the lady on the right.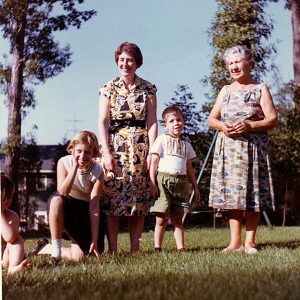 I think this photo was taken in my family's back yard. The adult woman is my cousin Betty Samuels, married to my cousin Joe, and with their son Lenny, about four years old, in the middle between Betty and my grandmother. Off to the left, mostly cut off in the original print, is my brother Allan, sitting on the grass. The kneeling girl is me. Why exactly I'm kneeling I don't know, except that, at the time, I was nine and already was 5′ 4″ tall–taller than Betty and my grandmother. I do remember being self conscious about my height, but at least I'm smiling here.
After the early 1970s, the group photos in the boxes drop off precipitously, for many reasons. I deserve my reputation for being camera shy and because of my height wanted to be in the back row, or MIA, whenever possible. Being introverted, I've tended not to associate with large groups anyway. Most important, family members no longer live in proximity, unlike the previous generation, whose relatives all lived in the same borough of New York–but instead began to spread throughout the United States. And, the Baby Boomer and younger generations are smaller, with two- or one-child families instead of those with seven or eight siblings, so there are fewer large family photos.
It was fun to look at these photos and have some smiles during the dead of winter in a pandemic, and it's time to get serious about digitizing them all.
Marian
I have recently retired from a marketing and technical writing and editing career and am thoroughly enjoying writing for myself and others.
Characterizations: been there, funny, moving, right on!, well written