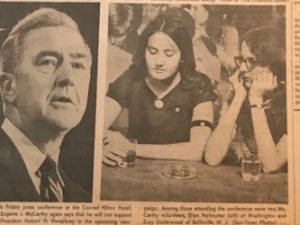 Chicago Sun-Times article, August 31, 1968, with headline
McCarthy Delays Leaving, Blames Raid
I met Ellen in the summer of 1968 when we were both working at the McCarthy for President national campaign headquarters in Washington, D.C. We became good friends doing delegate research together. In mid-August, we drove out to Chicago, along with two other girls (and I use the term girls because we were all still teenagers, or 20 at the oldest), as part of McCarthy's staff for the two weeks before and during the Democratic Convention.
I met Ellen in the summer of 1968 when we were both working at the McCarthy for President national campaign headquarters.
The featured image is a newspaper article about a press conference McCarthy held after the Chicago police raided the 15th floor of the Hilton Hotel, where we and the other campaign workers were staying, and dragged us all out and down to the lobby. The cops would have arrested us all if McCarthy hadn't stopped them. Ellen and I were at the press conference, although we didn't know we were being photographed. (She got the clipping later and sent me a copy.) We both left Chicago on Senator McCarthy's plane on August 30th, my birthday. He wanted to make sure all his staffers got out of Chicago safely. It may have been one plane that went to New York first and then on to Washington, or there may have been two different planes. I was going to New York, since I lived in New Jersey, and Ellen was going back to Washington. The girl who owned the car we drove out in must have driven herself home.
Ellen and I kept in touch for several years. She was in New York, at NYU, and I was in Cambridge, so we were close enough to see each other from time to time in one place or the other. When she finished college in 1970 she got a job writing obituaries for the Washington Star (the other D.C. paper besides the Post at the time; it folded in 1979). After a couple of years she got a real reporter job at a newspaper in Binghamton, New York and moved there. Before I drove out to California for law school in 1974, I stopped in Binghamton to visit her for a few days.
I invited her to my wedding in March 1983, although I didn't really expect her to come all the way out to California. I also had an East Coast reception that fall at my aunt's house in Staten Island, and she did say she would come to that. I was looking forward to seeing her and meeting the man she was involved with. Then at the last minute they had to cancel the trip, and she wrote me a long, emotional letter about their relationship and why they couldn't come.
We may have kept writing letters for a little longer, but it tapered off, and once I had a baby in 1985, I was hopeless as a correspondent. So we lost touch.
In 2002, I was working at a job that was sometimes demanding, but also had long stretches of not that much to do. I had a computer in my office, and it was still the early days of discovering all the information you could find on the world wide web. In my free time, I started looking for people from my past. (See Don't You (Forget About Me) for other efforts in this regard.) One of the people I thought about was Ellen. I discovered one of those people-finder sites and typed in her name. It gave me a short list of people with that name and their ages. There were two that were the right age. In order to get specific contact information, I did have to pay some money, but as I recall it was only a few dollars for the one search (a lot less than they charge now), so I did it. I was given the addresses of these two Ellens of the same age, one in Texas and one in Pittsburgh, Pennsylvania. I wrote a long letter, made a copy of it, and sent it off to both places, explaining that I had been given these two addresses and was sending the same letter to both. I included my email address and telephone number, so if either one turned out to be the right Ellen, she could contact me in one of those ways if she chose. Then I waited.
About a week later I got a long handwritten letter from Ellen. As soon as I saw the handwriting on the envelope, I recognized it, without even looking at the return address. She was living in Pittsburgh and had no idea about the Texas address. She acknowledged that she could have replied by email, but said it had been such a thrill for her to get my physical letter in the mail that she wanted to give me the same experience. And it was a thrill!
It turned out that she had changed her last name, so I was lucky to find her. It wasn't because she had gotten married (the usual reason), but because she had become estranged from her father and decided to use her mother's family name instead of his. She had made that change many years earlier, but fortunately for me, there was still a trail with her old name.
After those initial letters, we then turned to email since it was so much faster. We began to scheme about how we could get together. After months of discussion, we finally cooked up a plan. In August 2003, I would be taking my daughter Sabrina to college in Aurora, New York, after a family reunion in eastern Pennsylvania. At that same time, Ellen was going to be in upstate New York for some reason I no longer remember, driving there in her own car. She would meet me in Aurora, we would return my rental car at the airport in Ithaca, and then I would drive back to Pittsburgh with her. This led to a complicated transaction when my family bought our plane tickets to go to the family reunion. Five of us flew from Sacramento to Newark, but while my husband and two younger kids flew home from Newark on a round-trip ticket, Sabrina had only a one-way ticket, and I had an "open jaw" ticket with a return flight from Pittsburgh. By buying that ticket, I was putting my faith in Ellen not changing the plans.
Everything worked out perfectly. I had booked a double room at the Aurora Inn for two nights. The first night Sabrina stayed there with me. The next day we moved her into her dorm at Wells College (see Launching my firstborn), and when Ellen arrived late in the afternoon, she went directly to the Inn, where I met her. The second night Ellen stayed with me at the Inn. The following morning, after an emotional good-bye with Sabrina, Ellen and I returned my rental car and headed off to Pittsburgh. It was a six-hour drive, but it seemed like nothing, because we talked nonstop the whole way. We probably stopped to eat and/or get gas, and I think I drove part of the time, but who can remember? I just remember that we had so much to say, catching up on everything that had happened in the 29 years since we had last seen each other in Binghamton! I spent several lovely days at her house, and she showed me all the sights of Pittsburgh. (While I was there, I also reconnected with a high school classmate whom I hadn't seen in an even longer time.)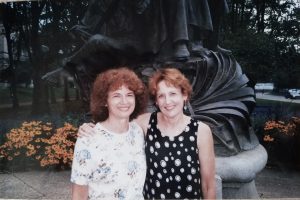 Here's the only picture I have of both Ellen and me from that visit. We are in a park, standing in front of some giant statue, of which you can only see the feet. I am mortified about the way my hair looked; all I can say is that it was very humid in Pittsburgh, and I hadn't yet discovered mousse.
Although we vowed that we would keep in touch, and not let so many years pass before we got together again, our correspondence has been spotty, and it has now been more than seventeen years since that visit. She sometimes sends me a birthday email, since she remembers the date from Chicago (I must confess that I don't remember when her birthday is). And then we do a little back and forth catch-up, but that's it. The last one was in August 2018, when she wrote "we've been friends for 50 years!" Of course I wrote back to thank her for remembering, but the conversation ended there.
Early this month, as I was starting to think about what story to write on the Reconnecting prompt, I got a message out of the blue on Instagram that Ellen was following me! She is not on Facebook, and I had no idea that she was on Instagram. I immediately sent her a private message on Instagram, but I didn't know if she would see it or not. After three days, when she hadn't answered, I sent her an email as well. When I finally heard back from her, first on Instagram and then via email, we decided to have a video chat.
Our video chat was wonderful, and lasted two hours! We probably could have talked even longer, but it's hard to sit and stare at a screen for so long. I hope now that we have reconnected again, we will really keep in touch this time, and figure out a way to get together after the pandemic is over.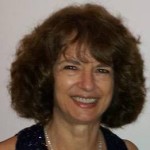 Suzy
Characterizations: , been there, moving, well written