This may not exactly be a Super Bowl story as we're a baseball family,  but it's as close as I can get!
A few years ago our friend Jon called on a  Saturday morning.  It just happened to be the third day of the World Series.
"We haven't seen you guys in awhile,  how about dinner and a movie tonight?",  he said   "We can show you pictures of the baby!"
Jon and Jeanne had just gotten back from visiting their newborn grandson.
"We can't,".  I said,  "tonight is game 3 and you know Danny will be glued to the TV."
Jon is my husband's best friend although inexplicably a Mets fan,  and is forever hounding Danny about his Yankee baseball obsession.
"The Yankees aren't even in the series this year, ". said Jon,   "And to tell you the truth I think Danny's baseball addiction is a case of delayed development.   He's like a kid during baseball season,  from April to October it's all he talks about,  and who cares about all the statistics he's always spouting,  and all the minor league trades he follows,  and criticizing all the coaching and the umps.  He's ridiculous!"
"Well, " I said trying to placate Jon and also defend my husband.   "If we can't meet you tonight,  how about brunch and an afternoon movie tomorrow?"
"Dana, are you nuts?,"  boomed Jon over the phone.  "TOMORROW IS THE GIANTS-EAGLES GAME!"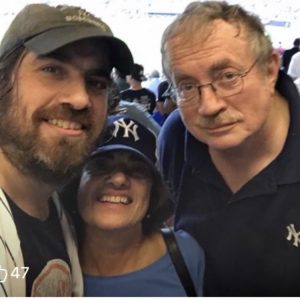 Dana Susan Lehrman
Dana Susan Lehrman
This retired librarian loves big city bustle and cozy country weekends, friends and family, good books and theatre, movies and jazz, travel, tennis, Yankee baseball, and writing about life as she sees it on her blog World Thru Brown Eyes!
www.WorldThruBrownEyes.com
Tags: Baseball, World Series, Football
Characterizations: been there, funny, well written