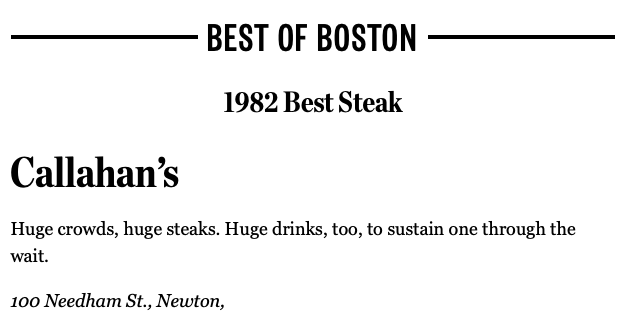 Does anyone remember the days when it was acceptable, even encouraged, to drink at lunch? This story takes place on June 4, 1976. It will later become evident how I remember the exact date. Dan and I both worked at our first jobs at SofTech – he as a programmer; I, a Program Librarian (glorified data inputter) in Waltham, MA, and lived a few miles away.
This day, a group of about six or seven of us went to lunch at Callahan's, a large steak house, better known for the LARGE drinks they served, to celebrate a project completion. At the time, my drink was a gin and tonic, but I've never had a head for alcohol. Drinks at Callahan's were served in large, 11 ounce plastic tumblers.
We placed our steak orders but the drinks came out first (I eat so little meat these days, I can't imagine eating a steak for lunch, but that's a different story). I weighed all of 90 pounds. It was a warm day and the others at the table encouraged me to drink quickly and order another. They were having fun with me.
I'd had one and half drinks before consuming any food. Boy, was I fun! John W. puffed away on his nasty cigar and they had me take a puff (meanwhile, my husband sat there, bemused, as the whole episode unfolded). Though I didn't, it probably wouldn't have taken much encouragement to have me dancing on the table. Yeah, it was that kind of party. I finally got some food into my stomach, the bill was paid, Dan and I started to drive back to the office (we had come together), but I felt terrible (big surprise). I asked him to pull off the road. He pulled into the parking lot of a church, I rolled down the window (no automatic windows on our cars back then) and puked out the window. Good lord, I was sick.
I asked Dan to take me home (at this point, we were closer to our apartment than the office). He did, then went back and told everyone that I was "shit-faced", not untrue, but not how I might have characterized my condition. My car stayed parked at the office overnight.
I passed out at home. I drifted in and out of consciousness. I was truly sick. I threw up many more times. I don't remember eating anything. I had no appetite.
Later that evening a friend came over and we turned on the TV to watch our beloved Celtics in the NBA finals against the Phoenix Suns (I became a big basketball fan at Brandeis and was now a full-time resident of Massachusetts; I had never watched professional basketball in Detroit, so had no allegiance to that team). I tried to watch but kept passing out. This was the 5th game of the finals, the famous triple overtime game. Every time I became conscious, that damn game was in overtime, a bit like "Ground Hog Day". That's why I know exactly what day it was. I really wanted to watch, but couldn't stay awake. The Celtics persevered and won 128-126 and won their 13th championship two nights later.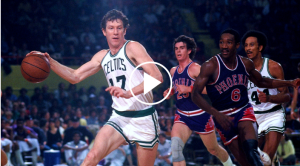 I was sick throughout the night. It was clear that I had alcohol poisoning. I have not been able to tolerate the smell of gin since. I actually have a sense aversion to it. And I've learned to not be the "party girl", but watch my intake. In fact, I haven't had any hard liquor since, just a little wine. I really cannot hold my alcohol.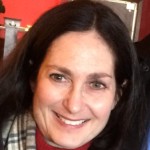 Betsy Pfau
Retired from software sales long ago, two grown children. Theater major in college. Singer still, arts lover, involved in art museums locally (Greater Boston area). Originally from Detroit area.
Characterizations: right on!