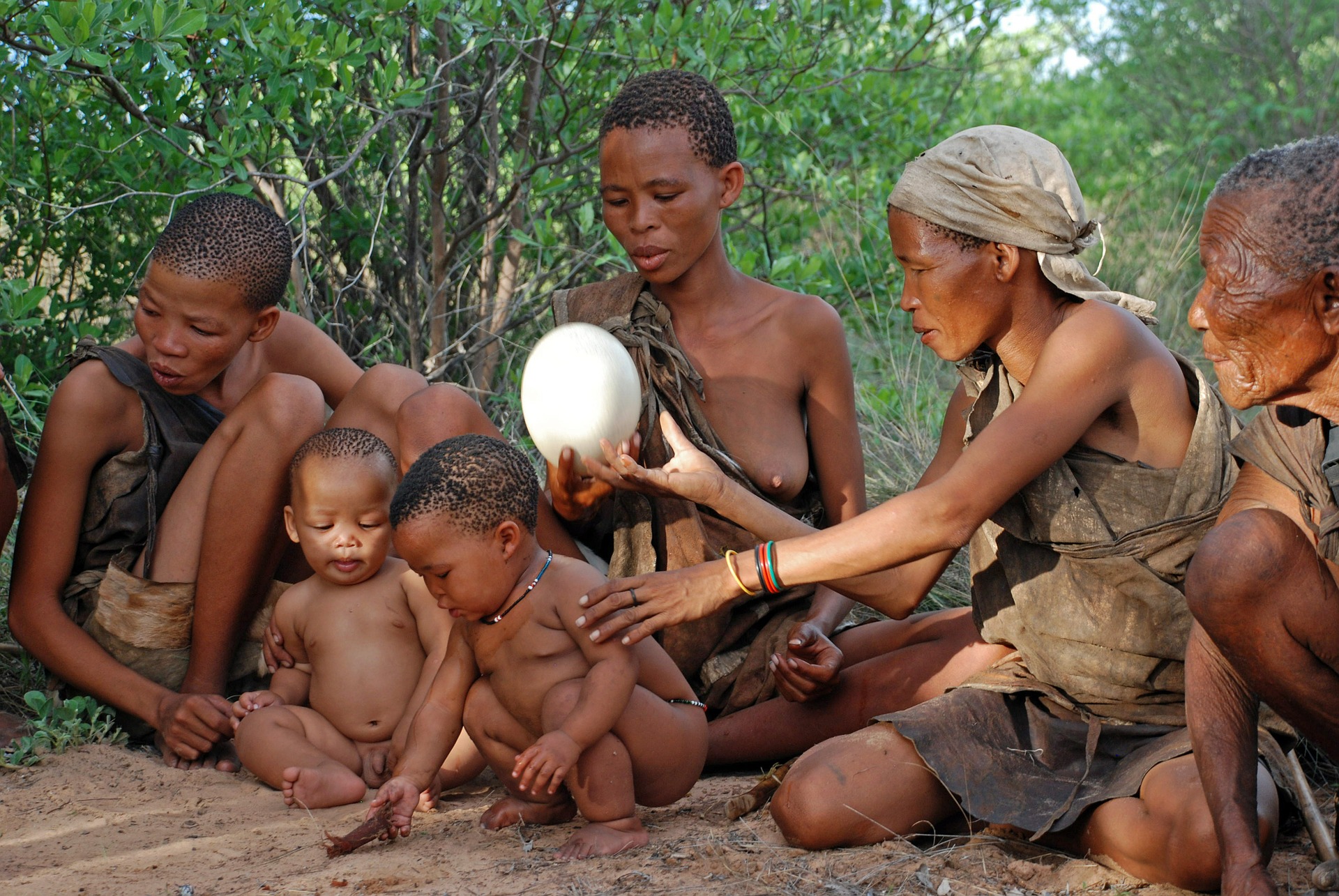 Being child free, I never faced the stay-at-home parent dilemma personally. That doesn't stop me from opining that our society has made a hot mess of the issue.
Stressed, unhappy parents create stressed, unhappy children.
I don't think the hunter-gatherers in the featured image would understand the concept of stay-at-home. These moms work 24/7 to make an essential contribution to their "tribe." No distinction between paid and unpaid work. Their children are with them, "at home" and "at work." Looks like three generations of women share their energy and expertise in gathering and preparing food, making clothing, and raising children. These women's roles are defined in ways that aren't desirable in the United States in 2021, but their work isn't taken for granted.
I come to this issue because my mother desperately wanted to continue her career, but had me instead. Wanting both a career and kids in the early 1950s was considered pretty odd, and having both at once was really rare in my suburban neighborhood. My mother's employer told her during her pregnancy that she could come back any time she wanted after she had the baby. Likely that wasn't typical either. My grandmother, who had always worked since the age of 12 (no concept of stay-at-home then) and was now retiring, offered to take care of me so my mother could return to her job. But, the social pressure was too much, and my mother refused. As much as I'm tempted, I can't judge her because I wasn't in her shoes.
All I can attest to was the impact this decision had on me, and later on my brother: being raised by someone who felt frustrated, unappreciated, bored, and resentful all at the same time. My father, a man of that time, didn't understand the frustration and so wasn't supportive. After all, he was out doing "interesting" things all day. As a kid, I took this personally. My family wasn't like those on TV or in the neighborhood. They weren't happy. Mom was not happy to see me when I came home from school or playing. I did not receive praise, so I must have been deficient. My mom was so unhappy that it must have been my fault.
When I was about 11 and my brother 7, my mother finally had the opportunity and tenacity to go back to work, although not in as good a job as if she'd continued her career. My brother and I were ecstatic to see her go. The family situation did improve for us but hardly was rosy. Throughout high school I stayed away from the house to keep busy with school and extracurricular activities as much as possible. The extent of the damage had been so significant that it took years for me to have even a satisfactory relationship with my mother.
It boggles the mind that somehow hunter-gatherers and most high-income countries in the world have workable, if not perfect, solutions to balancing work and parenting, but the United States doesn't. The pandemic only made it tougher on parents, with moms, whether stay-at-home or stuck-at-home, taking the biggest hit. What to do?
Staying at home with kids is real work. Sometimes when asked why I didn't have kids, I'd respond that I didn't want to work that hard. I was only partially joking.
Parents, particularly moms, need male allies. Until more men start taking parental leave and otherwise demand more flexibility, change will be slow.
Remember elder care. With our longer lifespans, working people often are caring for elderly parents. At my last full-time job, many in my department were in our 50s and 60s. Of the 12 people in the group, within the same month 6 were dealing with an issue with an aging parent or spouse. Twice during my 11 years at the company, for periods of weeks, I worked from home entirely or had reduced hours in the office to care for my partner and also keep my job. This was thanks to a manager who could be flexible. Many people wouldn't have been so fortunate.
We're all family. The broader we define family, the better off we will be. Fewer people have mothers, grandmothers, aunts, and cousins around the corner to help out with child or elder care. We need community more than ever.
When forced to go to work or to stay at home–when they want to do the opposite–stressed, unhappy parents create stressed, unhappy children. My vision for stay-at-home (or not) parents is for better options so that they can make the best arrangement for their children and their own careers. I'd like to see all parties thrive.
Marian
I have recently retired from a marketing and technical writing and editing career and am thoroughly enjoying writing for myself and others.
Characterizations: well written