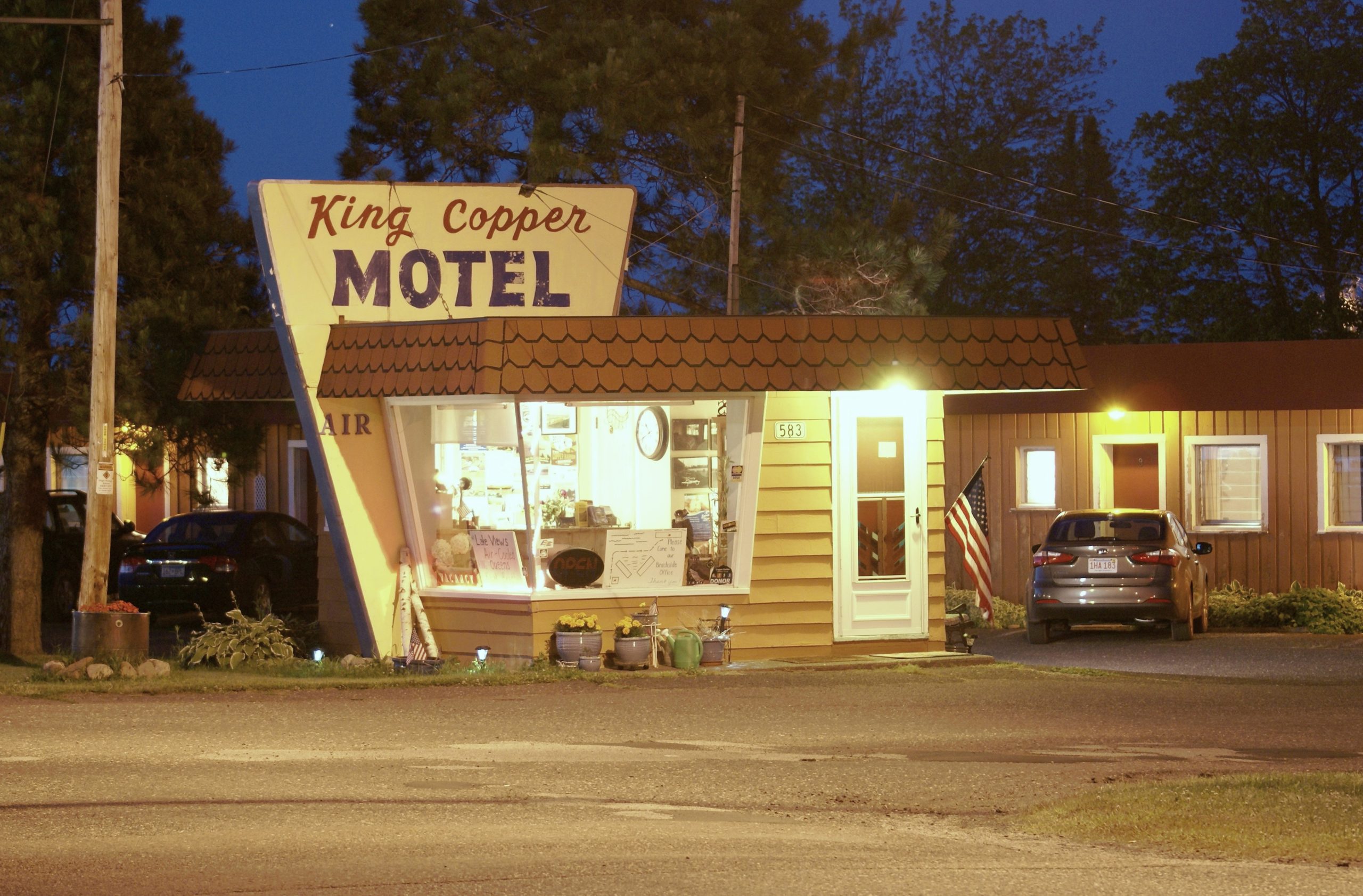 Over the course of his life, my father was, among many other things, a truck driver. He drove local routes for a number of companies and, memorably, for a while, a gasoline tanker. He was good at it; very proud of his One Hundred Thousand Miles Without An Accident award from the Teamsters. He really loved driving. So, family road trips were frequent, as were stays in motels. We always looked for the orange roof of a Howard Johnson's Motor Lodge, because they were reasonably priced, clean, and had a very good restaurant on-site.
In Copper Harbor, we always stay at the King Copper motel.
To this day, when I pull into a hotel or motel at the end of a long day on the road, I want everything in one place because I am done driving until the morning.
I still love a good road trip. Luckily, so does Gina. We also both love to stay at the small, quirky, often family-owned places that one can still find, if you root around a bit, among the forest of Travelodges and Marriots.
One of our favorite destinations is Michigan's Upper Peninsula. When we go there, we usually go to Copper Harbor. In Copper Harbor, we always stay at the King Copper motel.
The King Copper, much like Copper Harbor, is a throwback. It seems like, back in 1962 or so, it looked around, liked what it saw, and stayed. It's a mid-century shrine to the classic American family vacation where you bundled everyone into that big hunk of Detroit iron and hit the road. Time has not caught up with it yet, which actually describes nearly everything in Copper Harbor, where a big change is adding a new type of pasty to the menu at the Tamarack Inn. The King Copper has been owned by the same family since the 1930s.
The King Copper has three one-story buildings. The rooms come in two sizes, small and a bit smaller. The decor would be right at home in an antique shop specializing in Mid-Century Modern chic. On the whole, the place is rustic and frankly a bit the worse for wear. But the rooms are clean, the staff and owners are friendly, it welcomes dogs and the price is right. I can also ride my mountain bike from the room to a trailhead in about five minutes.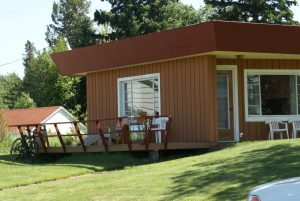 Our favorite rooms are the end units in the buildings up the hill. These have their own private decks facing the harbor and the Lake.
The deck is a great place to relax with coffee and a pastry in the morning. Or sip a beer at the close of day while deciding where to have dinner (there are, I think, four restaurants in Copper Harbor, which is probably a lot, per capita). Plus, you can sit there and see things like this: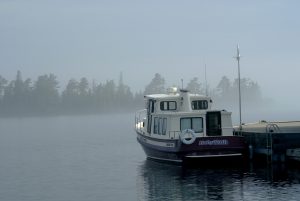 Due to COVID and a desire to expand our travel horizons, we've not been to Copper Harbor since 2017, and already know that we'll be heading elsewhere for this year's vacation. But with luck, come next year, we'll be able to kick back on our usual deck, enjoy a cocktail and watch the Lake darken as the sun goes down.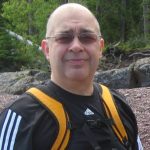 Dave Ventre
A hyper-annuated wannabee scientist with a lovely wife and a mountain biking problem.
Tags: vacation, road trip, Michigan, UP, Copper Harbor, Keweenaw
Characterizations: moving, well written