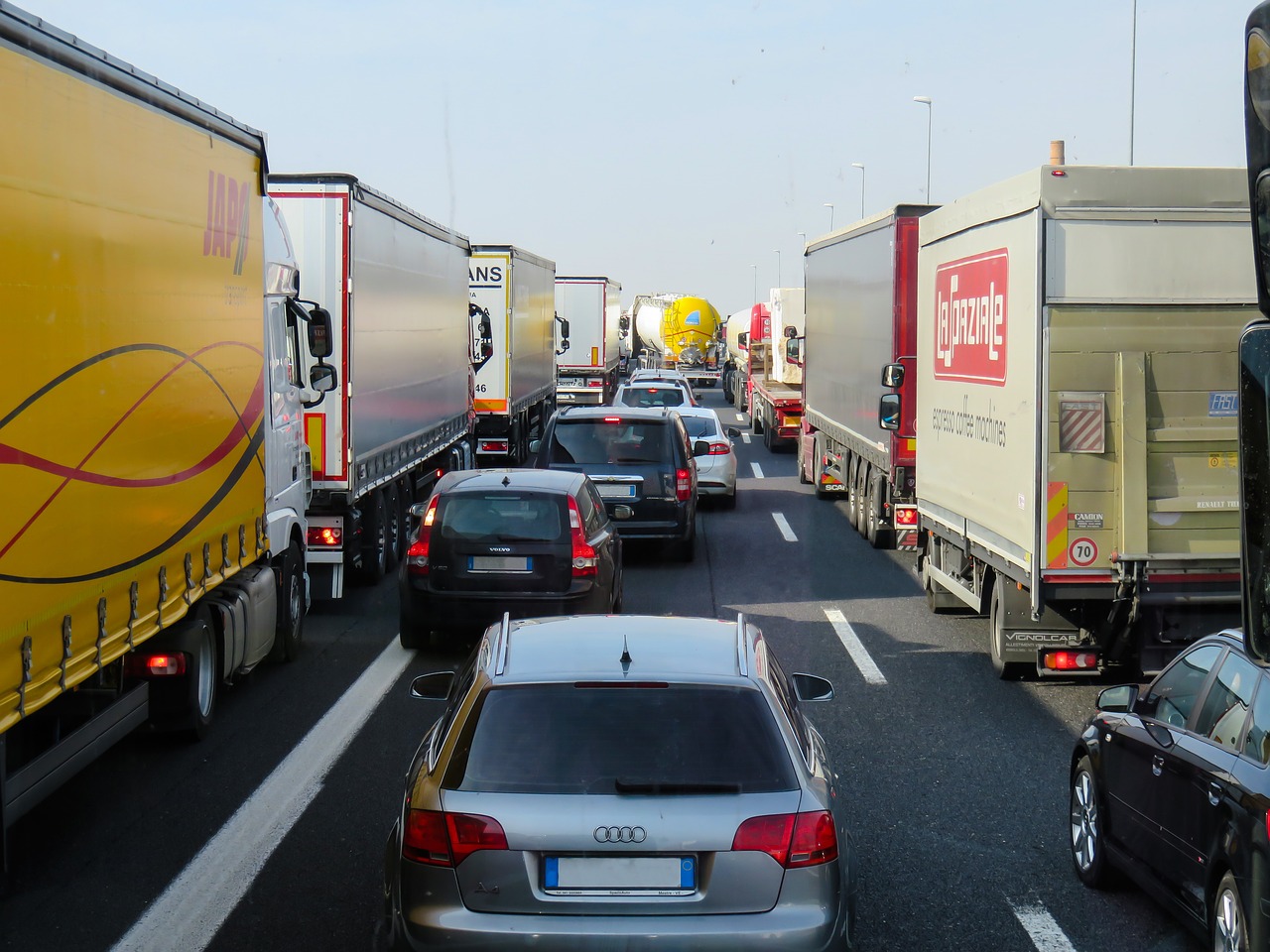 Here in northern California, we are used to red light runners, dive bombers, sudden lane changers, and other road annoyances. But for me, it's not the road rage that's the worst problem–it's the slow, grinding, simmering crawl that is traffic. The Bay Area has the second-worst traffic in the nation. And while commute traffic is bad (one of the radio reporters said "Traffic is horrible–everywhere"), at no time of the day or night can one assume a traffic-free ride.
Route 101 looked like something out of a Mad Max movie ...
For a commute, merely going across the bay from San Leandro to San Francisco can take 90 minutes, which used to be the time required for an outlying city such as Vallejo or Tracy. Public transportation is inconvenient and very slow. I once figured out that it would take me two hours by bus to cross my town. Riding a bike can be difficult and dangerous. So unfortunately the car is the default choice.
Once I formally retired, I thought I'd get around the problem by avoiding commute hours. Ha! For example, I scheduled a doctor's appointment for 11 AM in Menlo Park, 17 miles north of my house, which would ideally be a 25-minute ride. To be on the safe side, I allowed 45 minutes. Route 101 looked like something out of a Mad Max movie, with debris falling off trucks, strange vehicles, Google buses cutting across lanes, roadwork, and closed exits. Traffic moved at 20 MPH. I barely made it in time.
To return home, I waited until 1:30 PM, because traffic increases during the lunch hour. The first seven miles back were uneventful–I even drove the speed limit for a mile or two. With ten miles to go, traffic stopped completely, between freeway exits. I was too far away from my destination to use street routes, and couldn't move between lanes anyway. We all crawled, no faster than 5 MPH, for 45 minutes, never seeing what caused the problem. I watched Google buses muscle their way onto the freeway, marveling at these accomplishments.
At the hour mark, I realized we were deep into the "standard" afternoon backup heading south out of the Silicon Valley, which would only compound the problem. I managed to move one lane to the right. Finally, at 90 minutes, I made it to an exit where I could take back roads. They were crowded as well. One hour and 45 minutes after I'd left Menlo Park, I made it home.
Now I have abandoned my plans for mid-day appointments and have switched back to the morning, using the strategy of leaving the house by about 6:45 AM, driving close to the location of the appointment, having a leisurely or rushed breakfast depending on the ride, and making a 9:00 AM appointment.
The simmering traffic costs time and increases stress, but more than that, I've noticed it increases isolation. I'm fortunate that I work remotely and see my clients rarely, but this is at the cost of not observing what's going on with the people. Many of us in the Bay Area turn down early evening social events, because who wants to drive an hour each way for a one-hour club meeting?
I don't have a great answer. Moving to the woods doesn't seem appealing, and flying cars are decades away, so I'll continue to fight the traffic monster if I have to.
Marian
I have recently retired from a marketing and technical writing and editing career and am thoroughly enjoying writing for myself and others.
Characterizations: been there, right on!, well written