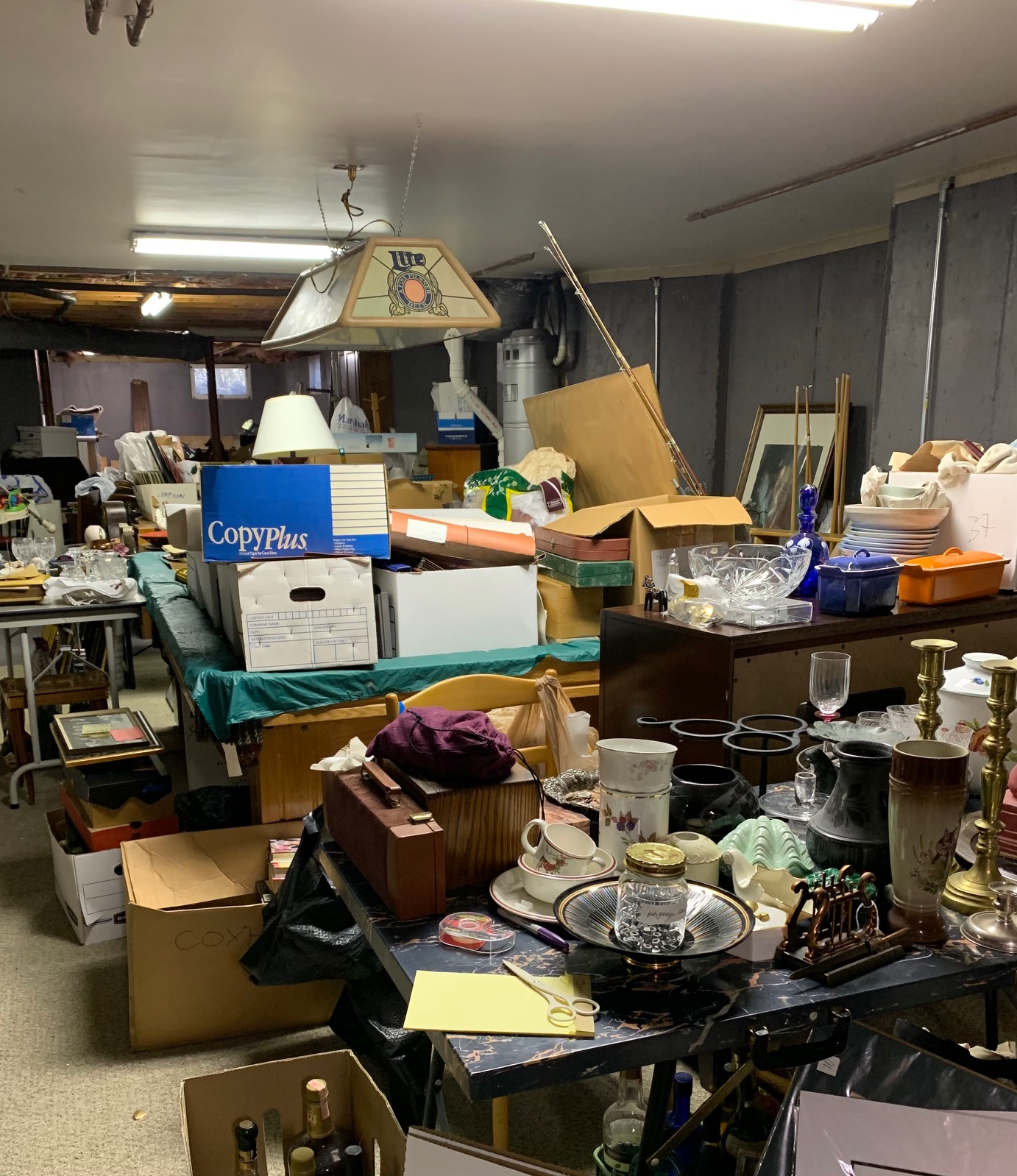 I made a gruesome discovery in my basement after the big sideboard which had sat there quietly for decades was sold and carried out, likely for a fraction of its value.  Its provenance was lost to me in the mists of time or lost to me until after it was gone and I scanned the internet for antique inlaid mahogany sideboards and found pictures of lovely ones, stately and shiny, looking a lot like mine, offered at much higher prices than I was paid. Only then did I remember—my late wife would have remembered—that the sideboard was a hand-me-down from her fancy aunt who would not likely have trifled in schlock.
Death is an impenetrable wall.  I can etch messages into my side of it, yearning, regretting, remembering with exquisite fondness her smile...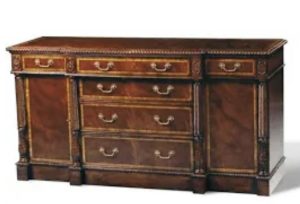 I rued my impulsiveness in accepting the first offer, without any dicker. I have the patience of an attention-deficit kid when it comes to cleaning out the past. I ignore it until it kicks me.  But at least the piece was gone.  I didn't have to sink big time and effort into its departure. I reclaimed a swarth from the jungle of stuff that clogged the basement to the point of impenetrability, a jungle bequeathed to me by my late wife who collected, hoarded, and clogged, and died without leaving instructions.
Left behind on the concrete floor where the sideboard used to be, and exposed by its removal, was a substantially decomposed mouse.  Still recognizable as a former mouse, not decomposed into a tuft of gunk.  She had a recognizable foot which was affixed to the sticky strip which had snared her.  I imagine her attempts to unstick herself were desperate.  A mouse will try to gnaw off its stuck foot.  I did not examine her foot for gnaws. I was already unnerved by the macabre scene, more so because stuck next to the mouse was the identifiable carcass of a baby mouse.  The close presence of the baby is how I identify the mouse as female.
I didn't know there was a sticky strip in my basement.
As I reconstruct, I attribute the sticky strip to an exterminator who made a house call about twenty years ago.  I don't remember any exterminator visit since, although like a lot of my past things the time frame for exterminator visits blurs.  Years and decades blur. My late wife would have remembered. I relied upon her to remember things.
This exterminator was an entertaining guy, tatted with skulls and rats, swashbuckling as he described his combat against mice, rats, raccoons, squirrels, bats, and other critters.  Entertaining, and close with death.  He brought an odor into the house, body odor (it was early morning after his night of exertion spent hunting and exterminating), and the cloying sweetness of rodenticide, and the implicit smell of death on his hands.
We called for him because we had observed mouse droppings in the basement.  He nosed around the basement and inspected our droppings.  "The good news," he said, "is that these are from mice. I don't see evidence of the big fellas…".  By which he meant rats.  He explained the differences between what mice leave and what rats leave.  We were relieved to find we didn't have a problem that we hadn't worried about previously but could start worrying about going forward.
My late wife said, "I hate mice."  She shivered as she said it.
I'm pretty sure I told him no sticky strips.  I'm pretty sure it was discussed and agreed that he would use an extermination method whereby the mouse eats bait which precipitates overwhelming thirst, obliging the mouse to return to its water source (outside the house) where it will die by bursting explosively from overdrinking, with the extra benefit of me not having to dispose of the in-house carcass of a poisoned mouse.   Humane, comparatively, in inhumane territory.
No, I take that back. Not to be confused with humane.
Funny fact is that I found no reference to mice drinking themselves to death when I just now scanned the internet for mice extermination methods, suggesting that I misremember what the exterminator said. Or that he said it as a ruse (what exterminators laugh about among themselves), to placate squeamish eco-liberals.  Or that my internet search was lacking as it often is.
Years before, this is going back more than thirty years from today, at my late wife's behest I set a sticky strip under the kitchen sink of our then house.  A little mouse got stuck and struggled to get loose.  I was distressed by its struggle. It looked like torture, and that I (working in conjunction with the sticky strip) was the torturer. I did not anticipate that this is how the sticky strip worked. I did not anticipate seeing a little mouse struggle for its life, gnawing off its foot in its desperation.  The stuck mouse looked at me beseechingly, which sounds like too heavy an anthropomorphic overlay, but who knows?  Arguably, if I had been heroic, and had the right tools and was handy with them, I could have severed the mouse from the strip and saved its life.  The short answer is that the mouse died a slow and anguished death on the strip and was double bagged into the trash.  I resolved to not use sticky strips anymore.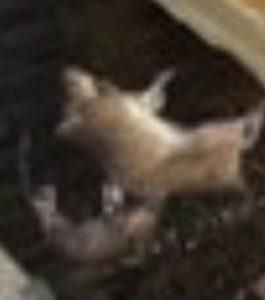 [Sticky strips are not so effective against the big fellas because the big fellas drag the strips along with them.  Like big fish harpooned to a barrel.]
I don't have a winning alternative explanation—other than via placement by the tatted exterminator twenty years ago—for how the sticky strip got beneath the sideboard in my basement.  If not him, who? And when? I doubt this mouse (and her baby) had been dead in that spot for decades. I doubt the strip retained its sticking power for decades and that the mouse happened upon it recently, the first mouse to do so.
Yes, you read my mind.  I see the possibility that my late wife might have laid the strip.  She hated mice in her basement.  She wasn't squeamish like me. Too late to ask her now.
Also too late to ask her, "What do you want me to do with the stuff in the basement?"  While she lived I didn't talk with her about the prospect that she would die.  She was alive, and we talked about our children, and the weather, and the hospital food.  She was failing (measurably each passing day), but I saw that as a temporary setback, which with time and care would be reversed, because she was so resilient.  I didn't conceive of being without her.
She died four years ago.  I didn't go down to the basement for three years, except to turn on and off the water to the outside faucets, except to direct the HVAC guy to the furnace, except to go down and stand amid the impenetrable jungle of her stuff for which I had no instructions.  It was airless, quiet, and cold down there.  It spooked me, especially at night in the dark. The couches, chairs, desks, portmanteau, lamps, tables, tall boys, sideboards, and looming unidentifiable shapes stood like inhabitants of a city of the dead. As I stood there in the dark, I imagined the presence of my late wife. I imagined she apologized to me for dying so young.  I imagined I accepted her apology.
When I returned above ground I was relieved to touch my cheeks and hear myself breathe.
Death is an impenetrable wall.  I can etch messages into my side of it, yearning, regretting, remembering with exquisite fondness her smile, our life, and announcing to whom it may concern my disposition of stuff.  My final etching, as it pertains to my forensic analysis of the dead mice and where it took me, is that the left cabinet door on the sideboard was shut tight, apparently locked, and I didn't have a key.  I wanted to see what was inside before parting with it.  Mysteriously, on the day my buyer came back to take the piece, equipped with an array of keys to help open the door, it swung open on its own accord.  The only explanation I have for this is that my late wife approved of the sale.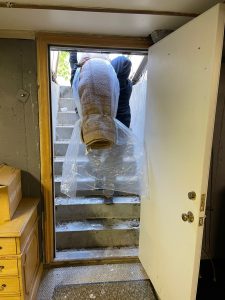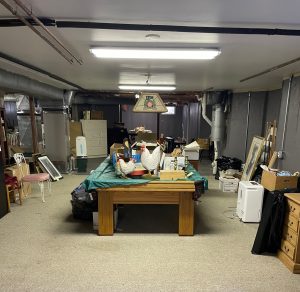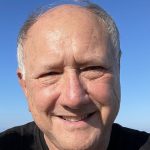 jonathancanter
Here is what I said about myself on the back page of my 2020 humor/drama/politico novel "The Debutante (and the Bomb Factory)" (edited here, for clarity):
"Jonathan Canter Is a retIred attorney; widower; devoted father and grandfather (sounds like my obit); lifelong resident of Greater Boston; graduate of Harvard College (where he was an editor of The Harvard Lampoon); fan of waves and wolves; sporadic writer of dry and sometimes dark humor (see "Lucky Leonardo" (Sourcebooks, 2004), funny to the edge of tears); gamesman (see "A Crapshooter's Companion"(2019), existential thriller and life manual); and part-time student of various ephemeral things."
The Deb and Lucky are available on Amazon. The Crapshooter is available by request to the author in exchange for a dinner invitation.
Characterizations: moving, well written