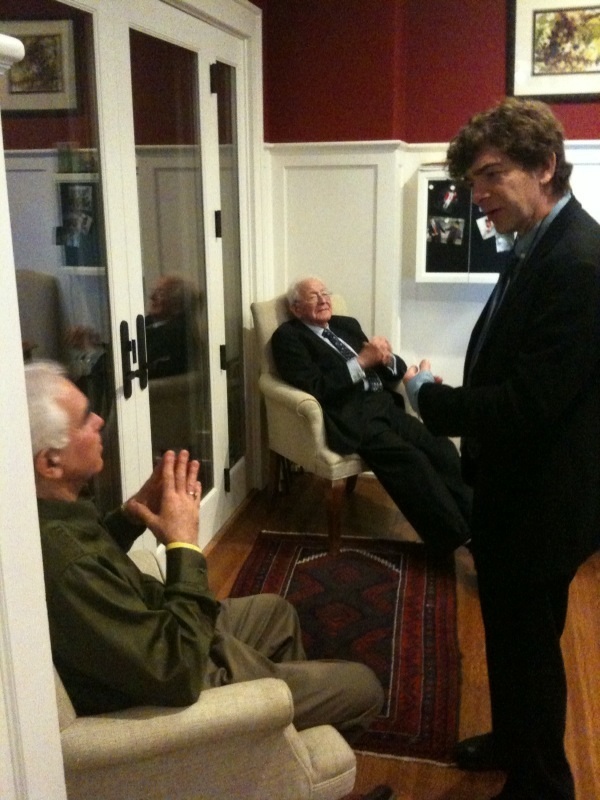 The phone rang just once
The names that populated his stories brought his remembered world to life.Hugh E. Morgan walking along Broad Street in the 1920s...John Roth, forever known to his peers as "Skunky Roth,"... Jim Parva, an umpire...who alternated between a falsetto and bass voice in calling balls and strikes...
An oncologist had briefed my sister and her husband and me a few minutes before
And now we knew:
The bladder cancer was raging and spreading
Dad's days would be few.
Months ago he had told Elaine, "My quality of life has been exceptional for 94 years."
"I don't want to extend my time
By acclimating to anything less."
We had promised: No more hospitalizations. No more procedures.
There was no turning back.
But how to give him the news?
The phone rang just once.
He picked it up at his home.
Until Dad left for college
He lived above his parents' shop in Newton Falls, Ohio.
From the time he was small
He got to help around the store
Unboxing galoshes
Sorting women's slips onto shelves
Separating casual from dress slacks
Assisting customers to find the right shoe size
When he became an attorney with his own family
He had an office downtown–not downstairs
Helping him with his professional tasks
As he had helped his mother and father
Was not woven into our family tapestry
Except briefly when I was about ten
A client owned an apartment complex
Many tenants–a hundred or more, it seemed–were in arrears
There had been some legal action dad never bothered to disclose.
The rent checks for these units were now pouring into his office.
It was his responsibility to record and track the payments.
It was all paper-and-pencil
No computers yet, not even calculators
Make columns for the names of each renter
Fill in the payments made
Tally up the totals
He was a lawyer, not an accountant
Not a man who loved figures and math–but he knew I did.
It became my job to do the "posting." Posting the payments received.
It only lasted a few weeks.
I loved it.
I never asked why we stopped.
Certain peculiarities required a high level of vigilance:
Herman E. Jackson was not the same as Herman W. Jackson.
Rose Carpenter used to be married to Bobby Carpenter but they were divorced. He remarried and then died, so now one unit was rented to Mrs. Rose Carpenter while the widow rented the original unit as Mrs. Bobby Carpenter.
And there were the special instructions about Jimmy Mayers.
From each phase of his life Dad collected anecdotes
The names that populated his stories brought his remembered world to life.
Hugh E. Morgan walking along Broad Street in the 1920s, urging one and all to "save your money and buy insurance!"''
John Roth, forever known to his peers as "Skunky Roth," even after he became a flying ace during World War II, due to the day he stunk up the elementary school classroom.
Jim Parva, an umpire from a visiting team who alternated between a falsetto and bass voice in calling balls and strikes at the town baseball field.
Willie Sing, a Northwestern University classmate who would catch up on his chemistry only to find he was falling behind in his physics.
There was Melvin, the bugler in Dad's Army company who got discharged for being gay, and Sergeant Wheit, who asked "who here knows how to use a typewriter?" and then handed any private who volunteered a mop–to clean the latrines.
For weeks, the doctors had treated other maladies
Bladder cancer was an enemy they had identified. But they pegged it as slow-growing and marginal.
Suddenly it had taken center stage.
Without treatment, it would soon overwhelm him.
I volunteered to deliver the news
But how would I tell him?
The phone rang just once.
"Hello," he said.
"Hi, Dad, it's Dale."  "And Dad, this is Elaine on another line. And Bob's here too."  "Hi, Irv this is Bob."
"Oh, it's nice to hear from all of you. Is something up?"
Bob was the one doctor in our extended family. He had credibility on medical topics.
"Irv, we have some information from speaking with the oncologist."
Dad begins to complain about the damned catheter.
The catheter: one of those other maladies bedeviling and bewildering him for many weeks. Giving him pain when it was supposed to bring relief.
He recounts some details of the past few days. Details we already know.
No time to be circumspect. "Dad, we have something to tell you that's much worse than the problems with the catheter."
"Oh?"
"This time the doctor really doesn't want you to start in on any serialized stories."
Silence.
I had bombed with one of his own repeated jokes. After an annual checkup, he was fond of reporting, "The doctor said 'everything's fine,' but he doesn't advise me to start reading any serialized stories."
In an earlier era, magazines cultivated readership by offering continuing stories. You had to stick around as a subscriber and find out what happens next. The only reason not to start a new one is if you won't be around.
He had always joked about death. He liked to tell the story of a man who died in a brown suit, but his wife wanted him buried in a blue suit. He enjoyed relating a true incident about his first cousin Jack Schwartz. When his grown daughters requested Jack's input into the planning of his funeral, he answered, "Surprise me."
This man who made so many amusing references to death was not ready to be the subject of one of those jokes.
I should have known better. My brother Hugh is the professional comedian in the family, the one with the flawless comic timing. Mine was way off.
I went ahead and told him about the bladder cancer, and Bob elaborated further. Elaine let him know how bad we all felt that we had to give him this rotten news.
We let him know that the oncologist would be coming to speak to him about it later the same day. We offered words of love and support. But I was not quite finished.
"Dad?"
"Yes."
"You can count on me to always remember that if a check comes in for Jimmy Mayers, I should post it to the account of Therogas Anderson."
After a short pause, I hear him laugh. Not a nervous or confused laugh. A laugh of recognition. The names that populated his remembered world were important. And they would endure.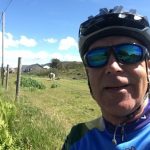 Dale Borman Fink
Dale Borman Fink retired in 2020 from Massachusetts College of Liberal Arts in North Adams, MA, where he taught courses related to research methods, early childhood education, special education, and children's literature. Prior to that he was involved in childcare, after-school care, and support for the families of children with disabilities. Among his books are Making a Place for Kids with Disabilities (2000) Control the Climate, Not the Children: Discipline in School Age Care (1995), and a children's book, Mr. Silver and Mrs. Gold (1980). In 2018, he edited a volume of his father's recollections, called SHOPKEEPER'S SON.
Characterizations: moving, well written