(Please note: I am actually reading, and wish to comment upon, other Retrospect writer's stories. But for some reason, since early August I am unable to reply to anyone's stories but my own, no matter where I log in from. All I get is a 503 server error. Until and unless this changes, I will include all my comments in one document and publish that as a story near the end of the week. A slow, awkward kludge, but it's the only idea I have)
I've written enough stories here on Retrospect, and have a poor enough memory, that I often need to go back and check that I am not repeating myself.
I've covered the most life-changing performance I've attended (Pizza and a Bad Movie).  I've written about an epically bad concert that also altered my life's course (My Brown-Eyed Girl). I've shared the concert where I fell in love with the performer (Birthday Girl).
I need something not involving lust or Maria. Oooo… I have one!
Back in the early Uh Ohs I flirted with The Theater. Chicago has a LOT of small theaters and small theater troupes. I took some classes, wrote and workshopped some short plays, and submitted a few. I even took a couple of performance workshops. Nothing came of it and like most of my enthusiasms, it proved less than durable. But I learned a lot, met a few nice people and a few extremely flawed ones, and was exposed to some profoundly brilliant storytelling.
I think perhaps the most memorable (it must be; I remembered it first) was a play called "The Life and Times of Tulsa Lovechild: A Road Trip" by Greg Owens. This was the play that ignited my short ambition to get involved with the theater.
I have always greatly admired writers who weave multiple plot threads and characters into a fabric that at the end is revealed to be a brilliant and complex tapestry. The Simpsons episode "22 Short Films About Springfield" is a nice example. This play is another.
I won't write a synopsis from 21 years on. The Amazon listing for the script has a nice summary of the plot: https://www.amazon.com/Life-Times-Tulsa-Lovechild-Road/dp/0881452394. A couple of reviews are at https://www.bozemanactorstheatre.org/news/2015/3/29/tulsa-lovechild and https://chicagoreader.com/arts-culture/the-life-and-times-of-tulsa-lovechild-a-road-trip/. You can also order a copy of the play online, preferably from a small bookstore or the like.
Until now I'd quite forgotten about Tulsa. I need to dig up my copy of the script and re-read it!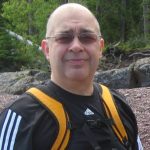 Dave Ventre
A hyper-annuated wannabee scientist with a lovely wife and a mountain biking problem.
Characterizations: well written