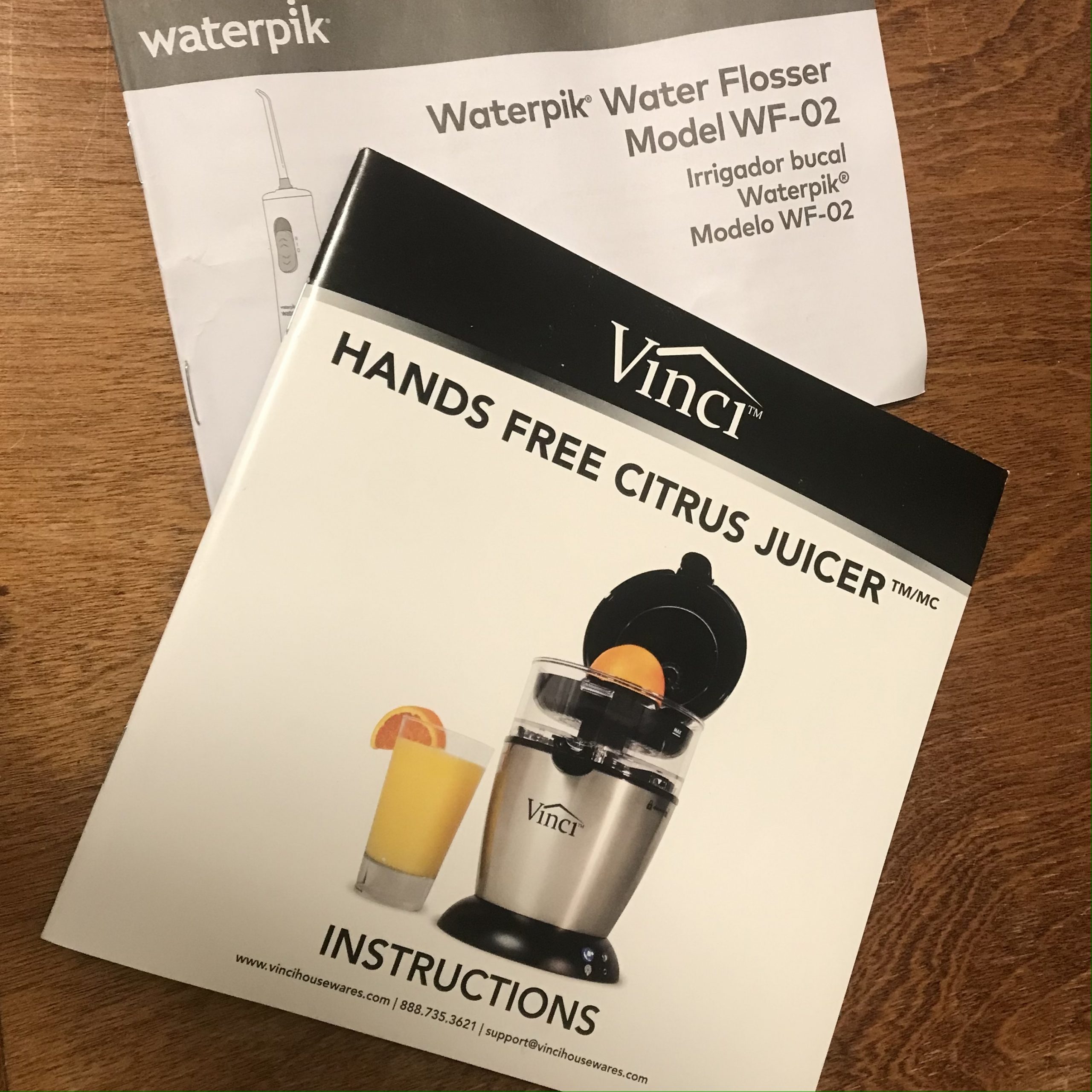 Although my son says only wimps read directions,  I really need them to assemble mechanical stuff that I buy.
Just recently Florida friends sent us a crate of oranges.  We had an old citrus juicer that didn't work very well,  and so now with all those oranges to squeeze I decided it was time to get a new one.
I sprung for a rather costly,  electric model,  and the next day the Amazon guy – quite a regular visiter lately –   dropped it on my doorstep.
Carefully following the directions in the user manual I placed the Juice Bowl ( fig E ) on the Motor Unit ( fig N ).  Then I positioned the Pulp Filter ( fig J )  and the Reamer ( fig D ) onto the Drive Coupler ( fig M ).
I next attached the Lid  ( fig A ) which was a little frustrating at first as the little flanges didn't seem to fit in the little slots on the Juice Bowl ( fig E ).  But after intoning a few choice four-letter words,  I finally got it all assembled.   It was well worth the time and effort and now my husband and I have delicious,  freshly-squeezed  OJ every morning!
And recently at the dentist I was called on the carpet for not flossing my teeth regularly.  I have a Waterpik,  but it's rather old,  has to be recharged periodically,  and honestly I haven't used it in months.   So for the sake of my dental health,  I decided to order the new,  sleeker,  battery-operated model.  The next day my friend the Amazon guy was back.
I opened the manual and turned to the English-language instruction page.   Luckily the Waterpik came fully assembled except for the 3 AA Batteries ( fig 8 ) that thankfully were included.  I had some trouble getting the Battery Door ( fig 3 ) off,  and after inserting the batteries,  I had more trouble getting the damn thing back on.   But I finally did,  and now you can tell my dentist I'm flossing every night!
Call me a wimp,  but I couldn't have done all that without directions,  and now do you know if you lose a user manual you can usually download another from the company website.   In fact some products don't even come with manuals any more,   just links for printing them out.
And since you can find directions for most anything on the Internet nowadays,  I think my next project will be to google   "living with a spouse during a pandemic",   and  "how to raise an offspring".
As I remember,   neither of those came with a manual.
Dana Susan Lehrman
Dana Susan Lehrman
This retired librarian loves big city bustle and cozy country weekends, friends and family, good books and theatre, movies and jazz, travel, tennis, Yankee baseball, and writing about life as she sees it on her blog World Thru Brown Eyes!
www.WorldThruBrownEyes.com
Characterizations: been there, funny, well written