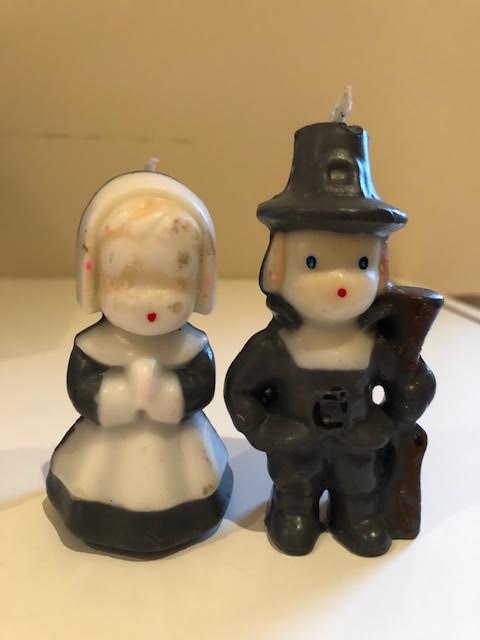 The candles in my Featured photo were my mother's. There are two pairs. I don't even know how old they are; just a bit younger than I am. They've graced countless Thanksgiving tables through the years. Their sweet faces are rather the worse for wear, but they must come out every year and be on my table. My father did all our Thanksgiving cooking. He enjoyed cooking; my mother did not.
This year, due to COVID restrictions with the virus raging across the world, there will only be Dan and me at the table, plus these little wax creatures, more than 60 years old. This is what we are reduced to. No "Over the River and Through the Woods"; we won't "Gather Together To Ask the Lord's Blessing" (I think I sang in one too many Thanksgiving pageants as a kid).
I already wrote about the first time I cooked (or at least provisioned for) my first Thanksgiving feast in Thanksgiving Forever. That was a memorable one. For years we got together with my in-laws, who cooked the meal. Eventually, I took over and learned to make all my mother-in-law's recipes, just the way my husband likes them. I became efficient and started a day ahead of time, so only had to cook the turkey and potatoes on the actual day. Frequently, Dan's sister, brother-in-law and niece (and maybe even boyfriend) at Brandeis would join us, so we'd have lots of family. That's always the best.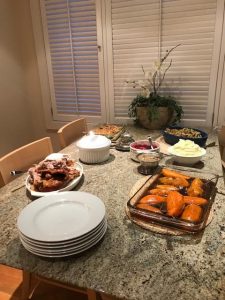 The last time we were together was two years ago, but I didn't cook. We were invited to friends. There were 40 people in attendance; lots of food and fun, we all contributed something. I had to make Dan's favorite yams with caramelized brown sugar topping and also brought food for the hors d'oeuvre table.
But David is in London. Thanksgiving isn't a holiday there, so it is difficult for him to justify the time off. Easier for him to come in for Christmas, and Anna to join him the day after (Boxing Day in the UK). Vicki can also get away more easily, so that became the time for family to get together. Right now of course, London is locked down again. With the virus raging in the US, we won't be far behind.
Now we will probably try to have a Google Chat and each celebrate in our own way. That will be the best we can do. The kids mock me for photographing the screen, but at least I can record the event and know when we chat. It is likely to be my holiday card this year as well.
I promised Dan that I can still make all his favorite foods, just not a whole turkey. I am looking into a turkey breast or just sliced turkey. I checked out Whole Foods this week, which has already-cooked, roasted turkey, but I will buy it in a few days. The rest is easy and he'll have left-overs for days, so he'll be happy. There used to be a store close by that sold carved turkey with good gravy, but I noticed that was gone. It's probably been gone longer than a year. I just never noticed. So we will have our sad little pandemic Thanksgiving day feast, watch movies and perhaps some sports, be thankful we are healthy and hope for a better 2021.
Best wishes to all.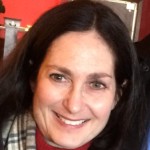 Betsy Pfau
Retired from software sales long ago, two grown children. Theater major in college. Singer still, arts lover, involved in art museums locally (Greater Boston area). Originally from Detroit area.
Characterizations: moving, well written