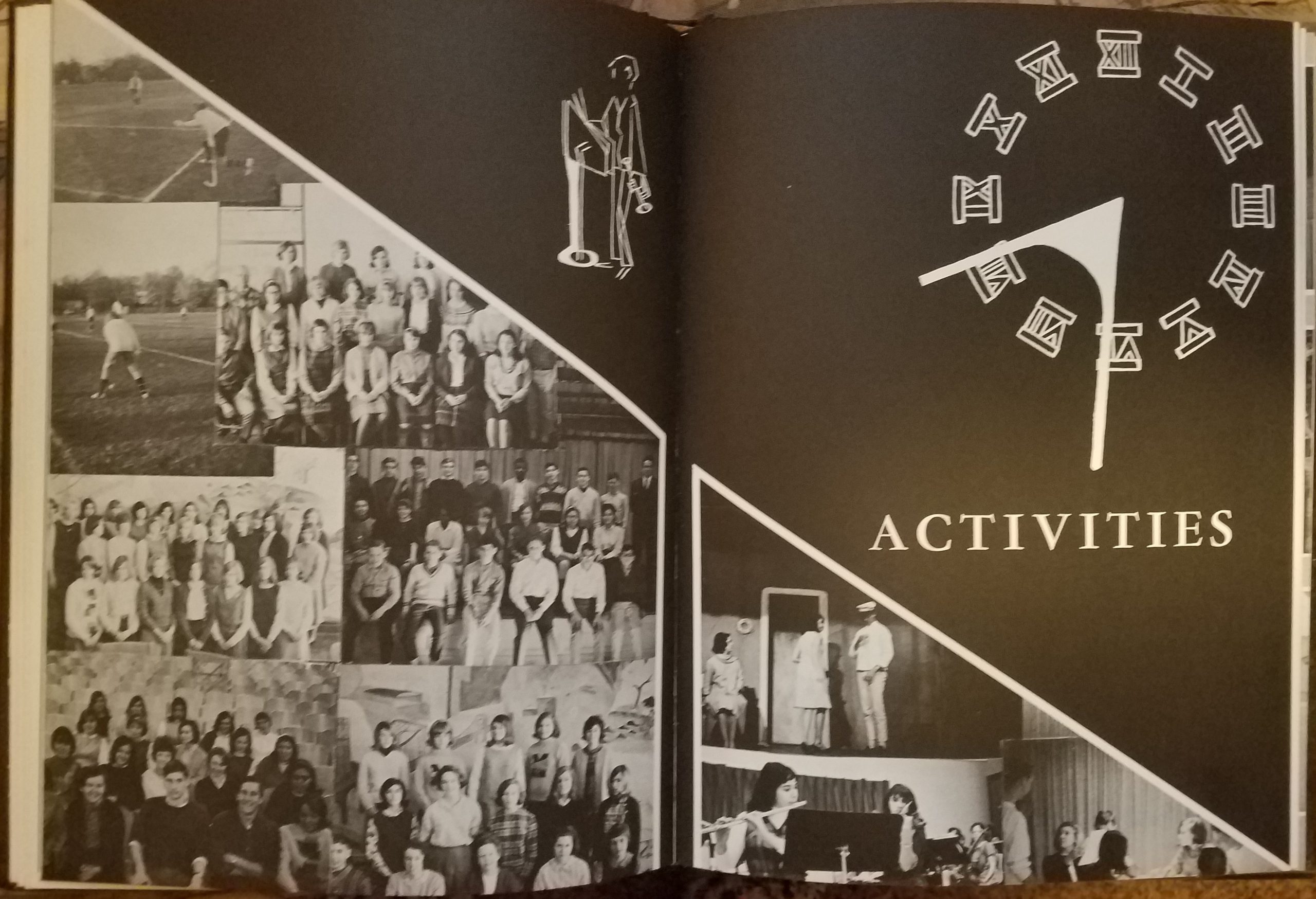 High School
In high school everyone knew it was important to join lots of clubs, because it looked good on your college application.
In high school everyone knew it was important to join lots of clubs, because it looked good on your college application. So I did. Some of them I was actually interested in, and others not so much. To refresh my memory about what clubs I had joined, I went back through my old yearbooks to see where my picture showed up. Here is a list of the clubs I was in for one or more years.
–History Club
–Spanish Club
–Drama Club
–Orchestra – always an activity, not a class
–Chorus (some years called Glee Club) – also always an activity
–Newspaper
–Literary Magazine (created when I was in 10th grade; apparently I was one of the founding members, according to what people wrote in my yearbook that year)
There was also an unofficial card-playing club, in which bridge was played if four people showed up, and hearts if there was any other number. This might have been a clique rather than a club, but I don't think anyone who wanted to play was excluded – they might just have been intimidated by the regulars.
Chorus and Orchestra were both more like classes than clubs, they were led by a teacher, and there wasn't any socializing, it was all about learning the music and then performing it.
History Club was the best actual club, because in addition to the usual activities, every year we took a three-day trip to the East Coast Model United Nations (ECMUNC for short). It was a fun weekend, and each year we got to play the part of delegates from a different country and go to a different host school somewhere on the East Coast. The one I remember best was my first one, in 9th grade, when we went to Newburyport, Massachusetts representing India. To prepare for being Indian, we went into New York to visit the Indian Consulate and the real United Nations. We also learned how to make saris, getting a suitably long piece of fabric and draping it in just the right way. There was at least one boy in our delegation, and he probably wore normal clothes, but the girls had a great time parading around in our saris all weekend. The next year we went to Syracuse, New York to represent Bolivia and Upper Volta. My junior year I think we were China, because I have a memory of having balloons that said "Mao is Now." For my last ECMUNC, senior year, we were Iraq, but I only know that because it says so in my yearbook. What I do remember from that year was that it was held at Georgetown University, and for our Saturday night dance the band was the Lovin' Spoonful!
My high school was too small to have any cliques (30 kids per grade to start, only 24 in my graduating class). There were certainly friend groups, but those could and did change at any time. As far as I know, everyone was invited to all the parties — although I suppose that if there had been parties I wasn't invited to, I would never have known about them.
College
At Harvard-Radcliffe, people just joined clubs because they wanted to, not because it would look good on graduate school applications, and in general they were open to everyone. The exception to that was the Final Clubs, which were very exclusive and posh, but they were just for men, generally wealthy, white, Protestant men. If you believe The Social Network, Mark Zuckerberg was crushed by being rejected from one of the Final Clubs, and that's why he created Facebook. I never knew any men who were in Final Clubs, because we just would not have had the same values or interests. As far as I know, there was nothing equivalent for women.
Here are the clubs I joined in college:
Students for a Democratic Society (SDS) – only freshman year, because the guys in charge, even though politically radical, were male chauvinists, and I didn't feel valued. My involvement ended after we occupied University Hall.
Students for Participation Politics – don't remember any more what this was, but I listed it in my yearbook as one of my activities.
Radcliffe Choral Society – this was by far the best thing I did in college. It was selective, you had to audition, and I was afraid I wouldn't get in. I switched from being a second soprano to being a first alto, because I had heard they needed altos. I was thrilled to be chosen, and I have sung alto ever since. It turned out to be a wonderful refuge from all the craziness of college life. We performed in Cambridge and a few other locations, we cut a record (which I still have), we went to Tanglewood in the summer and sang with Leonard Bernstein. The only thing we didn't do, which they did in the years before and after my time, was go on an international tour. That was sad. I am still close with friends I made in Choral Society, and during this pandemic year the current group has invited alumnae to join them on Zoom and even sing with them, which I have done several times.
Adult Life
In my adult life, I have been in several choirs (although usually only one at a time), two book clubs, a mah jongg group, and the Harvard Club of Sacramento. The only one that is a closed group is one of the book clubs, because there are eight of us in it, and we wouldn't want it to be any bigger. However, over the course of the years that I have been in it, members have dropped out at different times and then been replaced by someone new who is invited by one of the remaining members. I can't think of any instance where someone has been proposed for membership and the others have turned her down. (To join the Harvard Club, you have to have a degree from Harvard, but I can't imagine why anyone else would want to be a member anyway.)
I have never joined, or even been interested in, a private tennis or golf or swim club. When my children were in elementary school, many of their friends belonged to a fairly low-key swim-and-tennis club in our neighborhood, but since we had our own pool, I didn't see the point. In retrospect, it might have been nice from a social point of view. But the idea of having to get in the car and drive someplace to go swimming, rather than just walking out into the backyard, seemed unappealing.
During the years that my kids were on the bar/bat mitzvah party circuit, I got to see a couple of the fancier clubs because some of the evening parties were held there. Obviously these must have been clubs that allowed Jews! Fun to see what they were like, but it didn't make me want to join.
My daughter Molly went to Whittier College, a school founded by Quakers, which prided itself on not having a Greek system. But it turned out that they had something called societies, which were a lot like fraternities and sororities, with bids, and pledging, and initiation. She attended a few introductory meetings, but quickly decided that she was not interested in being in that kind of exclusionary group. I would have supported her if she had chosen to join a society, but I was proud of her for deciding that she wanted to be more inclusive!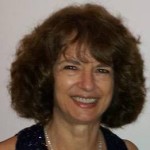 Suzy
Characterizations: well written