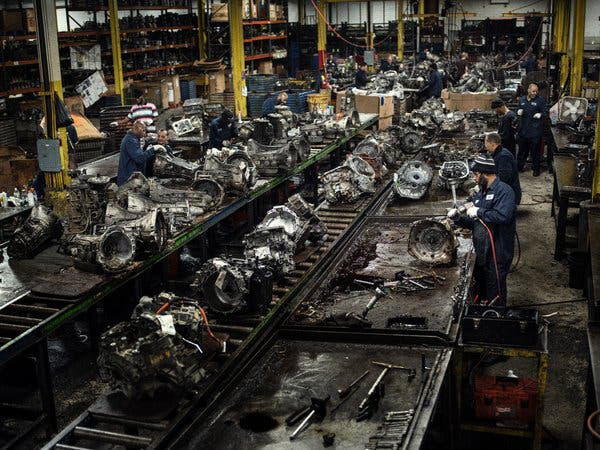 Early one morning during Christmas vacation, my dad decided to take me to work with him. I would have preferred to stay at home playing jacks and solitaire — my brother had just taught me how to play Clock — but he'd made up his mind and that was that.
It was cold in the rusty red pickup truck and I was shivering, exaggerating to make the point. Dad put the key in the ignition and turned it; a bullet-shaped magnet to tell what's ferrous and what's not dangled from the ring. The engine coughed, then turned over on the second try. I sat small on the wide bench seat, bouncing and sliding as we bumped over a few side streets, then jumped onto the freeway and headed downtown.
Dad had fine light brown hair and deep-set hazel eyes, and I watched his profile as he drove, his prominent nose and high forehead backlit by the morning sun. He held a cigarette in one hand, his elbow resting on the open window ledge, right hand draped heavily at eleven o'clock on the steering wheel.
We pulled into a driveway and parked in a huge scrapyard.
"Sit tight, I'll be back in a sec," he told me, and I watched him walk into the shadows of a cavernous building, his loose-limbed loping gait at once awkward and graceful. In a few minutes he returned, opened the door for me, took my hand as I jumped down onto the ground, and we walked into the building.
It was a warehouse heaped with an assortment of metal objects from huge to small, mostly things that had been thrown away or taken to the curb…radiators, machine parts, filing cabinets, beer and soda cans, appliances, even sculptures, pewter trays and candelabras, and antiques that would be taken home or sold as-is. Men in heavy shoes strode back and forth, some were sorting, others had torches, and there were forklifts and conveyor belts and other contraptions I couldn't begin to figure out.
Over the din my dad was explaining things to me, who does what and what does what and all that, but I wasn't really interested. And that noise — I wasn't even sure where the sound was coming from, but it was all around — the screech and moan of crushing metal. I put my hands over my ears but it didn't help at all.
I didn't like it there, it was scary, and it wasn't long before I tried pulling Dad towards the door. Instead of leaving, he led me up a short flight of stairs and into an office where he introduced me to a couple of men wearing white shirts. I hung back behind my dad's leg and offered shy smiles, head tilted down, eyes up. Then they had a conversation while I kept tugging on my dad's pant leg. Finally, we left.
That was the first and last time my dad took me to work. I didn't ever want to go back there, and I didn't understand why he didn't just get a normal job, like in an office or a store or something, like everyone else's dad.