I-96 passed just south of East Lansing, a marvel of new concrete, devoid of traffic, a speed limit of 60, and a work still in progress when I was a kid in the mid-fifties.  Most of our travels were still on the regular two-lane roads, passing through the hearts of towns and cities, without rest stops or exit ramps.  They were not engineered for speed, and had other perils.  They rose, dipped, and curved with the landscape, creating terrifying passing situations, as the long line of cars stuck behind a truck took turns gunning the engine to overtake the slowpoke, and slotting back as soon as possible to avoid a head-on collision.  And once I rode shotgun in a low sports car with my father on a trip through northern Maryland, before the interstates connected to the Pennsylvania turnpike;  as evening fell, each hollow filled with fog, until we were navigating by the reflective lines on the side of the road. Unforgettable, not in a good way.
A woman was "looking at the corn" when she blew a stop sign and T-boned our car. 
But the interstate—you could cruise with mind-numbing monotony across the land, stopping at Howard Johnson's (or whichever chain had the monopoly in your state) and hardly know anything about where you were. It became a challenge to travel on the "blue highways" (as per William Least Heat-Moon's book) to experience the world beyond the off ramp.  I have often sought out those remote, less-travelled roads, particularly useful for seeing wildlife, human or otherwise.
But rewind a bit, back before the interstates.  In 1953, the summer after we moved from New York to St. Louis, we packed into the family car to drive to California.  My mom's family lived in Palo Alto, and she needed a break from staying home with 3 children under 5 years old. We were on a rural (two-lane of course) highway somewhere in the Midwest, dad driving (of course). A woman was "looking at the corn" when she blew a stop sign and T-boned our car.  There were no seat belts or air bags then, and we were all flung from the car.  My dad found my mom unconscious, bleeding from her head and with a mangled leg, and he thought at first that his family was dead.  My older sister had a gash across her forehead, while the youngest sister and I were less obviously harmed.  I dimly recall being in a hospital crib, then the new reality of my mom on crutches with ace wraps on her ankle.  It was scarred and painful and never fully recovered.  The blow to the head must have affected her pituitary, as afterwards, she grew another inch and developed adult acne and headaches. The older sister wore bangs for a long time, and the younger one developed post-traumatic epilepsy, diagnosed years later.  Aftermath was tough.
When my mother drove with her three daughters from Michigan to visit family in California in 1965, we followed the AAA "Triptik" instructions in magic marker, following the interstate the whole way.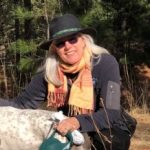 Khati Hendry
Characterizations: moving, well written