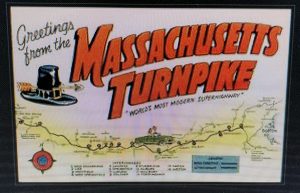 I've known families who would pile into the car every summer for a back and forth, like it was the greatest thing.  But that ain't my gig.  It's like once I ate a bad scallop, and no more scallops after that, wrapped in bacon or otherwise.
            The Mass Pike (aka the "Pike") runs east-west across the breadth of Massachusetts, from the New York line to the Atlantic Coast.  It's the central artery of Massachusetts.  It's Massachusetts'[s] pearl in the I-90 necklace, which continues cross country to Seattle.  When it opened in 1957 its easterly end was its intersection with state Route 128 in Boston's western suburbs (Route 128, a beltway around Boston, dubbed "America's Technology Highway" by local boosters, was later subsumed by I-95, the north-south interstate which runs from Miami to New Brunswick, Canada; although locals still call it Route 128). 
            The Pike was extended from the burbs into the heart of Boston in 1965 (in a broad swarth of cutting, pasting, and exercise of eminent domain) (like a Robert Moses Special), and then via the Ted Williams Tunnel (and the Big Dig) to Logan Airport in 2003.  The whole progress of Boston's vigorous (and fabulously over-budget) development of new structures over old backwaters and cow paths during my lifetime is quite satisfying, except when I get stuck on a new-fangled off ramp and end up in Everett.  The time tested ditty, "Here's to dear old Boston, home of the bean and the cod, where Cabots speak only to Lowells, and Lowells speak only to God," still applies (in an understated, tweedy, Harvardian way), but I am agog at the whole new cities that have arisen in the Seaport District, in the armpits of MIT, along the old gasoline alley which used to offer cheap parking for Red Sox games, to say nothing of the miracle of the teardown of the old, ugly and permanently jammed Southeast Expressway of my youth.  I didn't see any of this world-class modernism coming, this pleasing blend of the old and the new.  In general, I oppose all change, and distrust those arrivistes who promulgate it. But in the words of Baby's father (Jerry Orbach), when confronted with the facts of Patrick Swayze's honor and Robbie's sleaze: "When I'm wrong, I say I'm wrong" (more on "Dirty Dancing", below).
            The Pike's original logo graphic was of a Pilgrim's hat with an arrow piercing it (an indigenous people's hunting arrow—see pic above).  There was humor in this logo, the oblivious Pilgrim not caring or willing to adapt to the hat (and other) criteria and vicissitudes of his new world environment (foppish Eustace Tilley comes to mind); there was also tension in this logo as it dramatized resentment and reaction among the indigenous population to the usurpation perpetrated by the colonizers.  And of course there was triumphalism in this logo, as we know who won the continent.  
            The story goes that in 1989 a second-grade class in the Town of Amherst began a successful campaign to extract the arrow from the logo, arguing it was disrespectful to indigenous people.   Coincidence or not, that reminds me of the ignoble story of Lord Jeffrey Amherst—after whom the Town of Amherst and the college in the town were named—who delivered gifts of smallpox-infected blankets to indigenous peoples, intending to commit biological warfare and genocide.      
            I was born in 1948, in Brookline, a Boston suburb within the Route 128 beltway.  I don't remember ever going anywhere.  I used to tell a joke (sort of a self-deprecating, chip-on-my-shoulder joke) (I still tell it as a matter of fact) that "I've never been outside of Route 128…"  Close to true, except in June 1964, close to age 16, my family (which included myself, my three sisters, and my parents) decided to load the station wagon (see replica pic below), hit the Mass Pike, and continue across the country.  There was a family wedding in Muncie, Indiana, a dear uncle in Tucson, Arizona, maybe some other people in other places, maybe Niagara Falls, a whole country to see and experience is how they hyped it. 
            The trip was hell for me.  I celebrated my 16th birthday in Green River, Utah, by threatening to leave our motel compound and walk into the oblivion of the surrounding desert.  I was relegated to the third row of the station wagon, facing backwards, with no foot space because of the Big Goof at the beginning.
            There was a rack, maybe it was a faux rack, for decorative purposes only, on the roof of the station wagon, which also had a clunky aftermarket air conditioner installed in the middle of the front seat so that no one could sit in the middle of the front seat, leaving two in front, three in the middle row, one in the back row, which was generally me.  We started with the prospect of more space, with two suitcases roped to the roof rack.  But just as we wheeled onto the Pike and picked up speed, the ropes blew off and the suitcases started leaking underwear and shoes across the road.  The Big Goof.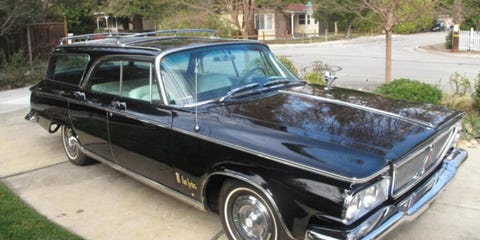 Obviously a firmly-affixed stuff container, like a modern day Thule, would have been a wise investment.  Which reminds me of the critiques of Mitt Romney driving with his dog in a dog crate on the roof:  how simple were our lives back then!!!   The dog was not going to fuck democracy!!!  But we didn't have a Thule, we had magical thinking about the stability of roped suitcases.  The recovered stuff was stuffed into the back row, squeezing me in.  The miles went slowly.  The hours went slowly.  The seconds went slowly.  The space tightened. By Iowa, the family dynamics shredded the ropes that bound them.  If offered, I would have happily accepted a ride in a dog cage on the roof.
            Some emissions from the AM Radio in the front console reached me.  Network daytime entertainment radio, on its last legs.  I remember the folksy Arthur Godfrey Hour.  I also remember the news story that Freedom Riders James Chaney, Andrew Goodman, and Michael Schwerner were abducted and murdered in Philadelphia, Mississippi.  I remember hearing Mary Wells singing "My Guy." I remember my mother hitting 100 mph over one stretch of Texas nothingness.  I remember a canyon or two.
            I've always felt that "Dirty Dancing," referenced above, set in Summer 1963, was a compelling snapshot of America on the brink, the generations stretching apart, the culture's tectonic plates shifting; and that was before the unthinkable assassination of John F. Kennedy a few months later.  As Bob prophesied (in 1961):
"Come mothers and fathers
Throughout the land
And don't criticize
What you can't understand
Your sons and your daughters
Are beyond your command
Your old road is rapidly agin'…"
            As I think back, and try to figure out what happened and when did it happen, to America and to myself, I dwell on the context and timeframe of Baby's coming of age, of the PTSD that befell America after JFK died, of incipient political activism met by the evil of old hatred, of the arrival of the Beatles (first appeared on Ed Sullivan on February 9, 1964), of the public start of the Vietnam War (the Gulf of Tonkin Resolution passed on August 7, 1964), and other resonating moments and things that occurred on and around my family road trip in June 1964, on and around my 16th birthday, that signaled and evidenced Bob's truth that the times were a-changin'. 
            In much of road literature, the road sets you free.  Jack Kerouac.  Huck Finn.  Humbert Humbert.  And I've known families who would pile into the car every summer for a back and forth, like it was the greatest thing.  But that ain't my gig.  It's like once I ate a bad scallop, and no more scallops after that, wrapped in bacon or otherwise.  It's closer to my story to say that the road revealed.  I returned home (yes, we made it home) (yes, I did not give myself up to the desert outside of Green River, Utah) to a world folded over (like a road map), filed (like a report card), and darkening (like an end of day).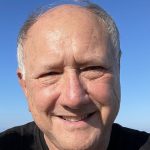 jonathancanter
Here is what I said about myself on the back page of my 2020 humor/drama/politico novel "The Debutante (and the Bomb Factory)" (edited here, for clarity):
"Jonathan Canter Is a retIred attorney; widower; devoted father and grandfather (sounds like my obit); lifelong resident of Greater Boston; graduate of Harvard College (where he was an editor of The Harvard Lampoon); fan of waves and wolves; sporadic writer of dry and sometimes dark humor (see "Lucky Leonardo" (Sourcebooks, 2004), funny to the edge of tears); gamesman (see "A Crapshooter's Companion"(2019), existential thriller and life manual); and part-time student of various ephemeral things."
The Deb and Lucky are available on Amazon. The Crapshooter is available by request to the author in exchange for a dinner invitation.
Characterizations: funny, moving, well written