Once Upon a time…and still… hair was the most important thing.
To the day my mother died, the first thing we did when we saw each other was comment on each other's hair. Mom would either say, "That's a great haircut, Penny," or "What did you do to your hair?" Or anything in between. (My dad said only one thing every time: "What the hell happened to your hair?")  For many years my mother went to the hairdresser every week. I'm not sure she ever washed her own hair. When I was in high school she took me along, so every Friday I had my hair washed and teased and sprayed (Yuk) so even a ride on a roller coaster over the weekend wouldn't undo my do. But this little story isn't about my hair. It's about loyalty.
When my mom finally convinced my dad to retire, my parents left New York and moved to California to be near my brother and me and our families. For Dad the trauma of the move was that he could no longer ride the Long Island Railroad's bar car home from The City with his buddies. For Mom, she had to leave her long-term hair cutter and find a new one. Not knowing better, she found the hairdresser who did the hair of most of the women in Rossmoor. As a result, she looked like them and they all looked like little old ladies from Rossmoor. They'd get these nasty tight little permanent waves to "give their hair body" and from behind, all these 4'11" Jewish grey haired women looked the same. From the front they did, too. My mom hated how she looked. But would she switch hairdressers? Of course no! But every year the Rossmoor hairdresser would take a vacation for a few weeks and her friend would sub for her. This woman gave Mom wonderful, flattering haircuts, and no silly curls. She looked so much better! I'd comment, of course, as soon as I saw her. "Mom! I love your hair! Who did it?" And she'd say sadly, "I know. It looks so much better, doesn't it?" And I'd say, "Can't you continue going to her even when What's-Her-Name comes back?" And she'd say, sadly, sounding a little like Eeyore, "No. I couldn't do that to her." My mom knew her hairdresser's whole life story, and like all of us, she had some troubles she confided to Mom (and probably to all the other Rossmoor gals.) Mom just didn't have the heart to add another sadness to this woman's life. So as much as I tried, I couldn't convince her to switch. She never did. But once a year, for a few weeks, she looked great.
Just a word here about genetics. I went to the same hairdresser in San Francisco for 25 years. From when I had a raging Jewfro in the 70s to when I had a modified Jewfro in the 90s. I, too, didn't have the heart to leave my guy. He'd become my friend and, like my mom, I'd become his confidente. But he made the mistake of taking a very long vacation one year, and my daughter invited me to visit her hairstylist in Berkeley. She took one look at me in the mirror and asked, "So…how committed are you to the 1970s?"
After several months of expensive therapy, I was finally able to break up with my SF guy and keep him as a friend. Wish I could tell my mom.
Someday I'll tell you about the purple hair.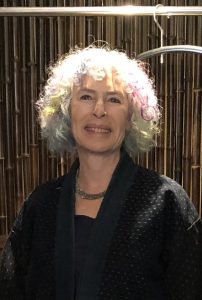 Penny Righthand
Characterizations: funny, right on!