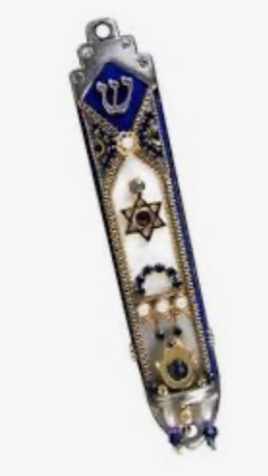 Our post-war Manhattan apartment building recently underwent a major renovation –   new elevators and new lobby furniture;   in the halls new carpeting,  wallpaper and lighting;  and new saddles,  bells and knobs for all our apartment doors.
The construction company hired for the job sent a friendly crew of guys who enjoyed the chocolate chip cookies I always offered them.   One day as I was leaving my apartment I overheard a sweet conversation between two of the men who were working down the hall.
"What's that mounted up on some of the door frames?",   one fellow asked.
"It's a religious custom.",  the other guy explained,   "they're like badges that mark Jewish homes and bless them."
Ah yes,  I thought,  and how often do we rush through our busy days and forget?    And I reached up to touch the mezuzah on our doorpost.
– Dana Susan Lehrman
Dana Susan Lehrman
This retired librarian loves big city bustle and cozy country weekends, friends and family, good books and theatre, movies and jazz, travel, tennis, Yankee baseball, and writing about life as she sees it on her blog World Thru Brown Eyes!
www.WorldThruBrownEyes.com
Tags: Mezuzahs, Judaism