When I was a kid I thought it was very special that the year I was born – 1944 – was a leap year and that it had not one but two 4's in it!
And I was proud that I was born in the leap month of February,  but I did wish my birthday was on the  29th instead of the 19th.   However, if that were the case,  my childish mind reasoned,  I could only celebrate every four years,  and that would certainly be too long to wait between birthday parties!
I also loved thinking about the birthdays of everyone else in my family,  and kept a birthday calendar where I marked all those special dates.  And I thought it was wonderful that my uncle Stevie and I were born on the same day,  25 years apart!
Over the years,  wherever we were – and for decades it was on different coasts –   Stevie and I never missed calling each on February 19th.  Then in  2004 – a leap year!  – we threw ourselves a gala birthday party in LA where he and my aunt Dede were living.  It was my 60th and his 85th.
But now my uncle Stevie and all those of his generation are gone,  and I miss them.  And I miss celebrating their birthdays.
Dana Susan Lehrman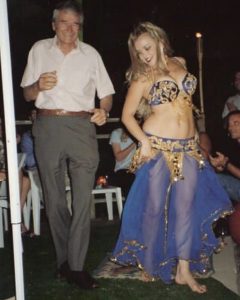 Dana Susan Lehrman
This retired librarian loves big city bustle and cozy country weekends, friends and family, good books and theatre, movies and jazz, travel, tennis, Yankee baseball, and writing about life as she sees it on her blog World Thru Brown Eyes!
www.WorldThruBrownEyes.com
Tags: Birthdays, Family
Characterizations: funny, moving, well written