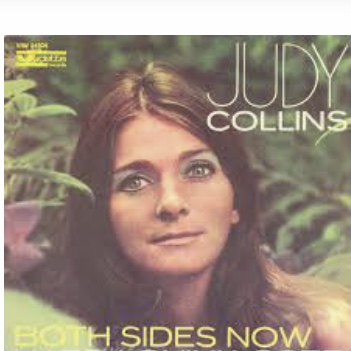 In 1968 Judy Collins recorded the Joni Mitchell song Both Sides Now,  and I listened to it over and over again.
That year I was looking at love from both sides myself,  and in June I got married for the second time.
My first marriage had lasted a little over a year.   Yet during that year A and I drove cross-country,  we camped in the Rockies that first summer,  I took a Great Novels course and read Ulysses,  that fall I started my first job,  we took our maiden trip to Europe,   living in Buffalo we crossed the Canadian border several times,  and that winter I learned to ski.   But despite good times together I knew the marriage was floundering,  and after some sturm und drang we divorced.   (See My Snowy Year in Buffalo ,  My Love Affair with James Joyce  and Flowers on the Windshield)
I thought the experience of marriage-gone-wrong would make me wiser,  that the next time around I'll take it slow and follow my head and not just my heart.   But soon after the divorce I met D and we moved in together.
And then Martin Luther King was shot,  and two months later Bobby Kennedy.   We thought we could assuage our anger and our grief by marrying,  so a week after Kennedy's death we eloped,  and now five decades later we're still together.  (See Bed and Breakfast,  Valentine's Day in Foggytown ,  and New Leaf)
As in all marriages I'm sure,  ours has had its ups and downs,  and in many ways we're still poles apart,  even in our world view – I see the glass half full,  he often sees it half empty.
But we share the same values,  we make each other laugh,  we like the same music,  and still listen to that song.
I've looked at love from both sides now,
From give and take and still somehow 
It's love's illusions that I recall.
I really don't know love at all.
Do you?
Dana Susan Lehrman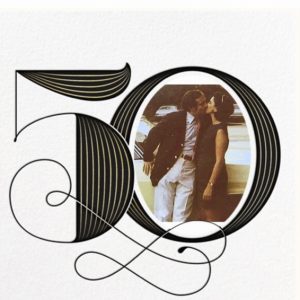 Dana Susan Lehrman
This retired librarian loves big city bustle and cozy country weekends, friends and family, good books and theatre, movies and jazz, travel, tennis, Yankee baseball, and writing about life as she sees it on her blog World Thru Brown Eyes!
www.WorldThruBrownEyes.com
Characterizations: moving, well written