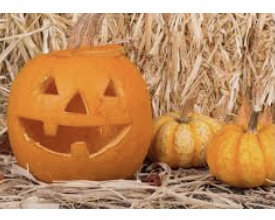 It seems just yesteryear,  in our kitchen Noah at age 5  (did I really let him wield that sharp knife?)  and Sarah at 6  (my friend Celia's sweet niece,  now a mother herself).
Me with a headache  (Dana's famous migraines,  I once heard Celia call them).
Go lie down,  I'll watch the kids.  Celia said.
Me on the bed,  a cold washcloth on my forehead,  their rising voices in the kitchen.
Then footsteps in the hall coming to show me Mr Pumpkin's silly lopsided grin.
And me sitting up in bed laughing, (despite my throbbing head) so very happy in that precious moment.
RetroFlash / 100 Words
(For more about Celia see Moving Day Blues)
Dana Susan Lehrman
Dana Susan Lehrman
This retired librarian loves big city bustle and cozy country weekends, friends and family, good books and theatre, movies and jazz, travel, tennis, Yankee baseball, and writing about life as she sees it on her blog World Thru Brown Eyes!
www.WorldThruBrownEyes.com
Tags: Halloween, Pumpkins
Characterizations: funny, well written