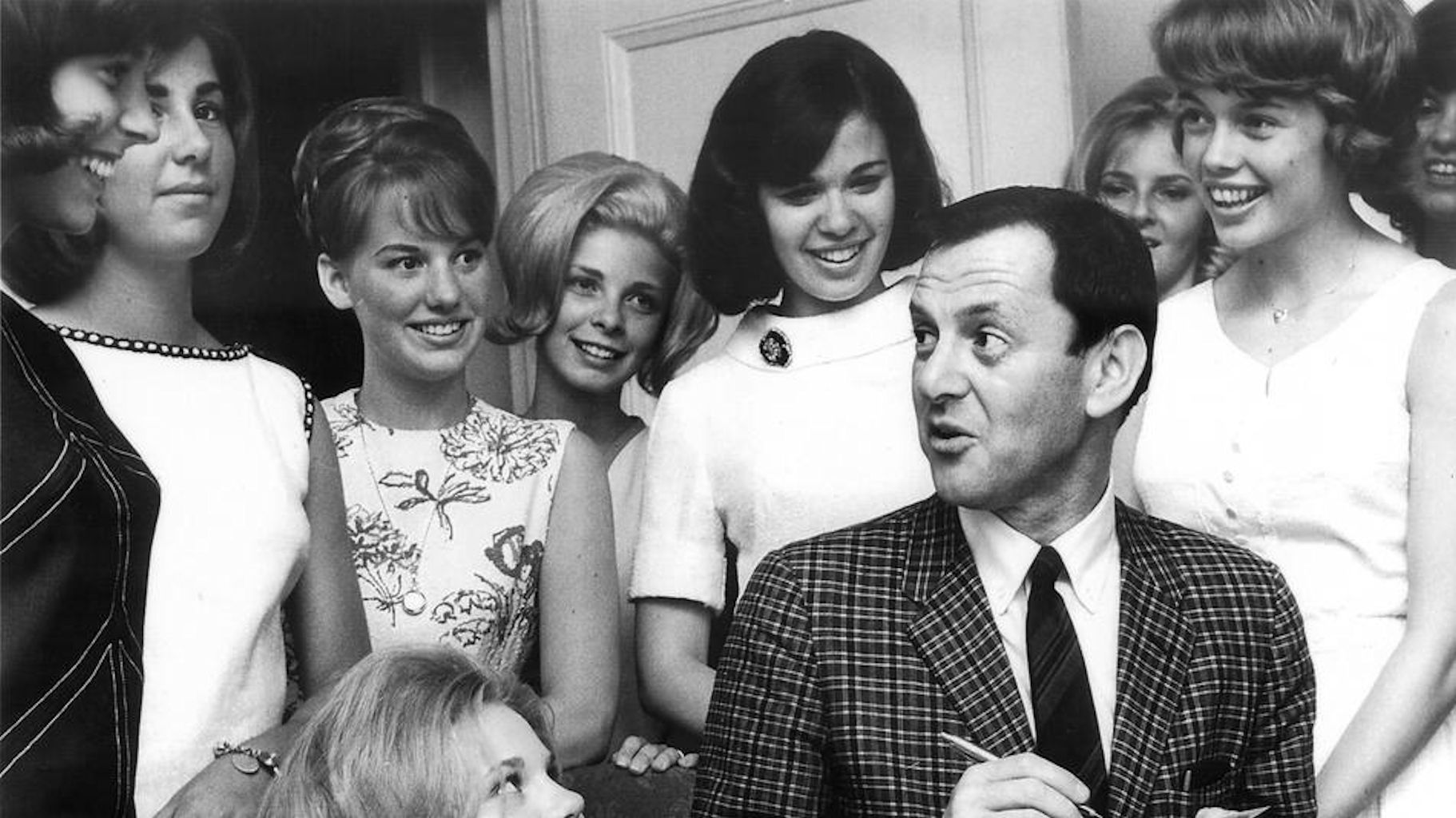 It is so true that, as Andy Warhol famously said, "In the future, everyone will be famous for fifteen minutes." During the summers of my freshman and sophomore years of high school, I indulged my interest in theater by becoming an apprentice at Northland Playhouse in the newly built Northland Mall in a suburb of Detroit. Summer stock was a huge deal back then, and the playhouse needed free labor to cater to the stars who performed there. Many of them were actors I didn't know who were actually, quite famous in the past. The few I did know left me star struck.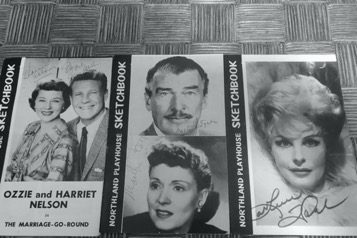 I may not have known who Walter Pidgeon or Arlene Dahl were, but what girl from my era didn't know Ozzie and Harriet? Not only were their "adventures" on television every week, but they were also responsible for giving me teen idol Ricky Nelson. I would have been more excited to meet him, but I doubt he was into summer stock in 1960.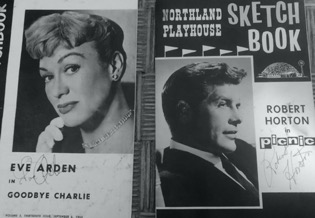 Similarly, Eve Arden was famous to me because I watched Our Miss Brooks, the television show about a zany teacher that may have inspired me to become an English teacher. And Robert Horton was really cute. He played scout Flint McCullough on Wagon Train from 1957 to 1962. He also had a career in musical theater, so that may explain how he ended up doing summer stock at our local playhouse.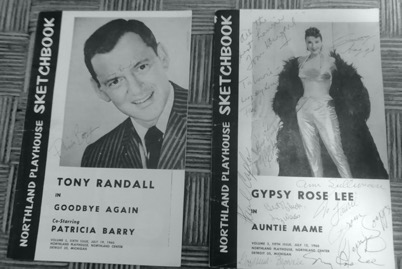 My absolute favorite actor was Tony Randall. He was a genuinely nice guy who took the time to talk with me and the other apprentices. At the time, he had appeared on Broadway and as a supporting actor in many films. He had played a teacher on Mr. Peepers, a television series I watched as a kid. Shortly after appearing in summer stock at Northland Playhouse, he landed the role for which he became famous as Felix Unger in The Odd Couple. Here's a factoid I never knew. His original name was Aryeh Leonard Rosenberg, clearly Jewish. I followed his long career and always adored him for his kindness and for treating us with respect.
On the other hand, Gypsy Rose Lee was my least favorite actor. Perhaps because my parents told me she was most famous for being a stripper, I was a bit scandalized and fearful of her. Her life was the basis for the musical Gypsy, but I have no idea how she ended up doing summer stock at a small theater in a suburb of Detroit. She was rude, demanding, and condescending. I still clearly remember her asking me, a fourteen-year-old, to iron her cashmere skirt. I was so terrified of ruining it that I never plugged in the iron.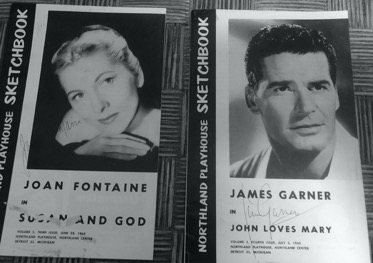 The biggest crush of all the actors I met was James Garner, who was also pretty nice and friendly. I loved him on the TV show Maverick on which he played a wise guy gambler. I couldn't believe someone that famous (at least to me) was performing at Northland Playhouse. In retrospect, he had just quit the popular series after three years and was not quite the movie and television star he went on to become.
Joan Fontaine, whose playbill is pictured next to his, was a movie star of my parents' generation, so I was not terribly impressed. Looking back, I wonder why someone who was still making popular films like Voyage to the Bottom of the Sea and Tender is the Night, as well as appearing on television, would want to perform summer stock. Perhaps actors were not that well paid back then. The same applies to Zsa Zsa Gabor and Martha Raye, also performers my parents regarded as famous. Zsa Zsa must have been between marriages (she had nine of them) and television guest appearances. Martha Raye, most famous for the size of her mouth, her USO tours during WWII, and a television variety show in the mid-fifties, was also fond of being married, as she did it seven times.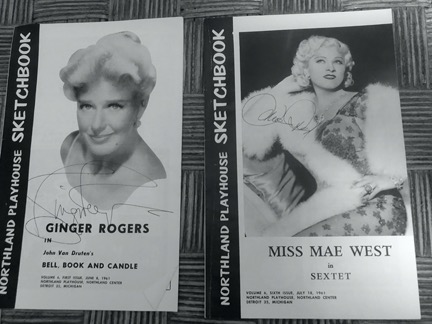 I regarded Mae West as somewhat famous because I knew the line she said to Cary Grant, "Why don't you come up some time and see me?"  She was actually quite controversial and interesting, an early feminist and foe of censorship, but by the time she hit the summer stock circuit, her career was in decline. She never bothered to share her stories with any of the apprentices, which is too bad.
Of course, I should have been impressed by Ginger Rogers. She was actually quite famous and I had seen her dancing with Fred Astaire. Her career as his partner was over by the time she showed up at Northland Playhouse. She was also fond of marriage (five times), but I wish I had known the caption attributed to Bob Thaves' 1982 cartoon (sorry Ann Richards) when I saw her, "Sure he [Astaire] was great, but don't forget that Ginger Rogers did everything he did… backwards and in high heels". Here was a truly famous woman in the decline of her career, which explains her summer stock appearance.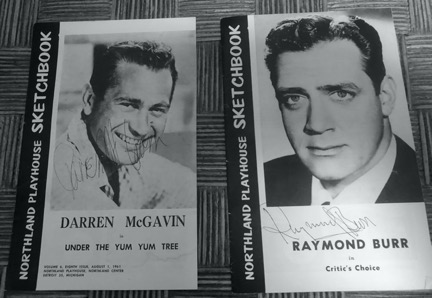 Being an immature girl with little sense of who these stars had been, I was most impressed by people I knew from television. Darren McGavin was ruggedly handsome and had been on Mike Hammer and Riverboat. Apparently, he disliked being in a television series and had left that for movies and guest starring roles. Thus, Northland Playhouse probably caught him in a career transition. At any rate, like James Gardner, he was cute and thus, I had a bit if a crush. Raymond Burr, best known to me as Perry Mason, was actually famous for this role, which he played from 1957-66. Later, he had a popular series, Ironside, from 1967-75. He was also a successful film star. What he was doing at Northland Playhouse that summer is beyond my comprehension.
Perhaps fame for actors in 1960 did not equate with the enormous incomes of today's stars? Maybe doing the summer stock circuit was something actors, even famous ones, liked to do to hone their craft? As I look back on my experience, the main lesson I can take from it is that fame is fleeting. Many of the stars I met who were doing summer stock at Northland Playhouse had been very famous but were on their way down. Others would go on the achieve some degree of fame in the future. Perhaps Marilyn Monroe said it best from the perspective of a celebrity who was, and still is, a famous person:
"If fame goes by, so long, I've had you, fame. If it goes by, I've always known it was fickle. So at least it's something I experienced, but that's not where I live."
I invite you to read my book Terribly Strange and Wonderfully Real and join my Facebook community.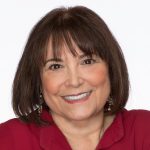 Laurie Levy
Boomer. Educator. Advocate. Eclectic topics: grandkids, special needs, values, aging, loss, & whatever. Author: Terribly Strange and Wonderfully Real.
Characterizations: right on!, well written