The sunflower with the words "War is not healthy for children or other living things" was created in 1967 for the anti-Vietnam-War movement. It appeared as a poster first, and then was made into a necklace and a button. My mother bought the necklace for me, because she was in sympathy with my antiwar activism. I liked it because it was a pretty piece of jewelry as well as a political statement, and nobody at my high school could object to my wearing a necklace the way they might have to the button.
Don't Stop Thinking About Tomorrow was Bill Clinton's campaign song.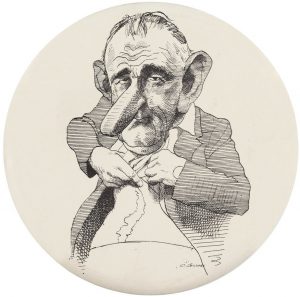 This was probably the first political button that I ever owned. In 1965 LBJ had gall bladder surgery, and afterwards pulled up his shirt to show reporters and photographers the scar on his abdomen. This caused quite a stir. He claimed he did it in order to dispel rumors that he had been operated on for cancer. In 1966 a political cartoonist named David Levine drew this caricature of the President which became very popular, and was made into a button. I don't remember who gave it to me, but my 15-year-old self thought it was the greatest thing ever, although I never actually wore it because it was huge – about six inches in diameter. I didn't realize at the time that the scar in the drawing was in the shape of Vietnam.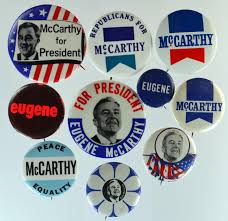 During the summer of 1968, when I had a job with the McCarthy presidential campaign, I amassed a large collection of campaign buttons. This picture is from the internet, because I couldn't find the piece of felt with all my buttons pinned to it, although I am fairly certain it is somewhere in my house. I did have all the ones pictured except "Republicans for McCarthy" and I also had many others. They were in every imaginable color, so that during the summer, and also that entire fall until Election Day, I wore a button every day and had it color coordinated with my outfit. It later occurred to me that maybe the reason the Harvard SDSers didn't pay much attention to me when I showed up at meetings that fall was because I was always wearing a McCarthy button, which probably made me seem not radical enough.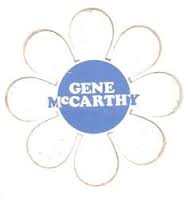 I also got some decals like this in various sizes to stick on cars, notebooks, guitar cases, or anything with a flat surface. I still have the one on my guitar case, but it has been decades since I played my guitar. I occasionally still see them on old cars, usually Volkswagen beetles, and it makes me happy.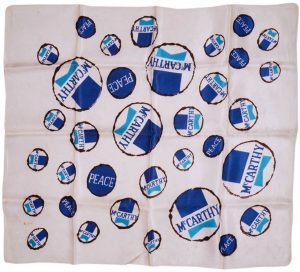 I acquired this McCarthy scarf that summer as well, because I was basically collecting every bit of paraphernalia I could find. (I also have McCarthy matches, which could have been useful since I smoked both cigarettes and joints back then, but of course I wouldn't use them because they were too precious.) I wore the scarf occasionally then and later, but not nearly as often as the buttons. I loved the idea of it, but I am just not much of a scarf person.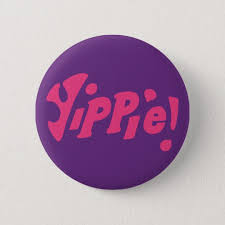 I treasure this Yippie button because it was given to me by Phil Ochs at the Amphitheatre in Chicago, the week before the 1968 Democratic Convention. You can read about how I met him and got the button from him in my story I've Got A Crush on You which I wrote for The Crush prompt.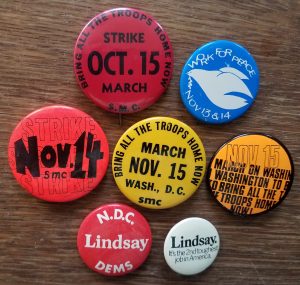 This is an assortment of buttons I acquired in fall 1969, my sophomore year of college. Three are from the October 15th (in Boston) and November 15th (in Washington) marches against the war. The buttons that say November 13th and 14th are from the vigil and strike preceding the November 15th march. The two Lindsay buttons are from my trips to New York with a bunch of other Harvard-Radcliffe students on a couple of weekends to work in John Lindsay's campaign for re-election as mayor. I love the slogan on the white button, "It's the 2nd toughest job in America." Lindsay won the race, even though he was running on the Liberal Party ticket and there was a Democrat and a Republican running against him. I always thought it had less to do with all the college students like me who joined his campaign and more to do with the fact that New Yorkers were happy with the status quo because the Mets won the World Series that year.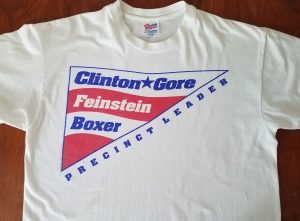 During the Clinton-Gore campaign of 1992 I was proud and excited to be a precinct leader. This involved a lot of precinct walking, knocking on doors, often with my seven-year-old beside me and my almost-four-year-old in a stroller. The campaign didn't give us buttons, but they did give us these t-shirts. Both of the California Senate seats were up that year, because Dianne Feinstein was running against the appointed incumbent to fill out the last two years of Pete Wilson's term (Wilson had been elected Governor), and Barbara Boxer was running for a full term in the seat vacated by retiring Senator Alan Cranston. There had never been a woman Senator from California before, so the possibility of electing two was very exciting! And everybody won!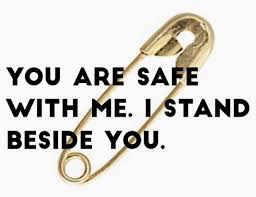 Remember when we wore safety pins to tell people we were allies? In November 2016, after the appalling election results, suddenly we saw that harassment of women, immigrants, LGBTQ people, Muslims, and, of course, Jews became shockingly common. (Four years later it is still common, but we are no longer shocked.) At that time, we were advised to wear a safety pin on our clothing to show that we were "safe" to talk to, and that we would help any member of these groups if someone else started attacking them.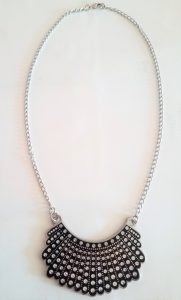 I bought this Ruth Bader Ginsburg dissent necklace a year or so ago, and loved the subtlety of wearing it around people who had no idea that it represented the collar she wore when she was delivering one of her stinging dissents. Now that she is gone, it is a poignant reminder of a time when we could still believe our Supreme Court might do the right thing.
Finally, the current campaign, which is exhausting, and now almost over. I haven't acquired any buttons, because I don't go anywhere these days, and nobody would see me, so what's the point. But looking at what is available online, if I were going to get a button, this is the one I would get.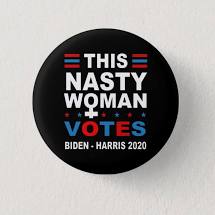 Let's hope that "tomorrow," which is to say ten days from now, the election results will give us something wonderful to think about.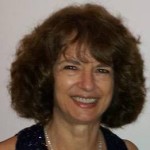 Suzy
Characterizations: funny, moving, right on!, well written