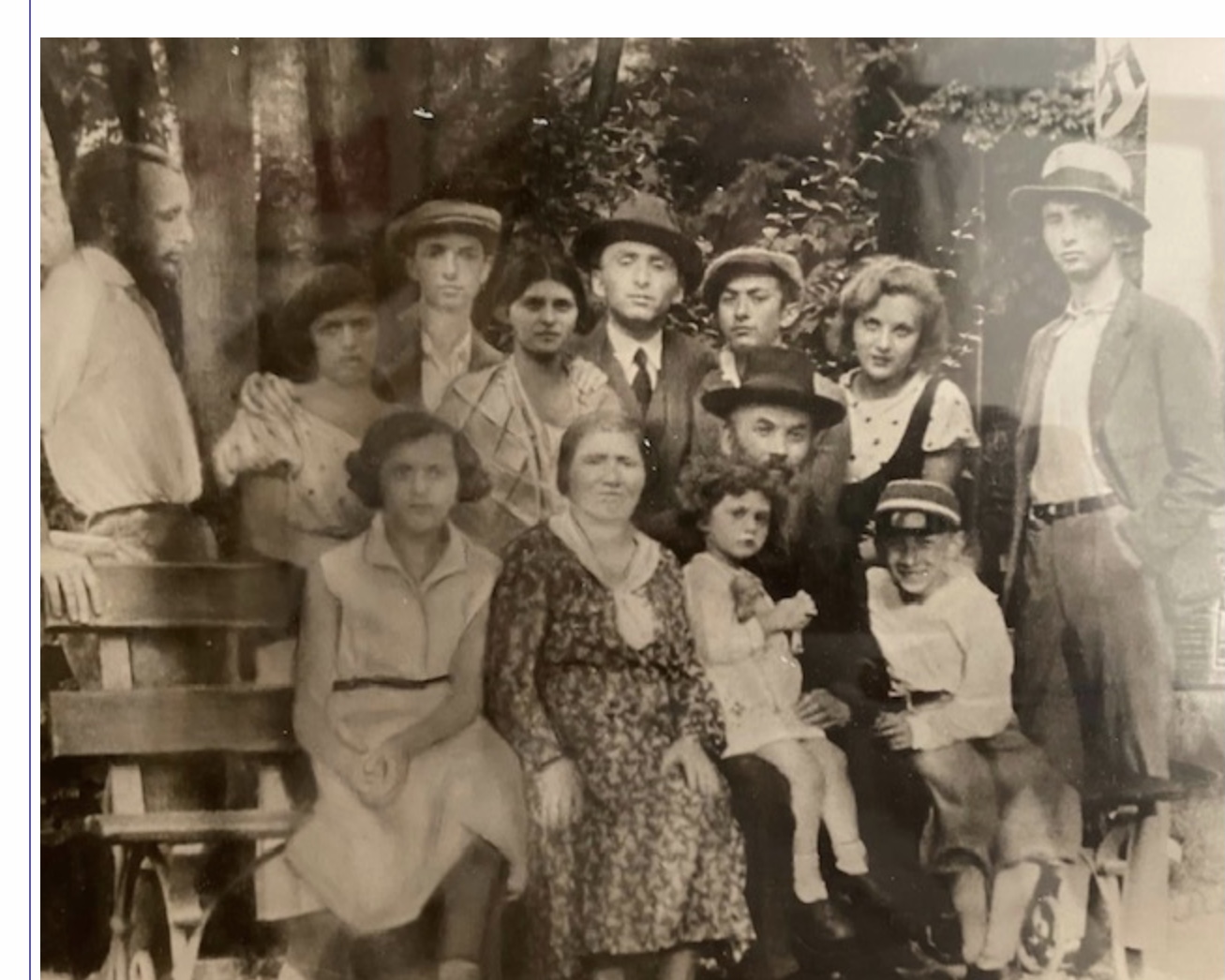 I never knew my husband Danny's father Naftali,  sadly he died while Danny was still in college.   But Naftali was one of nine siblings and I had the good fortune to know many of my husband's  aunts and uncles.   (See  Tracing Our Roots,   College Girl –  for Aunt Hannah,  and  Minyan – for Uncle Sol.)
Naftali and his siblings were born in Poland,  and later the family moved to Stuttgart, Germany.  But by the 1930s they saw Hitler's handwriting on the wall and one by one all nine emigrated to Switzerland,  Palestine,  South America,  and some eventually to the States.   Their parents were to join their son who had settled in Lausanne,  but they hesitated too long.  Caught up in the Nazi horror they met their deaths in Auschwitz.
Now we cherish this photo of Danny's bearded Orthodox grandfather,  his grandmother,  his father Naftali,  all Danny's uncles and aunts,  and the wife and young daughter of the eldest uncle.
The family was photographed when they were still together in Germany.   Naftali stands on the far left,  his profile to the camera.
And on the far right above the head of one of Naftali's brothers,  see the swastika on the column.
Dana Susan Lehrman
Dana Susan Lehrman
This retired librarian loves big city bustle and cozy country weekends, friends and family, good books and theatre, movies and jazz, travel, tennis, Yankee baseball, and writing about life as she sees it on her blog World Thru Brown Eyes!
www.WorldThruBrownEyes.com
Tags: Family, Germany, Auschwitz, Holocaust
Characterizations: , moving, well written