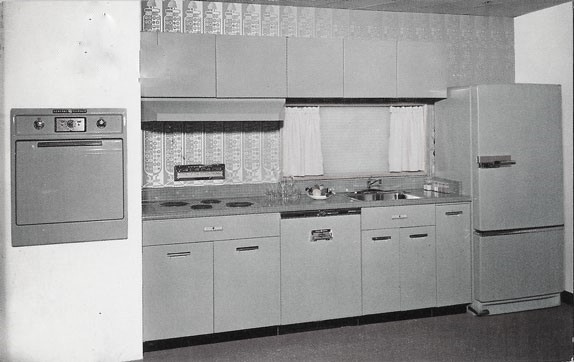 In early June of this year, we had a plumbing disaster. It started when a new housecleaner came to do a "deep clean," used too much water on the bathroom floor upstairs, and caused a flood in the kitchen below it. This led to numerous visits from the plumbers (first to diagnose the problem and ultimately to replace the pipes), many holes in the walls and ceiling to get access to said pipes, and weeks of patching up all the holes after the plumbers were gone. The plumbers warned us there would be lots of holes, and they weren't going to fix them, because that's not what plumbers do. So we had to find someone else to fix the holes – not to stop our minds from wandering, but to make the house look normal again. It was a nightmare that lasted a full two months. But here's the worst part: it never occurred to me to take any pictures, even though we had already decided to do a Home Repair prompt, so I should have been preparing for it. I guess my mind was wandering.
Someone had to fix the holes the plumbers made, not to stop our minds from wandering, but to make the house look normal again.
That's not the home repair I want to write about anyway. It's still too painful. And it wouldn't be thinking back very far. Here's a story from my childhood.
The house I grew up in had an L-shaped kitchen, with a back porch behind it. (Actually, calling it a porch makes it sound grander than it was. It was more like a vestibule. We kept umbrellas there, and snow boots in the winter and folding lounge chairs in the summer, but it wasn't big enough to do anything there except pass through. Oh, and the milkbox was there, where the milkman left us full bottles of milk and we left him the empties.) In 1960, my parents decided to push out the interior of the L to make it a rectangle, decreasing the size of the back vestibule. Along with moving the walls, they would upgrade all the appliances, which were probably original from when the house was built in the 1930s, and add that most wonderful new appliance, a dishwasher. Dishwashers were fairly unusual at that time – the internet tells me that they did not become commonplace until about 1970 – but my parents were always early adopters of new technology.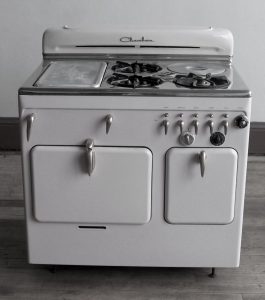 This is what our old stove looked like, except it was yellow. Gas, of course. It was replaced with an ultra-modern electric cooktop and two ovens, one above the other, built in to cabinets to the right of the cooktop. All-electric kitchens were the wave of the future in 1960, probably thanks to a concerted campaign by General Electric. Now, apparently, stoves like this one are a collector's item.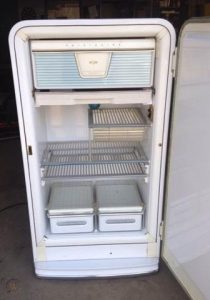 Our old, small blue refrigerator was replaced with a much larger white refrigerator that had a huge separate freezer compartment instead of the tiny one inside the old fridge. Here's what the interior of the old refrigerator looked like. In the old freezer there was room for one carton of ice cream, a few cans of frozen orange juice, and maybe a couple of steaks or chops. The new freezer had enough room for anything you could imagine, including those newfangled frozen vegetables from Birdseye or Green Giant.
We also got a new sink with a garbage disposal. It must have been a GE brand, because it was called a Disposall (emphasis on ALL), and to this day that is what I call them, no matter what brand they are.
However, the best new appliance was the dishwasher. Before that, there were always so many dishes to be washed by hand, with seven of us eating there, since my maternal grandparents lived with us. I was young enough to be spared dishwashing duty, but it would have come to me eventually. Once we had the dishwasher, I was excited to get the job of turning it on when it was ready to run. I think it had a dial, like a telephone dial, and you turned it to the cycle you wanted.
As to the actual construction project, I don't remember much about the process of knocking down the walls and building the new ones. My sisters and I all recall that we were still able to have meals in the kitchen while the work was going on, so it wasn't too disruptive. (You might have thought we would eat in the dining room instead. But we never ate in the dining room except on Thanksgiving. That was a rule that could not be violated!) The best part of the whole project was that once the new walls went up, they remained bare sheetrock for a while because painting or papering them was going to be the last step in the process. And during that period of perhaps a few weeks, my sisters and I were allowed to write and draw on the wall as much as we liked. Writing on the wall felt deliciously like doing something forbidden, and yet we wouldn't get in trouble for it. It was the most wonderful feeling in the world.
Fast forward almost 35 years, and my daughter Sabrina singlehandedly peeled all the ugly plaid wallpaper off the walls in her bedroom. At first I was annoyed with her, since she hadn't gotten permission, but I had to agree that it was ugly. So I told her she could go ahead and write on the one big wall behind her dresser, because we were going to paper over it anyway. Then it turned out she liked having a graffiti wall so much, that we never did paper over it until many years later when Molly moved into that room. For Sabrina's 9th birthday party in 1994 (before Molly was even born), one of the activities was for everyone to draw pictures or write messages on the wall.
Here are just a few of the girls, intent on their artwork. Sabrina is the one turned sideways, examining some pens. She is wearing fairy wings because, why not? She was the birthday girl!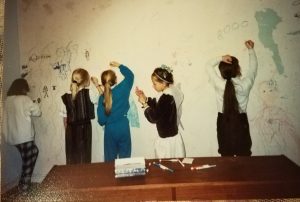 And here is a portion of the mural they created. I wish I had taken a panoramic photo of the whole wall, but instead I have lots of pictures of small segments.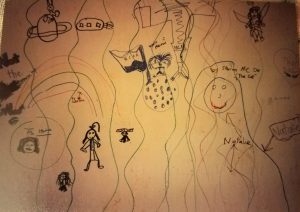 Prior to the party, both Sabrina and Ben stood with their backs against the wall and we traced them, then they colored themselves in. Somebody at the party wrote on the drawing of Sabrina's face, but I don't think she minded.
I wonder if the things my sisters and I drew on our kitchen wall in 1960 were anywhere near as creative as these.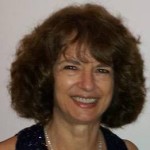 Suzy
Characterizations: been there, funny, right on!, well written