Mean, malicious, or mendacious? Just plain fun? To advance a personal agenda? What qualifies? Some rumors serve a noble end. In an unnamed presidential administration, White House staffers discovered to their dismay that only truly important people were invited to the annual Christas party, with invitees limited to high level, close to the Oval Office advisors, members of Congress, and — of course — lobbyists. Their solution: start a rumor that they were preparing a petition to the President to complain. They had no intention to write sign, or send the petition. No matter. Two days, the invitations went out to all.
RetroFlash/100 words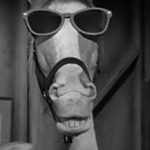 Mister Ed
Characterizations: funny, right on!