In the Before time
In the Before time, every evening the news god spoke.
every evening
the news gods spoke:
Edward R Murrow, Huntley and Brinkley, MacNeil and Lehrer
intoning through their electromagnetic waves.
My parents worshipped nightly,
offering up their own opinions
as if in call and response,
drinking the cocktail of communion.
On Sundays they attended special services
of Meet the Press.
News today would kill them
if they weren't dead already.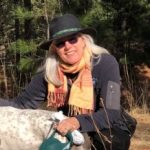 Khati Hendry
Characterizations: right on!, well written