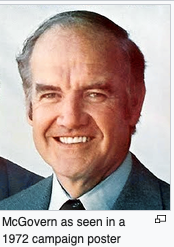 I was eligible to vote in my first presidential election in November, 1972. At that time, I was a Junior at Brandeis University in Waltham, MA, but had registered to vote in Michigan before coming back to school in the fall, so voted absentee, sending my ballot back to Huntington Woods. I proudly cast my first vote for George McGovern, doomed to go down to ignoble defeat, gaining only the electoral college votes of my adopted state of Massachusetts and the District of Columbia.
I was proud that at least Massachusetts had the good sense to vote against Nixon (at that piont, we knew nothing of Watergate; that would come out in the fullness of time). Since 1974, with the exception of 16 months, I've been a full-time, proud resident of Massachusetts, perhaps the most liberal state in the country (I grant that California may also claim that title).
During the 16 months that I lived in Chicago (May, 1978- Aug, 1979), we experienced two crippling blizzards, dumping more than 35 inches of snow in a little over two weeks that January, followed by sub-zero temperatures. Trash didn't get picked up, buses couldn't run as they couldn't plow the streets. The city didn't work and Mayor Michael Bilandic lost his primary bid to Jane Byrne, who went on to win the election for mayor. I voted in that election too.
When I returned to Boston, we lived in the city and voted in the beautiful Boston Public Library. I remember voting after David was born, taking my infant son into the voting booth with me, pulling the curtain behind me. I welled up as I spoke to my baby, explaining with pride about this important duty. I thought of my grandfather, fleeing Russia in 1906 to escape from the pogroms and the savagery that comes from hatred of "the other", be it prompted by religion, race, ethnicity or just ignorance. Free and fair elections AND accepting and honoring the results have been the hallmark of our democracy for over 200 years.
It has only taken the Former Guy six years to begin to unravel all of that, sow the seeds of doubt and press phony charges of voter fraud, "stolen elections", get his minions to pass all sorts of new laws to limit access to the vote and install people/judges who seem to be loyal to him or their own view of "law", installing some perverted version of our rights as we understood them for half a century with no regard for the concept of precedent or understanding the real meaning of our history that makes us who we are. We must prevail if we are to maintain our democracy and civil society as we have known it.
Certainly after the Civil War, this country went through turbulent times, but we didn't have pernicious social media, with trolls, bots and demagogues so willing to lie to maintain control of their followings. These are dangerous times, indeed.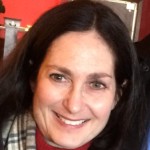 Betsy Pfau
Retired from software sales long ago, two grown children. Theater major in college. Singer still, arts lover, involved in art museums locally (Greater Boston area). Originally from Detroit area.
Characterizations: moving, right on!, well written