When my cousin adopted an infant, she told me that she had trouble calling her daughter by her actual first name. She called her baby "Pumpkin," "Sweetheart," or simply "the baby," but she had a strong emotional bloc against calling her "Amelia." When I had my first child, I experienced the same phenomenon, and he was "Critter" for the first thirteen months until he became "Boone," which is what he is now, thirty-one years later. (More on that below.)
To this day, I still have an array of non-names for my children.
This irrational fear persisted when I had my second and third children, and to this day, I still have an array of non-names for all of them. I would be interested in hearing from other parents as to whether they experienced the same problem.
When Boone turned twelve, he informed me that he was too old to be referred to by that stupid moniker, and I was to give up calling him Boone for Lent. "Oh no!" I cried, horrified. "I can give up chocolate, coffee, doughnuts, and ice cream, but please don't ask me to call you by your name!" When he insisted, I tried, I prayed, and I went mute, but after three days, he released me from my commitment, and he became Boone again.
I am not a psychologist, but I've read enough Jung to know that when an irrational impulse is strong and persists, it often symbolizes some archetypal phenomenon rooted in the collective unconscious. These impulses exist outside the conscious control of the rational part of the brain; in other words, they don't listen to reason. So when I started thinking about why I cannot call my kids by their names—the names that I chose for them after sifting through "5,000 Adorable Names for Babies"—I wondered whether this fear stemmed from a time when parents believed in the power of the evil eye to put curses on their children and the ability of the devil to come and snatch them from their cradles. Maybe if you said your baby's name out loud, any passing demon might overhear and say, "Hmm, gee, I could use another John for my collection. I'll just grab this one and off I go." Or if the demon had a bone to pick with you in particular, he might say, "Oh, yeah, that's Farmer Joseph's daughter. He pissed me off the other day, so I'll just take wee Margaret as my revenge." Given the high rate of infant mortality and the lack of understanding of basic cleanliness and nutrition, demon kidnappings were perhaps a reasonable explanation. And any parent knows that when you gaze upon your new little bundle of joy, you are often seized with irrational fears for the safety and vulnerability of that child. Modern science be damned.
This deep-seated fear of demons was the basis for other contemporary customs, such as wearing black at funerals. I read somewhere that the tradition started not because black is a somber, depressing color, but because black clothes were a disguise. Suppose the dead guy was a bad person, destined for Hell. When the Devil came to take his soul to everlasting torment, you didn't want the Evil One to recognize you among the mourners and, as above, say, "Oh, look, there's Mistress Agatha, I'll just snatch her soul, too, and save myself a trip." The Devil hopefully wouldn't recognize you if you weren't wearing your normal clothes.
So how did my first child become "Boone"? He had a significant speech delay, and while other toddlers were learning meaningful human language by listening to it, he was repeating nonsense syllables if he spoke at all. That was in the late 1980s, when nobody knew about high-functioning autism, or what he turned out to have, a condition called hyperlexia, whereby a child learns to communicate through written language because he is a slow auditory processor. (Hyperlexia is on the autism spectrum, but the prognosis is much more positive.) This condition, thanks to computers and screen addiction, is more commonplace today, but it was quite rare in those days. Boone was obsessed with the alphabet and could decode virtually any word by the age of two, but meaningful speech came much later. It was as if he knew that those black squiggles on paper meant something important whereas those sounds floating into his ears meant nothing to his brain.
Whenever he said anything, we celebrated it as a gift, and we started repeating all of his nonsense words, fashioning meanings out of them. One of his favorite utterances was "Ah-KEY, ah-KEY, ah-KEY, dee-BOONE, dee-BOONE, dee-BOONE," over and over, day after day. Pretty soon, I was calling him "De Boone," which evolved into his nickname, "The Boone."
Because of his fascination with the written word, buying him early computer programs, such as Reader Rabbit, was a natural, and we picked as his screen name "Boone88," then out of family solidarity, his dad's screen name became "Boone48" and I was "Boone50," in honor of our birth years. When my daughter was born in 1992, she immediately became "Little Boone," and my son became "Big Boone." Therefore, our screen names evolved into "BBoone88," "DBoone48," "MBoone50," and eventually "LBoone92." But this was years ago, and you can imagine my surprise when I first logged into Retrospect (using who-knows-what other program, I don't remember) and somehow the computer identified me as "MBoone50."  It wasn't my choice. The computer did it. Thank goodness Suzy figured out how to retire that name and make me plain old Joan again. At least my out-of-date nickname inspired this week's prompt and produced some really interesting and entertaining stories.
A final note: Again, as every parent knows, language learning is a two-way street. Normally developing children pick up words from us, but we automatically pick up words from them. One day when Little Boone was casually walking across the living room, Pookie (my third child, who was a year old at the time) pointed to her and announced proudly, "Dada." I knew enough about infant language to recognize that "Dada" means "significant second person after Mama." Although this hurt Dad's feelings, Little Boone became "Dada" from then on, and she is Dada to this day, at age 28. (Dad is "Daddy," so he wasn't completely left out.) Shortly thereafter, Pookie proclaimed that Big Boone was "Baba," and now he has two working, meaningful nicknames. (Little Boone now only has one, because she grew to be five-ten.) Pookie is now five-eleven, eighteen years old, and we are forbidden from ever calling her that in her presence again, but I still think of her as Pookie in the secret recesses of my mind. Some things never change.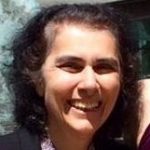 Joan Matthews
Characterizations: , funny, moving, right on!, well written