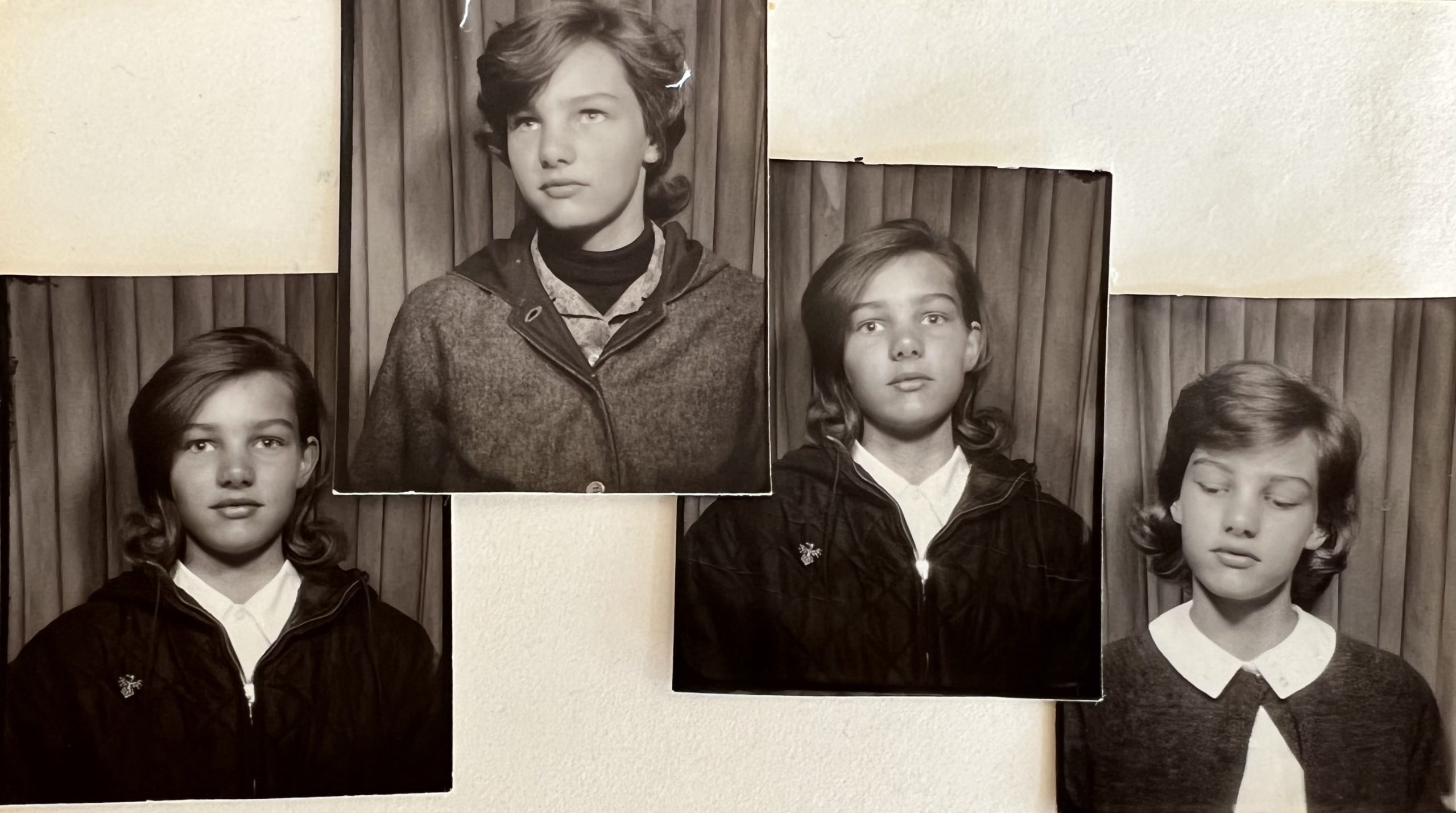 Photo booths might be thought of as a sort precursor to digital instant selfie pictures.  Go in, pull the curtain, put in the money, pose in the mirror, and minutes later get pictures of yourself spit out of the machine. For extra fun, bring in a friend and ham it up.
We could hear dull, throaty roars in the distance.  We were more than happy, thank you very much Mr. Guard, to be accompanied across the field.  Would they be willing to have us take their picture the next day, once there was light, if we gave them a copy?  Indeed, they would.
This was novel at a time when pictures were analog, requiring developer and darkness to process.  The usual drill, if you didn't have your own darkroom, was to carefully load in the cartridge (taking pains to avoid direct light that might leak in), wind the film up, take pictures with manual adjustments, and carefully unload the cartridge once you reached the end of the film.  Then take it to a commercial developer and wait at least a week before seeing the results.  Unless you had someone to take a picture of you, or were adept with time-delay shots, pictures captured your view from behind the lens.
As cameras transitioned to digital, it could be hard to display the photos unless you transferred them to a computer or disc, and it required a large band width to send them to others. This of course changed completely with the now-ubiquitous smart phone camera that air drops to friends and posts to social media.  But technology ever continues to evolve, and old pictures can become inaccessible, so there is still an argument to be made for a hard copy of an image.  In fact, I have lots of color slides that I haven't yet managed to transfer into digital or hard copies, despite a purchasing a black box that promised to help, and who has a slide projector?
Taking travel pictures was particularly challenging in the pre-digital era.  When we took a long trip to Africa in 1989, we carried multiple rolls of slide film (to maximize color vibrancy) packed into a dark foil bag to protect them from luggage Xray machines, along with a single lens reflex camera and zoom lens.  We had to carry the exposed film until we found a place that could develop it, then carry the packages of slides until we got home.  We couldn't wait to see the pictures, so acquired a simple slide viewer to give a decent preview, which we also had to carry.
It's worth noting that this trip was also before luggage had wheels, and we had soft-sided bags that could be turned into backpacks instead.  I can't imagine how we carried everything for months on end, but then again, we were more than thirty years younger.
As if that weren't enough to lug around, at the last minute we invested in a new toy, a Polaroid Instamatic.  It was a bit clunky, but it could both take and develop a picture with its special film, one at a time.  The camera ejected a partially completed photo that had to sit for a bit before a layer was peeled off to reveal the wondrously near-instant picture.   Our idea was that we could use it if we wanted to take pictures of people, so we could share them.  It could be, if you will, a sort of ersatz photo booth.
We finally had a chance to try it out while on our budget safari in Kenya.  Our little tents were camped in a field at the edge of the Masai Mara game reserve, about thirty yards from the site's latrine.  A couple of tall Masai dressed in the traditional red blankets and armed with long spears gathered next to a small campfire:  they were our guards, to protect us from lions.  If we needed to use the latrine at night, one of them would accompany us to the spot, then back to our tent.  This seemed a little silly—the latrine wasn't that far away, and was that really necessary?  However, when night fell there were no lights except the campfire, everything was unnervingly dark, and the latrine barely visible.  We could hear dull, throaty roars in the distance.  We were more than happy, thank you very much Mr. Guard, to be accompanied across that field.  Would they be willing to have us take their picture the next day, once there was light, if we gave them a copy?  Indeed, they would.
They did appear then next morning for their picture as promised, proudly changed into their best tee shirts and pants.  That was a bit disappointing, but of course they wanted to change out of their everyday clothes and get dressed up for a picture—wouldn't you?  We were just happy they were willing to oblige.  We used the Instamatic and gave them their portraits, which brought big smiles when it did its magic, and they allowed us to use the SLR camera with its slide film for our own copy.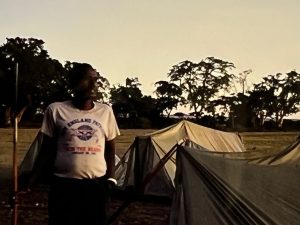 We stayed at the camp that day, visiting the nearby village and going for game drives. Then we were approached with a special request. The following day, a local couple was getting married, and they heard we had a special camera–could we take some pictures for them before we headed onward?  Yes, yes, yes!  And so we became photographers for the wedding party—bride, groom, friends and relatives.  The ones from the big city were in their western clothes, while the others wore more traditional outfits, some enhanced by fancy sneakers.  One of us operated the Polaroid and the other the SLR, and there were many more big smiles once they had their instant pictures in hand.
Sometimes taking pictures creates an uncomfortable distance between subject and photographer.  In this case, our photo booth on safari gave us an opportunity to connect and share joy, for which I am still grateful.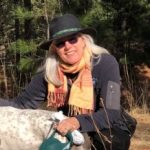 Khati Hendry
Characterizations: moving, right on!, well written