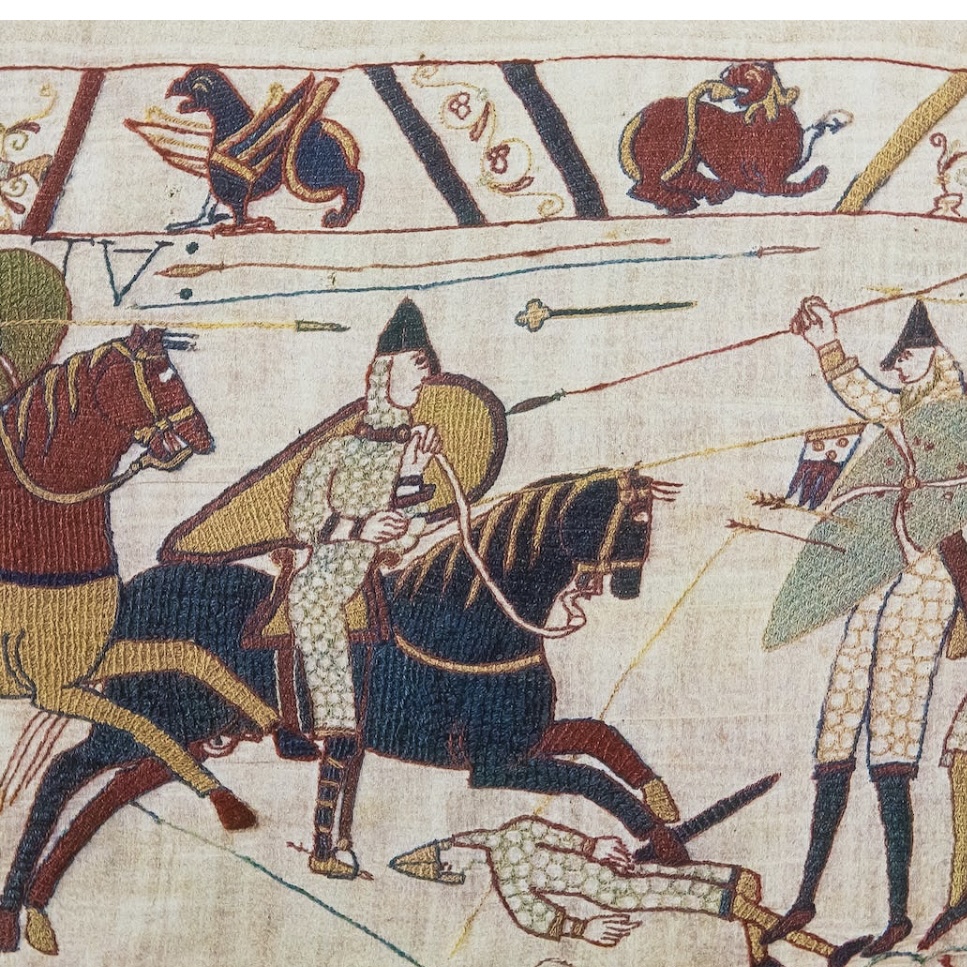 A few years ago my husband's college roommate Ken invited us to join him on a trip to Normandy.   I had a bit of a hassle replacing my missing travel documents,  but eventually all was resolved.  (See The Purloined Passport)
We flew first to Paris where we visited with family and friends, then rented a car and drove to Caen  where we met Ken,  and for the next several days immersed ourselves in World War II and D-Day history.  And as we expected,  we found our time in Normandy both very educational and very emotional.
Towards the end of our stay the two men decided to go to another of the several Normandy museums in the area but I wanted  to spend some time in Bayeux to see the celebrated tapestry,  and so I went alone.
There I found the 230 foot long tapestry mounted behind protective glass and encircling the walls of the Bayeux Tapestry Museum.  An excellent auto-guide took me through the 58 scenes,  embroidered with colored yarn on the tapestry's 9 linen panels.
Thought to date from the 11th century,  the tapestry depicts the events leading up to the 1066 Norman conquest of England and the British King Harold's  defeat by Duke William of Normandy at the Battle of Hastings.
I was captivated by the tapestry –  the pain-staking work of the artisans who wove it centuries ago; the imperative at the time to record the historic battle in art;  and the story of how the tapestry survived and was preserved.
When we left France we took with us a clearer understanding of the events of WW II and what happened in Normandy,  and I left with a deeper appreciation of my father's part in the war.  (See Captain)
And I also left with the story of another battle – one fought in Hastings ten centuries ago,  and immortalized in the extraordinary work of art I saw in that lovely museum in Bayeux.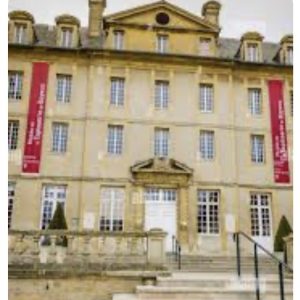 – Dana Susan Lehrman
Dana Susan Lehrman
This retired librarian loves big city bustle and cozy country weekends, friends and family, good books and theatre, movies and jazz, travel, tennis, Yankee baseball, and writing about life as she sees it on her blog World Thru Brown Eyes!
www.WorldThruBrownEyes.com
Tags: Bayeux Tapestry
Characterizations: , been there, moving, well written