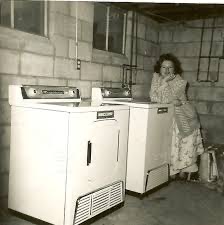 Unlike the barracks and prefabs we had lived in, the modest new house in East Lansing had a righteous Midwestern full, unfinished basement.  Wooden staircase near the back door, cinder block walls, divided in two sides.  Washing machine and dryer, furnace, storage, and tools on one side; if we had canned, the fruits and vegetables would have been stacked there too. Ultimately, the other side got painted walls, linoleum, a couch and TV, toys and doll furniture. In case of a tornado warning, the basement's northwest corner was our shelter.
Heaven forbid we would have a TV in the living room, so in the evenings we would watch it downstairs–Mitch Miller (sing along!) and Perry Como–while my mother ironed the clothes.  They were stacked in damp rolls inside a dish towel before being smoothed into shirts and dresses and then placed on hangers.  Suddenly realizing that the people on TV might have actual lives, I asked, "Do you think Perry Como has a wife too?"  Mother: "I imagine so."  Filled with wonder, I followed up, "Do you think she could be ironing while watching his show, just like us?"  My mother, probably with an eye roll: "I doubt it."
One day a shipment arrived from afar—a whole case of nuoc mam (Vietnamese fish sauce), which my dad developed a taste for while we were in Saigon. It was destined for the storage side of the basement.  Somehow in the excitement of the delivery, the case was dropped and at least one bottle was smashed, creating an overwhelming pungent pall of fish throughout the room that lasted for weeks.  My mother was not amused, especially as she not only didn't share his love of nuoc mam, but also had to schlepp up and down the stairs regularly for the laundry.  This now meant braving the persistent odor while she hung the sheets on the basement clothes lines .
When we moved to Bethesda during my high school years, there was no basement, just a "utility room" on the ground floor.  My mother hated that room, which she quickly renamed the "futility room".  It was maybe 11 cramped feet square, stuffed with a washer and dryer, a furnace and very little storage space, She complained bitterly.  She still hung up the sheets, but it created a dense maze in the tiny room. That was just how sheets were done, even though cotton was becoming cotton blend and less wrinkly, and dryers were more efficient.  And of course, there were no fitted sheets—the top sheets were rotated each week to the bottom before being washed.  By now, we girls were old enough to inherit the job of retrieving the clothes from the dryer while they were still damp, rolling them up and stacking them in the dishtowel, and then ironing with the steam settings, still watching TV but in the adjacent family room.  Shirts were done collars first, then shoulders, then cuffs and sleeves, then front and back.  It was the sixties, and my mother grumbled about the assumption that she was responsible for my father's laundry at all.  After the kids moved out he took his shirts to the cleaner's.
Years later, when I bought a little house in Oakland, I was thrilled to have a washer and dryer tucked a bit awkwardly into the generous crawl space under the house. No more laundromat for me! It helped that I was not very tall.  When my mother visited, I bragged about how great it was to have the appliances, and how perfect that they were out of the way in the (albeit small) basement where laundry belonged!  But I must have mistaken my mother's scorn of the "futility room" for a dislike of laundry on the same floor, because she raised her eyebrows quizzically—wherever had I gotten that idea?  She had always loathed going up and down stairs into the basement to do laundry.
When we renovated the house where I now live, the laundry went right next to the bedroom, with a pass-through chute.  My mother would have approved.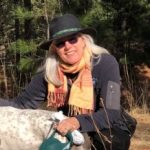 Khati Hendry
Characterizations: funny, well written