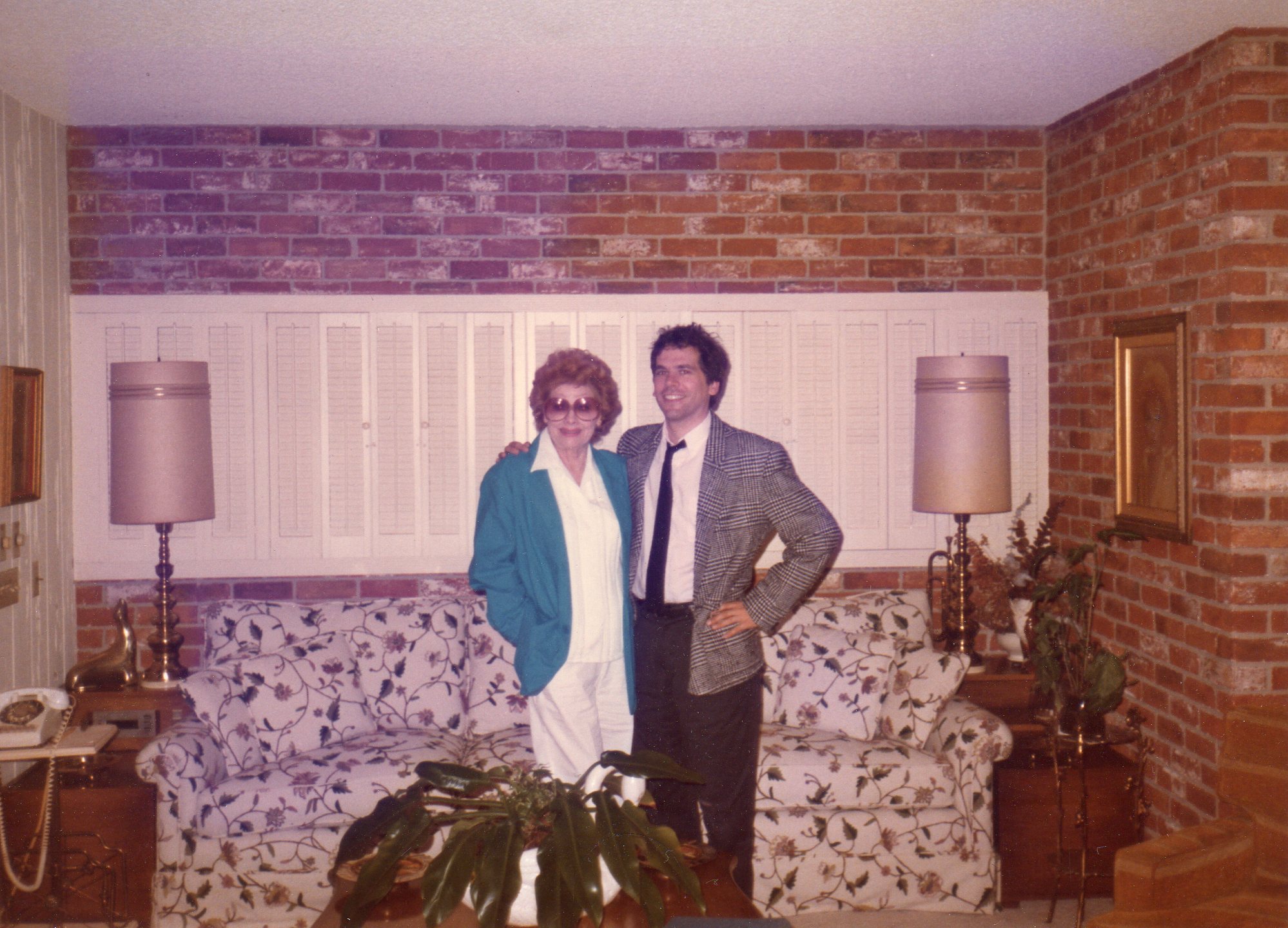 I'd heard how tough and intimidating Lucille Ball could be, but on the day I interviewed her at her home in Beverly Hills she was warm, unguarded and down-to-earth. It felt like hanging out with a favorite aunt.
Lucy picked up quickly on the fact that I was a fan, and since I was young and eager I think she liked me. She was promoting Stone Pillow, a CBS TV-movie in which she played a homeless bag lady named Florabelle. The movie was ill-conceived and Lucy was badly miscast, but it gave me the good fortune to meet a childhood idol.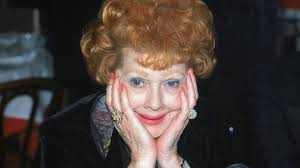 Arranging our tete-a-tete was easy. One morning I called a veteran publicist at CBS and asked, "Do you think Lucy would do a one-on-one for Stone Pillow? I could fly down to Los Angeles." With a big star like Lucy, you'd normally get a noncommittal response: "Let me look into it." Instead, he asked to put me on hold. Within five minutes he was back. "Lucy wants to do it." That kind of thing never happens.
I flew into Burbank on the morning of Oct. 23, 1985, rented a car and picked up a large, exotic floral bouquet en route to Lucy's house. I rang the doorbell at 1000 N. Roxbury Dr. in Beverly Hills, an assistant answered and within seconds Lucy entered the foyer behind him. "Thank you," she said, nodding her head in a slightly regal manner, "that's a lovely bouquet."  The assistant guided us into a section of the living room where Lucy and I sat and talked for nearly two hours. She wore white pants, a pleated white blouse and turquoise-blue jacket. Tinted, oversized eyeglasses. Her hair was the same, familiar henna-red I knew from television. She was 74.
Lucy's ranch-style house was grand on the outside, comfortable and tidy on the inside. No major art pieces; just a painting of her husband Gary Morton swinging a golf club. In a corner of the room I spied a backgammon table, where Lucy probably spent hundreds of lively and competitive hours — backgammon being her favorite game. We weren't alone as we confabulated. Joining us was a very old man, a minder I guess you'd call him, who CBS had sent to monitor Lucy's remarks and make sure she said nothing too reckless or off-color.
Lucy was fascinated by my name. "Ed Guthmann! That's such an old man's name for a young kid like you," she said with gusto. "Lucy, I'll be 35 in three days," I said, thinking I was practically middle-aged. "Big deal!" she harrumphed. "Big deal!"
She reminisced about the I Love Lucy days, praised her ex-husband Desi Arnaz for his professional acumen ("Innovation after innovation") but slammed his gambling,  drinking and womanizing ("We had five homes but to him they were just houses"); gave excellent marks to her current husband, comic-turned-manager Gary Morton ("On a scale of 1 to 10 we're a 12"); and said she didn't act for five years after her beloved I Love Lucy sidekick Vivian Vance died in 1979. When I asked how it felt to be at leisure after shooting Stone Pillow, she frowned. "To tell ya the truth, it's been kinda boring around here lately!"
She didn't mince words. Lucy was at a point in her life when she had nothing to lose by telling the unvarnished truth – which is precisely why the ancient minder was warming up his end of the sofa.
Lucy told me she got that low, husky voice by yelling from her car on the Pacific Coast Highway — a method recommended by movie maker Howard Hawks. She grew nostalgic talking about her friend Clark Gable. "We used to tool around in his jeep," she said, remembering when San Fernando Valley was all farms and ranches and open land. "Oh boy," she sighed, shaking her head and looking off to one side. The memory seemed to stir thoughts of distant youth, of time passing swiftly and few friends left to share her memories.
I asked about Elizabeth Patterson, the fragile-looking character actress who played the babysitter Mrs. Trumbull on "I Love Lucy," and Lucy told me she used to go home on the public bus after a day of taping at Desilu Studios. Patterson never accepted Lucy's invitations to socialize — not from disinterest, but from feeling she didn't belong. She was just as timid as the characters she played.
I told Lucy I'd admired Patterson in vintage movies, and described a poignant scene from the 1938 classic Remember the Night where Patterson plays the old-maid aunt of Fred MacMurray. When MacMurray brings Barbara Stanwyck home for Christmas, Stanwyck accidentally discovers an old, unused wedding dress in Patterson's trunk. She's startled. "But I thought you never –," Stanwyck begins to say. Patterson cuts her off: "Oh well. That was a long time ago, wasn't it?"
"Boy, you're really a buff!" Lucy said when I finished the story. "You should meet my friend Robert Osborne. He knows the old ones like you do."
For show business fans, the block that Lucy lived on was famous. At one time or another, Jack Benny, Eddie Cantor, Oscar Levant, Agnes Moorehead, Ira Gershwin, Peter Falk and Rosemary Clooney all lived on Roxbury. In 1985 Jimmy Stewart and his wife Gloria were still across the street from Lucy. I don't remember how it came up, but she started grumbling about a spate of neighborhood burglaries. "Jimmy and Gloria are worried," she said, raising her eyebrows. "We're worried! Oh, it's awful. But I don't trust the Beverly Hills police as far as I can spit!"
The old chaperone's hand reached out pleadingly, and tapped me on the arm. "Oh, you're not going to put that in the story, are you?"
Same thing a few minutes later when I asked Lucy about her recovering son, Desi Jr., a recovering alcoholic, and the inspirational lectures he delivered on the virtues of sobriety. "Yeah, he's still doing that," Lucy groaned with a roll of her eyes. "But at least he's not so boring about it now." The hand tapped my arm and the ancient minder whispered, "Oh, you won't use that, will you?"
And a third time. While filming Stone Pillow on location in New York City, Lucy confided, she was so weak from long hours and from wearing a heavy costume in the oppressive New York heat, that she contracted amoebic dysentery. When she flew home to Los Angeles, 23 pounds lighter and suffering from dehydration, she fell out of her limo into the gutter at LAX. "I was really sick!" she exclaimed with big eyes and that froggy, bottom-of-the-well voice. Once again the weathered hand reached out and the old man looked stricken: "Please don't mention amoebic dysentery in your story," he implored.
I asked Lucy to grade herself, A to F, in several categories.
Mother: "B minus. I was deterred in many a way by working; I couldn't complete the scene at home."
Comedian: "Should I say A? I guess I can because of the I Love Lucy reruns and the longevity still proving itself."
Dramatic actress: "I don't know, especially when my idol is Bette Davis. I haven't given it that much of a whack."
Business executive: "F. I hated it and I depended solely on honest and loyal men."
Late in the interview Lucy's husband Gary Morton walked in, looking very Beverly Hills in an alpaca cardigan and slacks. Nice guy. Lucy greeted him and said, "Gary, say 'Hello' to Old Ed Guthmann!" Gary grinned, took my camera and shot the photo you see at the top of this page. She was absolutely terrific. Adorable. I'm sorry it was the only time I got to spend with her.
Edward Guthmann
Characterizations: right on!, well written