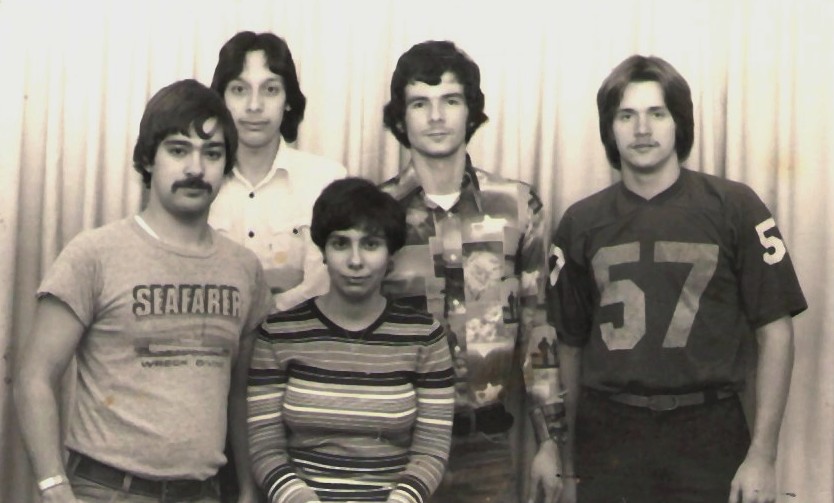 I was the last President of the SCUBA Club on the Rutherford campus of Fairleigh-Dickinson University. I accepted the office because no one else wanted it. Membership had always been low; SCUBA diving is a niche activity, expensive, gear-intensive and time-consuming. For most, doing it involves travel of some sort, while with a pair of decent shoes you can go running any time, anywhere. So, we were never numerous.
This photo, snapped from atop a tripod on my old Fujica SLR, captures a pivotal time in my life.
The photo above contains, if I recall correctly, the entire membership of the SCUBA club when I took the helm. We never got another member, and when the people in the photo had all graduated, the club was gone. But for a while we had great dives and great times. With one exception, I remember these people. I remember them well.
Let's start with the one I don't remember well, the young man in the back on the left. I remember his face, but that is all I remember. His name is lost to me, although I do recall that it was Latino in origin. My dive logs (which I still have) make no mention of him, so we never dove as dive buddies, although we probably participated together in club dive outings. I think I only knew him through the club.
To his left is John. John, another Marine Bio major, was one year older and one year ahead of me. He is a senior here. His family were Cuban refugees. I loved having dinner at his house; the food was amazing.
Next to John is Tom. Tom was from Newburyport, MA, and was, after my roommate and BFF Alan, my closest friend in college. We had bizarre senses of humor that meshed perfectly to form one well-oiled machine of hilarity. I also had a bit of a crush on his extremely attractive girlfriend, Paula. Hell, nearly every guy she met did. As often happens, we lost touch after we graduated in 1978. Some time in the early 90s, while Gina and I were living near Boston, Tom and I reconnected. He had married Paula, they had a daughter, and Tom was working at Woods Hole, one of marine biology's shrines. That was one of the first times I confronted the "you can't go home again" phenomenon. We had fun, everyone was pleasant, but the magic had died. We never tried again.
In front, on the left, in the "Seafarer" dive boat T-shirt, is me. I am also wearing the expensive dive watch that was the ice-breaker for the first conversation that I ever had with Maria, and sporting one of my periodic attempts at facial hair. By this time I am already showing signs of the weight gain that began in college and has dogged me ever since.
The women is Maria, of whom I have written here before:
https://www.myretrospect.com/stories/snowbound/
https://www.myretrospect.com/stories/the-fruit-stand-of-love/
https://www.myretrospect.com/stories/a-certain-cachet/
There is no date on the print, so I have to guess when this was taken. John graduated in May of 1977, and I have another photo of Maria wearing that same shirt whose location I am pretty sure of, a place I would not have been in before September of 1976. This was the "official" club photo, so it was most likely taken in the Fall of 1976. The light shirts we are all wearing back up that deduction.
I am subtly leaning into Maria, maintaining a bit more body contact than I would have with John, or Tom or even Alan. That means that when this was taken, Maria and I were still together, still in hiding, still keeping our relationship a secret from her extremely disapproving family. In a couple of months, we would break our silence and confront them with the reality that she had not kept up her pledge from early 1975 to never see me again. A few months after this photo was taken, she would suddenly, without explanation, drop me, leading to years of suppressed grief and corrosive cynicism, the loss of most of my will and direction, the beginning of my nearly irremediable fatalistic attitude toward pretty much everything that dogs me still.
This photo, snapped from atop a tripod with my old Fujica SLR, captures a pivotal time in my life. It's a fading glimpse into the short period during which I had put my early academic troubles behind me and still looked forward to a life and career that I believed was mapped out and well underway. A life which, in every way imaginable, did not happen.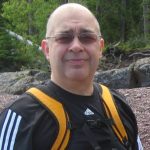 Dave Ventre
A hyper-annuated wannabee scientist with a lovely wife and a mountain biking problem.
Tags: Photographs, friends, college, love
Characterizations: moving, well written